Oklahoma vs. Iowa State: One Stat Says It All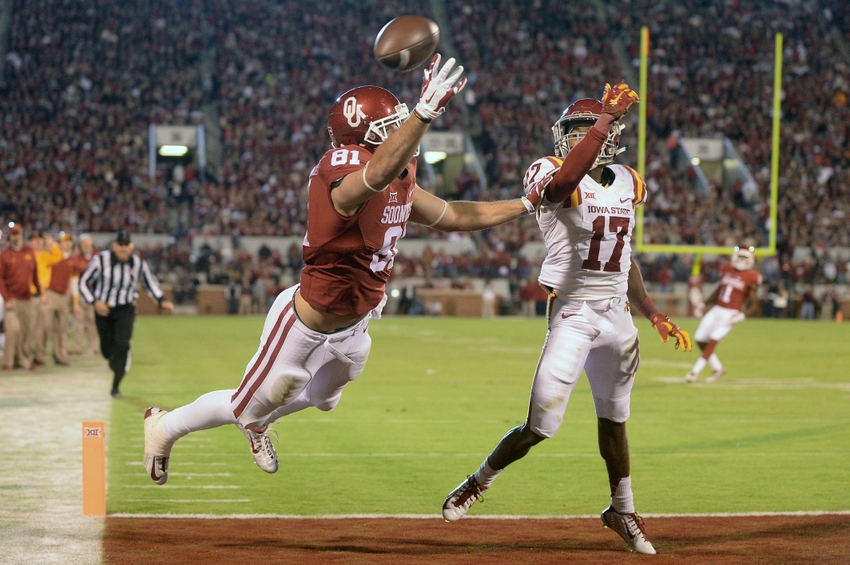 A short-handed Sooner squad will be on display in a character test on prime-time Thursday night TV. Check your local listings for the reality show: Oklahoma vs. Iowa State.
Sooner fans, like yours truly, have good reason to feel a little uncomfortable about this weeknight road contest. We all know that streaks, like records, are made to be broken and that all good things must come to an end sometime.
Well, there are a number of streaks, most all of them with the needle pointing at Oklahoma, on the line when the Sooners take the field at Jack Trice Stadium Thursday night to face the host, and some would say hapless, Iowa State Cyclones.
Although their 1-7 record would indicate otherwise, Iowa State is hardly what you would consider hapless. The Cyclones have yet to win a conference game in five tries this season, but their two home losses to Big 12 teams were by a combined eight points (45-42 to Baylor and 31-26 last weekend against Kansas State). In the Baylor game, Iowa State led for most of the game, including by 14 points in the fourth quarter, before Baylor put on a furious rally at the end to pull out the win.
Now it's Oklahoma's turn in the barrel, and the Sooners come in without the services of two of their primary offensive weapons (running backs Samaje Perine and Joe Mixon, both a good bet to be playing on Sundays in the future) and a defense that has been riddled with injuries and ravaged by opposing teams this season. Not a formula to build a lot of confidence on.
The Sooners have beaten the Cyclones in 17 consecutive games and 44 of the last 46. Iowa State isn't the only Big 12 team OU has had its way with recently. The Sooners come in with 12 consecutive conference wins, dating to last season, and have won their last nine true road contests.
The Cyclones, who have a history of pulling off upsets in non-Saturday games played at home (most notably, the 37-31 overtime win over previously unbeaten and highly ranked Oklahoma State in 2012), would like nothing more than to derail the visiting Big 12 leaders and put a screeching halt to all the Oklahoma winning streaks.
One stat that could play a big role in preventing a Sooner stumble at Iowa State is the long-range connection that OU quarterback Baker Mayfield and wide-receiver Dede Westbrook have established this season and particularly over the past five games.
Some on the Sooner team have given Westbrook the nickname "TD Dede."
Oklahoma leads the nation with 15 offensive touchdowns of at least 40 yards. No other team has more than 13, according to information provided by the OU athletic department communications group. Eleven of those 15 touchdowns of 40 yards or greater have come on touchdown passes from Mayfield to Westbrook, and all of them in the last five games.
With Perine and Mixon not available for Thursday's game, Westbrook becomes the Sooners' primary offensive weapon. Keep an eye on how Mayfield and Westbrook are able to attack the Iowa State pass defense, which ranks second in the Big 12.
This matchup could be a key factor in OU's ability to win this game, keep all the streaks going and avoid the Cyclones' upset bid.
More from Stormin in Norman
This article originally appeared on