Oklahoma Sooners No. 190 on FanSided's Fandom 250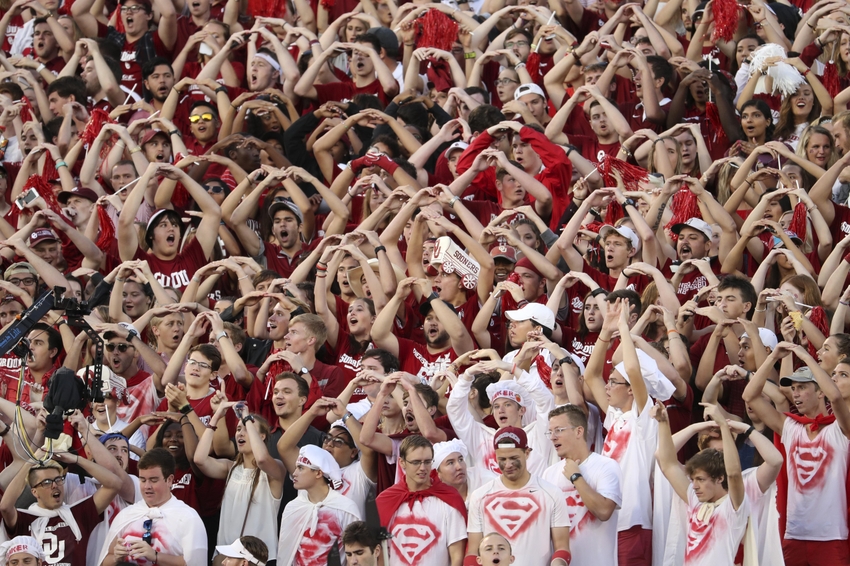 The editors of FanSided have put together a unique list of the best Fandoms in the fields of sports, entertainment and more. Fans of the Oklahoma Sooners, particularly the passionate Sooner football fan base, made the list at No. 190 on the FanSided Fandom 250.
To give you a flavor of some of the fandoms that made the list, the HBO series "Westworld" comes in at No. 250, country singer Garth Brooks is No. 249, followed by Chanel at 248, the Tesla motor car at 247 and "X-Men" at 246.
Actor Chris Hemsworth, who stars in "Westworld" as well as in the "Hunger Games" movie franchise checks in at No. 200. Oklahoma's opponent in the Sugar Bowl on Jan. 2, Auburn, is No. 236 on the list.
Here is some of what the editors of FanSided had to say about Oklahoma Sooner football and its fandom:
"When discussing the best programs in college football, no list can be complete without the University of Oklahoma. Not only has the football team routinely delivered on the field, becoming one of the best programs in the country over a span of decades, the fans have created an atmosphere unlike any other in the country.

"One of the most iconic traditions of Sooner fans is their rally call in the stadium. One side of a stadium that seats over (83,000) yells 'Boomer" at the top of their lungs, while the other half responds with 'Sooners'…

"Oklahoma fans have made their team from a small state a national power, traveling all over the country to support them."
Fans of the Kansas Jayhawks in basketball – who, trust me, are spread out all over the United States – are No. 160 on the Fandom 250, just a couple of notches back of "Tonight Show" host Jimmy Fallon.
The Kansas City Royals are No. 192, the Kansas City Chiefs are 148 and Texas Longhorns' fans are at No. 133.
UFC is No. 100 on the list, the Clintons are 64th and the New York Yankees, one of the biggest and most popular franchises in all of professional sports is No. 25.
To find out who and what made the top 10, you will have to check out the Fandom 250 list for yourself.
More from Stormin in Norman
This article originally appeared on