Oklahoma Football: Matt Dimon, Charles Walker Leaving Program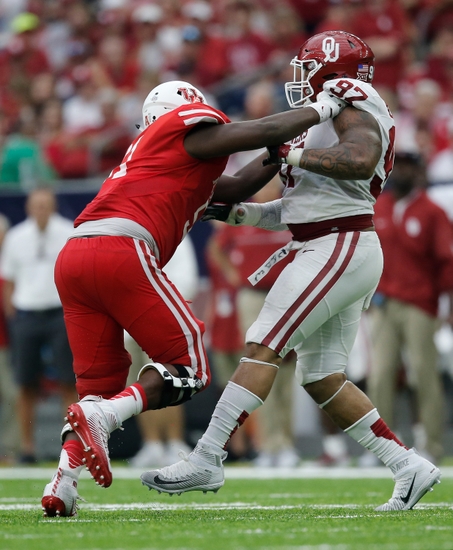 The Sooners have been dealing with multiple injuries and players sidelined on the defensive side all season, and on Tuesday Oklahoma football two of its defensive line starters at the beginning of the season are leaving the program.
Bob Stoops announced in his weekly press conference on Monday that senior defensive end Matt Dimon would not be back this season, nor would he be with the program next season.
Defensive tackle Charles Walker, a redshirt junior, suffered a concussion in the TCU game on Oct. 1, and has not played since then. On Tuesday, Walker announced he was leaving the program and plans to declare for the NFL Draft in the spring.
Stoops said on Monday that Walker was meeting with trainers that day to determine his status, but that he (the OU head coach) didn't expect anything to change. The next day, Walker revealed his plans to part ways with OU football.
The 6-foot, 2-inch, 260-pound Dimon has not played since sustaining an injury in the first half of the Ohio State game. In the weeks after that, he suffered a strained Achilles tendon. He played in only two games for Oklahoma this season and recorded two tackles.
Stoops described Dimon's departure as a mutual decision. "The injury has led to some other things and, at the end of the day, it's just not working any more," the Sooner head coach said.
Walker's decision to leave the program was a little more of a surprise. Defensive coordinator Mike Stoops told Oklahoma City Oklahoman staff writer Brooke Pryor that he had not had any conversation with Walker leading up to Tuesday's revelation.
Mike Stoops was not particularly pleased with the Walker's choice to walk away from the program, and said as much in his comments reported by Pryor.
"Qutting on you teammates, that's hard to take as a coach," said the Sooner defensive coordinator and assistant coach. "Everything we stand for is our commitment to one another. For whatever reason, that wasn't there for him.
"Hopefully he can get his football life together," Stoops said. "He's a talented player. I'm just disappointed the way it ended here after such a promising start to his career.
ESPN analyst and football recruiting expert Mel Kiper rates the 6-foot, 2-inch, 304-pound Walker as the No. 6 defensive tackle in the 2017 NFL Draft.
Walker reportedly has sustained several concussions previous to this season.
More from Stormin in Norman
This article originally appeared on