Nebraska Football: What's Next Following Bruce Read's Dismissal?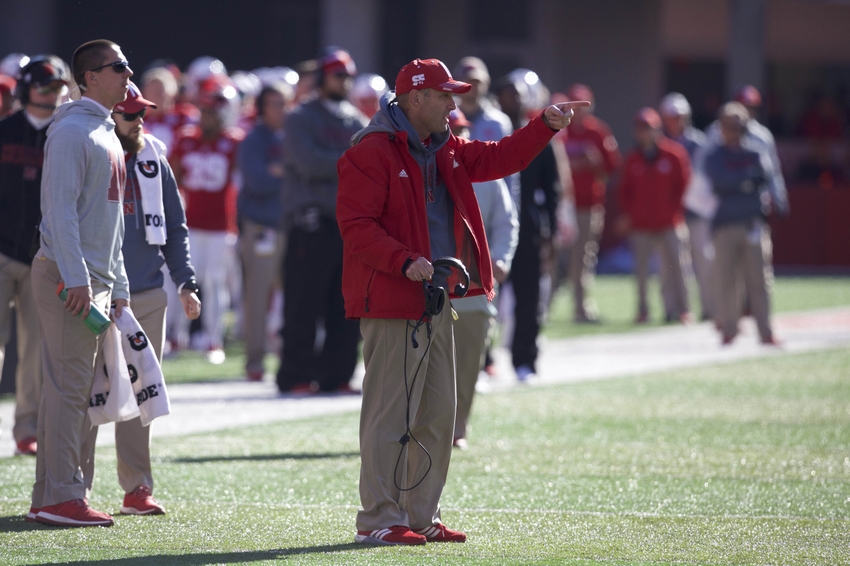 The dismissal of Bruce Read as the Nebraska football special teams coordinator is still being celebrated by many. Fans are slowly starting to ask the next big question: Who fills his shoes?
Graduate assistant Tavita Thompson has stepped up to fill the void left by Read's absence as Nebraska's staff heads out on the recruiting trail. Some have been asking why there's any reason to let him go.
Thompson has been working primarily with Nebraska's tight ends and is seen as a promising young coach by many close to the program. We'll get an idea of just how well he can assist full-time staff members like offensive line coach Mike Cavanaugh with recruiting soon enough.
He pops up as a potential replacement for Read as not only is the tight end a crucial part of Mike Riley's offense. He's also already served two years as a graduate assistant. It's at this point that GAs either spread their wings and fly elsewhere or stay and gain permanent employment with a rather hefty pay increase.
Another factor is a proposal by the NCAA to add a tenth full-time coach to football rosters. If what NCAA Football Oversight Committee chairman Bob Bowlsby said in a statement last October is any indication, it's a slam dunk.
"There was unanimity around the table on the addition of a 10th assistant coach being allowed (in FBS). We feel it is appropriate from a student-athlete welfare standpoint. The ratio of coaches to student-athlete is much higher in football than other sports, and this helps address that."
Nebraska can retain Thompson strictly on the basis of hoarding good young coaching talent, but who would be No. 10?
Damon Benning, a former Husker and co-host on a local Nebraska morning show, floated current Houston Texans special teams assistant Doug Colman's name.
Colman played at Nebraska himself and, much like defensive line coach John Parrella, he already understands the culture of Nebraska football. What his role would be in a Riley-led organization is unclear. However, considering he's worked with an NFL franchise's special teams, perhaps he could succeed where Read failed.
He also has experience as a player at the professional level having played five years in the NFL. The potential is there to assist Trent Bray or perhaps take over for him should he decide to take a position elsewhere.
Another option would be to promote Thompson and look for a rock star recruiter. Naturally, head coaches want all of their assistants to kill it on the recruiting trail. Current Rutgers defensive backs coach Bill Busch spent several years at Nebraska as a safeties coach and special teams coordinator. He was (and is) lauded for his ability to recruit.
The question is would Riley want to take a gamble by bringing in someone like Busch? Whether or not special teams would improve is up in the air, but Riley would know that he'd be signing an ace recruiter. Defensive coordinator Mark Banker already coaches the Big Red's safeties. Considering their knack for picking off quarterbacks in 2016, the likelihood of that changing seems nonexistent.
Want your voice heard? Join the Husker Corner team!
Regardless, there appear to be very exciting options for Riley. For the sake of recruiting, he needs to make a hire soon. Considering how quickly he dismissed Read, he's likely already rifling through resumes and making phone calls.
That is…unless he already has his man.
This article originally appeared on