MSU Armchair QB: Boston Strong Edition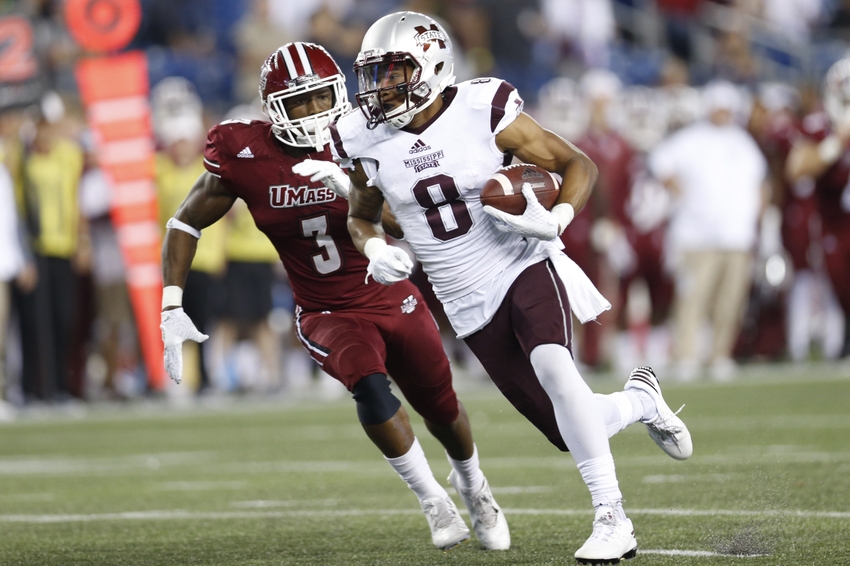 MSU beat UMass 47-35 up in Boston, entering the bye week at 2-2.
Peeps, let me begin with words of advice: Always enjoy a win. Saturday's defeat of the UMass Minutemen was a little more adventurous than we'd all hoped, but it was a win. Celebrate it. You saw why UMass gave Florida trouble back in Week 1. They can make some plays. Now it's time to ask: What did we learn? Here's what I saw:
Defense:
1. Maybe I'm the only one, but I thought overall the D played well. Yeah, they wound up giving up 35. But they mostly shut down the UMass offense, weird as that is to say. Virtually every UMass score came from big plays. The Minutemen struggled to move the chains and sustain drives.
Take a quick look at the stats and you can begin to see what I'm talking about. UMass rushed for 138 total yards. But 83 of those yards came on one play. UMass had a little over 100 yards of total offense in the first half. Again, 83 of those yards came on one play. Three TDs in the second half came on miracle grabs by the Minutemen receivers. One was awarded on replay, but it was a very questionable overturn by the officiating crew. More on them later.
2. The number that stood out to me for the D was 3. That's the number of turnovers the Dawgs were able to force. They picked off the Minutemen three times after coming into the game with just one INT. But what I like the most was Jamoral "Smokey" Graham returning his for 6. Converting the TOs into defensive points was a huge factor in the game.
3. The big negative I saw that's become a recurring theme: Missed tackles. State has got to get better at wrapping up and getting guys to the ground. You can get away with it to a degree with an opponent like UMass, but it's going to really cost you in SEC play. But poor tackling is an epidemic throughout football now. I still want to see it cleaned up.
4. Another positive from the D was their 3rd down play. They held UMass to just 4/13 conversions on 3rd down. That's a 31% conversion rate. Holding a team under 35% on 3rd downs will win you a lot of games and creates extra possessions for the offense.
5. As good as State was on 3rd down, that leads to another defensive negative: 4th down conversions. State allowed the Minutemen to convert 3/4 attempts on 4th down. Two of those conversions were for touchdowns. When you stuff a team on 3rd down, you really need to finish the job. Unfortunately, State struggled to do that.
More from

Maroon and White Nation
6. I want to brag on Smokey. He played by far his best game of the season to date. The stats won't necessarily blow you away: Just 3 total tackles, 2 solo. But he also had 2 pass break ups (PBUs) and the pick six I already mentioned. More importantly, he had good coverage most of the day and was generally where he was supposed to be. He's improving, although he still has a long way to go. But he deserves some credit for how well he played on Saturday.
7. Johnathan Calvin had a monster game. 9 tackles, 2 solo, 2 TFLs, .5 sack, and the INT that essentially sealed the game. The only real negative was trying to return the INT. Get down, big fella! Someone from our team shoulda tackled him like at the end of the UGA-Mizzou game this year.
8. AJ Jefferson did AJ Jefferson things. He had "only" 4 tackles, but 2.5 of those were TFLs. The guy lives behind the line of scrimmage.
9. Gotta give Kivon Coman props, too. He's had a rough year but was solid yesterday. He had just 3 tackles, but he also had 1 PBU and 1 INT.
Special Teams:
1. Special Teams had another good day. No miscues and did everything well.
2. Westin Graves was 2-2 on FGs. He also handled KO duties again as Logan Cooke struggles with a nagging injury. He didn't have a touchback, but he got the ball down near the goal line with good hang time and gave his coverage units a chance to do their thing.
3. Speaking of Cooke, he had a GREAT day. He punted 5 times for 170 yards, averaging just 34 YPP. While that's a poor YPP average, it doesn't tell the whole story. Cooke punted from a short field and had 4 of his 5 punts downed inside the 20. He also had a long punt of 51.
4. Brandon Holloway had a good day on KO Return. He returned 5 kicks for 126 yards with a long of 48. He nearly broke the 48 yard return for a TD.
Offense:
1. The offense had a big day. State ran 85 total plays and piled up 299 yards rushing and 299 passing for 598 total yards. State was slightly more run heavy with 47 rushes to 38 passes. That works out to a 55/45 run/pass split. Not as high as I'd like, but better than the dead even 50/50 we've had in our losses.
2. The Dawgs had a fair day on 3rd down. They converted 6/15 attempts for an even 40%. Not great, but livable. Would like to see it higher, though. Fourth down was great, as State converted 2/2 attempts.
3. The lone blemish on the day was a turnover. QB Nick Fitzgerald fumbled after being sacked. It killed a drive following State's first pick of UMass.
4. Speaking of Fitz, he had a monster day. He was 26/39 for 305 yards and 3 TDs. He had a completion percentage of 66.7% and averaged 11.7 yards per completion. Fitz did miss a few easy throws, but that's nitpicking when he throws for 300+ and completes over 65% of his passes.
Fitz added another 110 yards on 15 carries and averaged 7.3 YPC. He didn't find the land of milk and honey, but he didn't need to with others finding it.
5. Perhaps the biggest positive was the RBs had the bulk of the rushing attempts and yards. They combined for 29 carries and 194 yards. They had a combined 6.7 yards per carry. But we need to look at each individually to have a more complete picture.
a. Brandon Holloway had 10 carries for 80 yards. Even better, most of his rushes were to the edges instead of the inside zone play. But he did have some success on the inside zone, popping a coupe of nice runs. You can see what we want to accomplish with him on that play, but it's almost impossible against SEC defenses due to his size and our OL's lack of physicality. Unfortunately, Holloway was unused in the pass game. So he had the right number of touches but still wasn't used to his full potential in terms of how he got those 10 touches.
b. Ashton Shumpert led the Dawg RBs in carries with 12 and was second in rush yards with 68. He averaged 5.7 YPC and broke a long run of 27. He also had a late TD that put the game out of reach. Shump has run hard and looked good this year. He still has too many runs where he tackles himself after 2-3 yards or runs into the defender instead of making the guy miss to make me think he can be an effective feature back in SEC play. But he's dominant against lower tier non-conference competition.
c. Aeris Williams carried the ball 4 times for 19 yards and a TD. He averaged 4.8 YPC. Unfortunately he didn't touch the ball again after his TD run. Aeris keeps showing flashes that he could be the guy, but he isn't getting fed enough for us to find out for sure. It's a disservice to both Aeris and the team.
d. Keith Mixon rushed 3 times for 20 yards and averaged 6.7 YPC. You can see the speed and shiftiness, but like Holloway, I'm not sure he's built for runs between the tackles.
6. Fred Ross had a big day. He hauled in 8 catches for 126 and 2 TDs. He had a long grab of 46 and averaged 15.75 yards per reception.
7. Donal Gray also had a good day. Like Ross, he grabbed 8 catches and gained 79 yards. He averaged 9.87 YPR.
8. It was good to see Farrod Green involved in the offense. He had a very good day, with 3 catches for 38 and 1 TD.
9. We had a Malik Dear sighting on Saturday. After being nearly invisible the first 3 weeks, he had 4 catches for 41 yards with a long of 23 and averaged 10.25 YPR.
10. Overall, the OL played pretty well if all you look at is the stats. The only gave up 1 sack on the day. State averaged 7 yards per play and 6.4 yards per rush. That's an effective day for the OL on the surface.
But as you watched the game, it was a little different story. State struggled a bit at times. And I saw a few guys get knocked back a little too often. It definitely doesn't inspire confidence that this group can hold up against the grown men they'll face in SEC play.
Coaching/Intangibles:
1. Hats off to the staff. After a tough loss at LSU, they found a way to get a win. Peter Sirmon's D continues to do a solid job. It may not be the pressure D we'd all like, but it's been effective so far.
2. Nice to see Dan Mullen getting some fresh blood more involved. It's positive that Aeris, Green, Dear and Deddrick Thomas are getting touches. Still not enough for some of them, but it's an improvement.
3. I thought the team showed a lot of guts and resolve. After a very slow start offensively, they got it going towards the end of the first half and didn't step off the accelerator. Defense held the Minutemen in check and got big turnovers to give the offense extra snaps. We've seen them fold after a bad start, so it was nice to see them display some fight. Hopefully that translates to conference play.
Final Thoughts:
The Dawgs went to Boston and handled business. It wasn't necessarily pretty, but it doesn't have to be. Fitz is getting better every week. He had a monster day and we still had fans calling for him to be benched. Folks, if you were one of them, take a step back. You're holding him to the standard of Dak. We may never have another play with Dak's combination of tools and intangibles. But you can see Fitz has the tools. Remember, you're complaining about a guy who put up 415 yards of total offense. We've had QBs who couldn't put up 150 yards of total offense over the years. Fitz is going to continue to improve. Enjoy it, but don't expect him or anyone to be the next Dak.
There are still some personnel management issues, but that's something that we have to accept will always be part of a Dan Mullen team. We at least have some indications that things are changing a little with Shump & Aeris combining to out-touch Holloway in the rush game 16-10 on Saturday. We'll keep an eye to see if it continues moving forward.
I love having the bye this week, even if it is a little early for my personal preference. We get an extra week to prepare for a key game with Auburn. Most importantly, we get to do it coming off a win and get a couple of guys 100%. Hopefully Cedric Jiles could be ready to return in some capacity. I'd also like to see Cooke get over his nagging issue to be able to handle KO duties again. And maybe, just maybe, Mullen will use the time to get Aeris ready to be a bigger part of the rushing attack. But I'm not gonna hold my breath on that one.
You guys know the drill. Fire in the hole!
Hail State!
More from Maroon and White Nation
This article originally appeared on