Mistakes cost Indiana in 45-31 loss to Penn State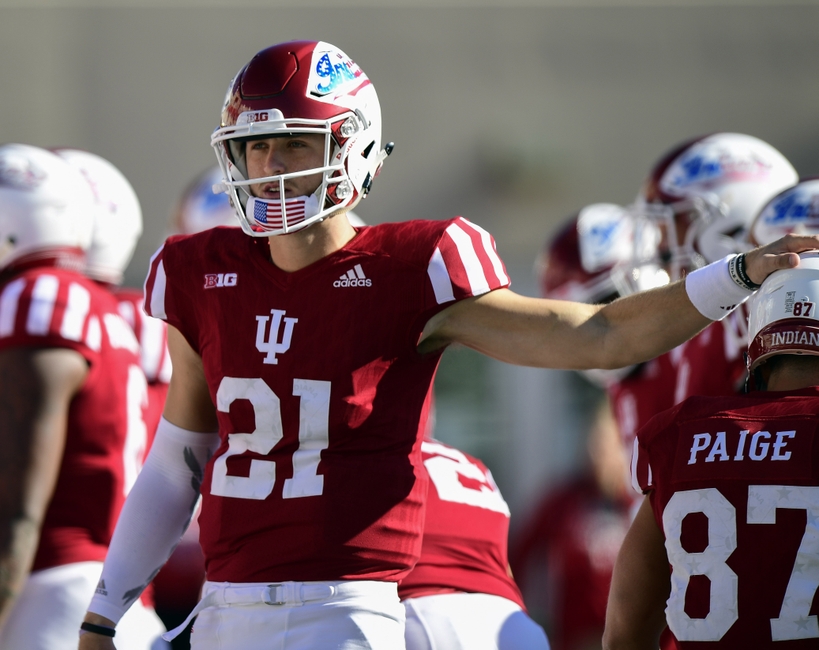 A few mistakes proved to be fatal for Indiana in their 45-31 loss to Penn State. A late surge by the Nittany Lions, outscoring the Hoosiers 24-7 in the fourth quarter, made the difference in the end.
Don't let the score fool you. This game was much closer than a 2 score difference. Penn State only took the lead with just under 4 minutes left, and had to fight the entire rest of the game to prevent an Indiana comeback.
Although the score was tied going into the half, turnovers were hampering Indiana's chances of getting off to a quick lead. 2 fumbles by Mitchell Paige squandered the field position battle, and a mishap by the punt team gifted Penn State 6 points.
Indiana's offense was by no means struggling, either. Richard Lagow finished with 292 yards and 2 touchdowns, and Devine Redding broke the 100 yard mark again, adding 2 touchdowns, as well. If they limited the turnovers, who knows how the game would have played out.
What the score also doesn't reflect is the stellar defensive play. Though Penn State posted 45 on them, 14 of those were due to offensive and special teams mistakes. Other than that, they did a fantastic job shutting down Penn State's star players. Heisman hopeful, Saquon Barkley had no room to run, only able to rack up 58 yards on 33 carries, his lowest rush per attempt average by far. Trace McSorley ended up with over 300 yards but was forced into throwing 2 interceptions with effective pass rushes.
While it would have been nice to get the W, Wilson must be pleased with how his team hung in there with some of the best in the nation. There were simply too many mental mistakes that cost them the game. Turnovers aside, there were a couple of huge blown coverages by freshman Marcelino Ball and A'Shon Riggens, but they came up big with other plays down the stretch.
Some defensive performances that deserve special mentions are Tegray Scales, who was extremely effective in shutting down the run game, Tony Fields, who caught a big interception in the 2nd half, and Rashard Fant, who was sticking to his receivers like glue – also getting an interception.
More from

Hoosier State of Mind
Penn State was just able to hang on. The momentum was swinging their way and it seemed like there was nothing the Hoosiers could do about it. A couple of missed passes and penalties on offense kept them from sustaining a comeback drive. On the other side of the ball, the Nittany Lions offense was too much for the gassed defense, who saw a lot of the field. Penn State had the ball for a good 7 minutes more than Indiana.
On a side note, Richard Lagow was really impressive today. He cleaned up his turnover problem and was throwing darts right into his receiver's hands. A few drops cost him some more yards that he deserved. He looked like a pro today, and hopefully will continue to develop into the quarterback that Kevin Wilson thinks he is.
It was also nice to see Camion Patrick get so involved in the game. He finished with 3 catches for 91 yards, and for the first time, looked full strength. It is too bad that he is just starting to find his form as the season is ending, but can prove useful when Indiana travels to Michigan next week.
With only 2 games left, Indiana still needs a win to become bowl eligible. That shouldn't be a problem with Purdue still on the schedule, who the Hoosiers have dominated over the past few years, but securing it today would have been fantastic. They fought hard. Just need to clean up the costly turnovers. Especially with #3 Michigan up next.
More from Hoosier State of Mind
This article originally appeared on