Michigan State vs Notre Dame: 3 things we learned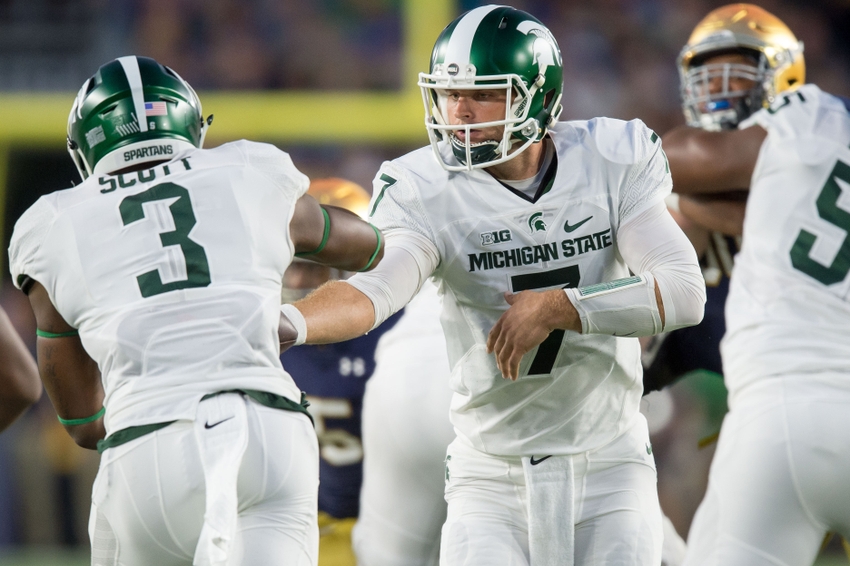 What did we learn from Saturday evening's Michigan State vs Notre Dame game from South Bend?
Michigan State traveled into hostile territory Saturday night and played a pesky No. 18 Notre Dame team in South Bend. The Michigan State vs Notre Dame game was the 68th installment of the rivalry and the 50th anniversary of the 'Game of the Century' from 1966 which ended in a 10-10 tie.
Must Read: Michigan State Football: 10 bold predictions for 2016 season
The Spartans got off to a sluggish start, falling behind after an opening kickoff returned for a touchdown — or so they thought. The play was brought back due to an illegal block in the back and Michigan State was given new life.
Notre Dame scored first, but Michigan State responded with a touchdown and a two-point conversion in the second quarter, giving the Spartans a ton of momentum. Tyler O'Connor found a rhythm and stuck to it, hitting a majority of his throws, but it was the run game that recorded three of the next four touchdowns to make it 36-7 in the third.
DeShone Kizer responded on the drive after a 73-yard touchdown run by Gerald Holmes with a touchdown pass to Equanimeous St. Brown. With a 36-14 lead, Michigan State needed to keep stepping on the throat instead of just playing not to lose, but didn't do it. The Fighting Irish scored on a quick drive yet again to make it 36-28 with six minutes to go.
The Spartans held on to win the game, thankfully, and here's what we learned after the game.

36

28
1. Conservative play can't win games
They did it again. Much like in years past, Michigan State took the foot off the pedal and allowed the Fighting Irish to get back in the game. The Spartans took a 36-7 lead in the third quarter and the game looked to be over, but Kizer and the Irish took advantage of a struggling Michigan State defense and came within two scores early in the fourth.
2. Secondary has a long way to go
Reminiscent of the Nebraska game in 2015, the Spartans took a comfortable lead, got lazy and allowed the Notre Dame passing game to do whatever it wanted. Kizer just lit the Spartans' secondary up in the second half, and it just goes to show that this unit has a ton of work to do.
3. Donnie Corley is ahead of schedule
Catching four passes for 88 yards and an impressive go-get-it touchdown, Donnie Corley proved he will be a focal point for this offense. The true freshman wide receiver is far ahead of schedule, torching the No. 18 team in the country's secondary on multiple occasions and could have finished with even more yards if O'Connor found him on a few open deep routes.
Highlights
Michigan State will have to face another tough foe on Saturday in East Lansing. No. 9 Wisconsin comes to town for one of the biggest conference matchups of the year.
This article originally appeared on