Michigan State Football: Final score predictions vs. Penn State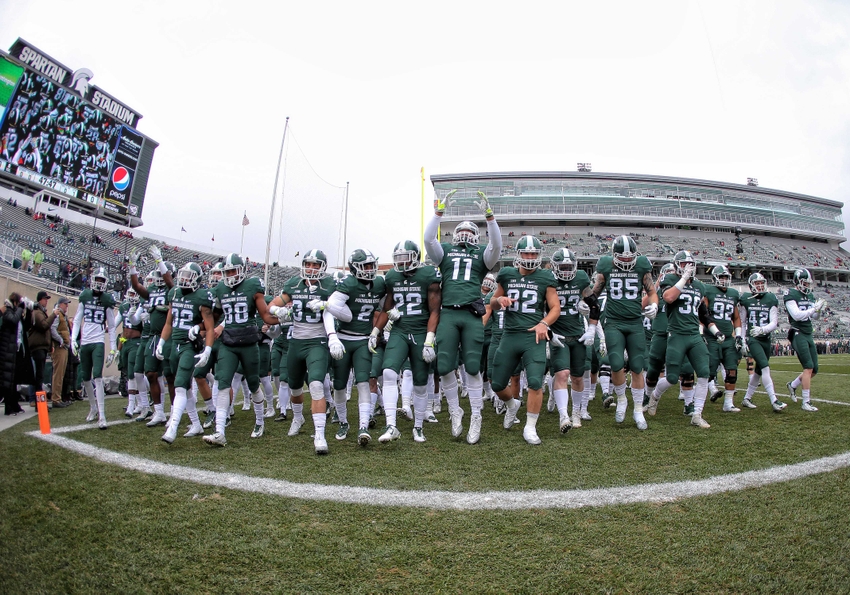 Here are the final score predictions from our staff for Michigan State football's Week 13 matchup against Penn State.
Michigan State football will be traveling to Happy Valley on Saturday to take on Penn State in a raucous environment. The Nittany Lions need a win and an Ohio State victory in order to clinch the Big Ten East crown and the Spartans are looking to ruin their season.
Must Read: MSU Football: 5 bold predictions for month of November
This is the last chance for Michigan State to gain some momentum heading into 2017 and they have been rising to the occasion against top-tier teams this season. Will they pull off a mammoth upset at Penn State?
Here are our contributors' score predictions for Saturday's game.
Connor Muldowney: This one is going to start off like the Michigan and Ohio State games for the Spartans. Michigan State is going to come out and score first and then hold its own for the remainder of the half. Being in a hostile environment might affect this team a little more, though. LJ Scott is going to have another big game, but Tyler O'Connor turns the ball over three times and the Spartans lose a late lead.
Final: Michigan State 24, Penn State 28
Stephen Robb: Despite the loss last week, MSU has displayed grit and determination when facing ranked opponents. I expect the same laser focus from the Spartans this week. I'm predicting an upset of Penn State.
Why?
I think Coach Franklin is an excellent coach, however, he has done what he has with smoke and mirrors. Winning is winning, which is why they are ranked high. However, I believe Penn State is over-ranked and has not been in this position before.
The Spartans are coming off one of their best defensive performances and I expect them to build on this. This is the last game for Riley Bullough and the other seniors, they will give their all in this contest. I do not believe PSU can stop LJ Scott. Therefore, look for him to have another huge day and get the production needed for a 1,000-yard season.
Final: Michigan State 24, Penn State 17
Daniel Gottschalk: Playing in Happy Valley with the Nittany Lions possibly playing for a trip to the Big Ten Championship will be the toughest environment Michigan State has played in all year. If that's already not enough motivation for Penn State, they will also be seeking to avenge last year's drubbing by the Spartans in East Lansing. Michigan State's improved defense will keep this game close, but Michigan State's offense won't quite be able to put up enough points when needed. Look for another big day from freshman defensive tackles Mike Panasiuk and Raequan Williams.
Final: Michigan State 17, Penn State 21
Michael Briggs: Michigan State played some of its best football of the season last week against a second-ranked Ohio State team. While Penn State has everything to play for with a Big Ten East title possibly in the cards, I expect MSU to follow the OSU performance up with an upset victory.
Prediction: Pennsylvania natives Damion Terry and Montae Nicholson make key plays down the stretch that send the Spartans into the offseason with a much-needed boost.
Final: Michigan State 28, Penn State 24
Ian Olsen: Michigan State wins 23-21.
This article originally appeared on