Michigan State Football: 5 Spartans who will become stars in 2017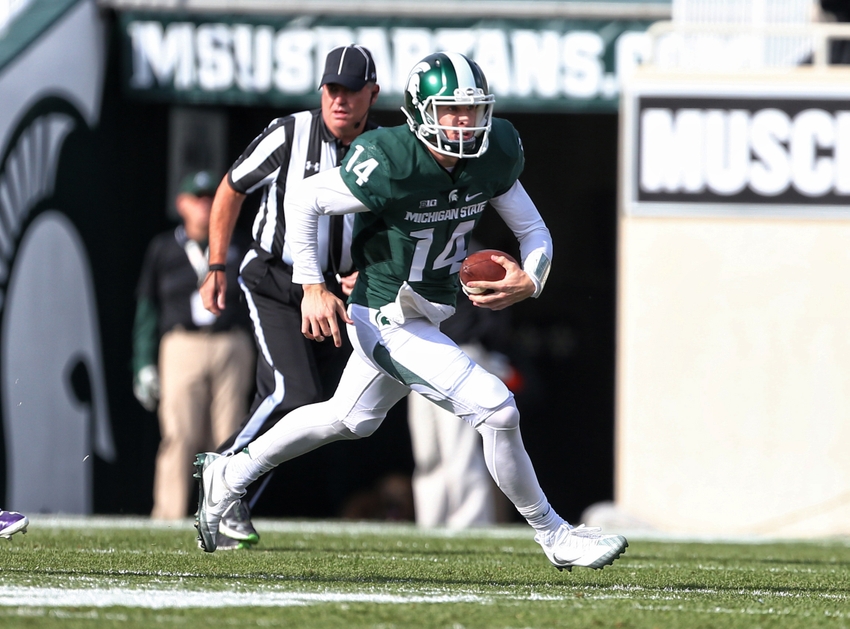 Michigan State football had a rough season, but there is hope for the future with these five future stars.
If you're still trying to forget the 2016 Michigan State football season ever happened, you've come to the wrong place. Here at Spartan Avenue, we are trying to analyze what went wrong and take a look at how bright the future is.
Many things went the opposite direction of what Mark Dantonio expected before the campaign. You don't have a mantra of 'Back2Back' and wind up 3-9 if things go exactly as planned. No, the Spartans weren't expecting to burn a number of redshirts this year, nor were they hoping to shuffle through three quarterbacks.
The defense was supposed to be improved as well and the offensive line was supposed to be a strength. Not so much. Michigan State has a lot to improve on, but there are some guys who bring a bright future with them.
These five Spartans will break out as stars in 2017, mark my words.
5
Andrew
Dowell
LB,

Sophomore
Ed Davis and Riley Bullough will be graduating this offseason and potentially heading to the NFL — at least the latter of the two will — and that leaves the door open for a guy like Andrew Dowell to really step in and flourish at linebacker.
Dowell began the 2016 season as the starting linebacker, but as Chris Frey emerged, he took a back seat. He still played a prominent role, especially when Jon Reschke went down with an injury which kept him out for the final nine games. He played in every game this season and recorded five or more tackles in eight of those contests.
The sophomore linebacker has proven to be an athletic specimen who adds speed and aggressiveness to the position. He needs to be a little more consistent next year, but I expect him to have a breakout season in 2017.
Andrew finished with 67 total tackles, three pass deflections and an interception this season. Expect him to approach 100 tackles next year and to be more involved in pass defense.
4
Mike
Pansiuk
DT,

Freshman
Trust me when I say this, there's going to be a starting spot with Mike Panasiuk's name written all over it next year. Possibly the most underrated of all the 2016 defensive line commits for Michigan State, Panasiuk played well after getting his redshirt burned this season.
Panasiuk played in five games this season and had a hand in a number of tackles. In fact, he finished the season with 14 total tackles and 0.5 sacks. He looks the part of a collegiate defensive tackle, standing 6-foot-3 and wishing 309 pounds, and he has the strength to overpower offensive linemen.
Michigan State took the redshirt off him when the defensive line was struggling this year and a big reason for that was the lack of depth. Now that he has proven himself and even has a couple of starts under his belt, he's going to be a major player on the line next season.
A defensive line with Panasiuk, Demetrius Cooper, Josh King and Raequan Williams starting is just what I imagine — and that's assuming Malik McDowell goes pro. That's a formidable group of pass-rushers. Mike is going to be a stud next season and I'd be shocked if he wasn't an All-Big Ten performer.
If his younger brother, Jacub, is anything like Mike, the Spartans will have some major success on the defensive line for years to come.
3
Justin
Layne
CB/WR,

Freshman
I was one of those believers in Justin Layne at wide receiver. He came in as a shifty, speedy four-star from Ohio and it looked like he would add some athleticism to the receiving corps. After a couple of games at the position to start the year, Layne made the switch to cornerback, a position he played in high school.
The freshman made some mistakes in his first big game against Northwestern, allowing a long touchdown pass after being turned around, but earlier in that same contest, he recorded a pick-six.
It was a glimpse into the future at cornerback and a refreshing sight, especially with Vayante Copeland struggling on the other side of the field. People were also blaming Darian Hicks for the defensive backfield issues, but he actually turned out to be the best cover corner on the team this season.
Next year with Hicks gone, Layne will likely get the start with a potentially improved Copeland on the other side. If not Copeland, then it will be Tyson Smith, Josh Butler or, heck, even Donnie Corley.
Layne finished the season with 18 total tackles and an interception. His coverage skills improved as the weeks wore on and he showed just why the coaching staff loved him at defensive back.
2
Brian
Lewerke
QB,

Freshman
The future doesn't get much brighter at any other position than it does at quarterback. After suffering through 12 games with Damion Terry and Tyler O'Connor at the helm, it looks like there is light at the end of the tunnel for Michigan State fans.
There will be three young options on the roster next season in incoming freshman Rocky Lombardi, redshirt freshman Messiah deWeaver and sophomore Brian Lewerke to go along with Terry, a senior.
The coaching staff will probably be deciding between deWeaver and Lewerke before the season and since Brian was the only one to actually play a collegiate snap thus far, I put him at this position on the list — deWeaver could easily be here, too.
Lewerke played well in limited action this year and had some freshman mistakes, as expected, but ultimately provided the type of spark that the Michigan State offense needed. He got his first start against Northwestern and raced out to a 14-0 lead before getting benched — for some odd reason.
The freshman started against Maryland the following week and struggled a bit, going 11-of-24 for 156 yards and an interception, but showed his dual-threat ability, rushing for 79 yards.
Unfortunately, his final game of the season was his best. He came in during the fourth quarter of what looked like an easy Michigan win and made the game much closer, passing for 100 yards and a touchdown on 6-of-10 completions. He also broke his leg.
The last version we saw was the QB who the staff hopes to get next year. He will be a star.
1
Donnie
Corley
WR/CB,

Freshman
Donnie Corley was one of the biggest bright spots on the team this season. Not only was the former four-star recruit from Detroit King an incredible receiver, ranking near the top of the Big Ten in every category for freshmen, but he played well on defense, too.
Must Read: MSU Recruiting: Top 10 priority 2018 football targets
The future is incredibly bright for Corley and I almost didn't include him on this list because it seems like he's already a star. However, he has only scratched the surface and that has to be a scary thought for the rest of the Big Ten.
Corley finished the season with 33 catches for 453 yards and three touchdowns, the best performance in a single season for a true freshman wide out since Aaron Burbridge put up 364 yards and two touchdowns on 29 catches back in 2012. Corley is well ahead of Burbridge's pace and he even wound up winning the Big Ten Receiver of the Year award in 2015.
The reason Donnie's numbers weren't even better than how they finished? He didn't have a solid quarterback throwing him the ball for most of the season. Tyler O'Connor struggled all year and when Brian Lewerke went down with an injury, he regressed under center — if that's even possible.
With Lewerke or deWeaver tossing him the pigskin next season, we might see another 1,000-yard receiver in the green and white.
This article originally appeared on