Michigan State Football: 5 keys to victory vs. Maryland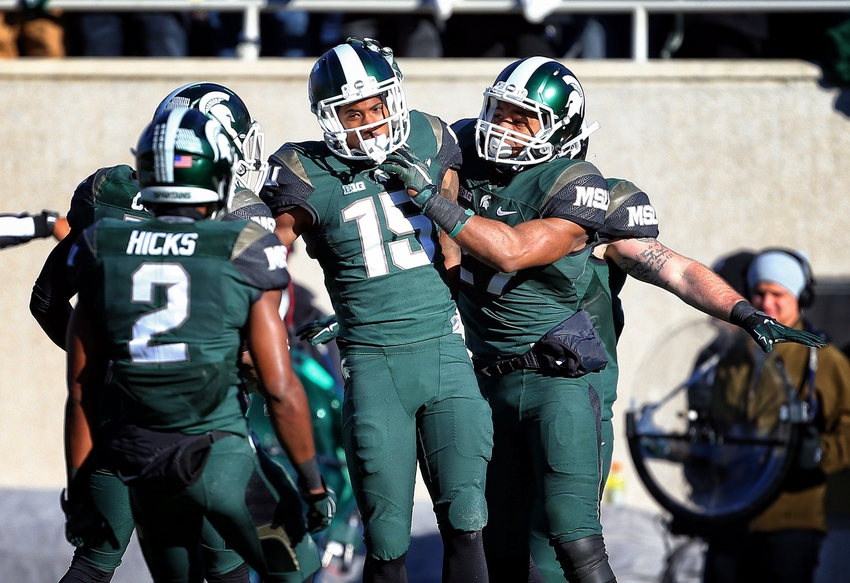 What are the five keys to victory for Michigan State football on Saturday night against the Maryland Terrapins?
Michigan State football is in desperate need of a victory. The Spartans are just 2-4 and looking for answers and to stop the bleeding but the Maryland Terrapins (4-2) stand in their way.
Riding a four-game losing streak, there is plenty that needs to be fixed in order for the Spartans to come away with a victory, but a few keys stand out. For example, the offensive line needs to step up and stop allowing teams to blow them off the ball — same goes for the D-line.
Will Brian Lewerke step up and lead the Spartans to a big win on Saturday night to push their record to 3-4 with Michigan looming?
Let's take a look at the Spartans' five keys to victory in Saturday night's game against Maryland.
5. Mix up the play-calling
This shouldn't even need to be said, but it still reigns true. Michigan State offensive coordinator Dave Warner needs to mix things up in order to keep the Terrapins' defense on its toes. No more strictly passing for an entire quarter or just running it eight times in a row. No more.
Start the game with a couple of runs and then it will start opening up the pass game. Don't stick to runs between the tackles, try some options or even some draws or pitches. LJ Scott is a talented running back, but he's not going to get more than a couple of yards if the only way you use him is with runs up the middle.
Same goes for Gerald Holmes and Madre London.
Also, let Brian Lewerke air it out early on. Give him some 5-10 yard throws so the Maryland defense starts to come in and then let him go deep to Donnie Corley or R.J. Shelton.
Mixing up the play-calling is crucial.
4. Get more pressure on the opposing QB
Getting pressure one whoever starts for Maryland at quarterback is crucial. No, the Terrapins probably won't be airing it out much in this one since they're stuck to the ground game for most of the season, but both Perry Hills and Tyrrell Pigrome can run with the ball, too.
Malik McDowell is going to get double-teamed no matter what. The Terrapins know what kind of player he is and they're not going to let him beat them by getting into the backfield each time with a one-on-one blocking scheme.
Still, that leaves room for guys like Demetrius Cooper, Raequan Williams, Kevin Williams and Brandon Clemons to have big games. Even the freshmen can get in on the act. Mike Panasiuk and Josh King are both listed as backups while Auston Robertson might just break into the rotation as well.
Making Pigrome or Hills, whoever starts, uncomfortable in the pocket will work wonders for this defense. The secondary should be fine against the Terrapins, but the Spartans need to dominate up front and force Maryland to stick with the run game and then MSU can key on that.
3. Get the run game back on track
It's been three weeks since the Spartans last broke the 100-yard mark as a team on the ground. Michigan State has been limited to sub-100 yard performances rushing against both BYU and Northwestern and that's not something that this team is used to seeing.
With great backs such as Le'Veon Bell and Jeremy Langford coming through East Lansing, it's tough to see talented players such as LJ Scott, Madre London and Gerald Holmes struggle to pick up yards on the ground, but the offensive line has been mediocre. In fact, the Spartans' big guys up front may be the most disappointing group on the team.
The lack of running lanes has been shocking and a trio such as the one Michigan State has in the backfield should accumulate 200-plus yards per game.
If Warner can get the ground game going early and mix up the plays, as previously stated, the Spartans should have no problem putting points on the board. It's time Scott gains some confidence back like he had in the first two weeks — same goes for Holmes.
Michigan State has the ability to break the 200-yard mark as a team, but if that doesn't happen against the Terrapins, there's a good chance a victory won't happen.
2. Get back to playing Spartan football
The Spartans have lost sight of what has made the program so special. Playing that underdog brand of Michigan State football is important and having a chip on its shoulder can work wonders in terms of a turnaround. Proving doubters wrong is what the Spartans have done best over the past few years.
Michigan State players talked earlier in the week about getting that 'chip' back on their shoulders this week to start playing Spartan football again.
Chris Solari of the Detroit Free Press got to talk with Riley Bullough about that, as well as R.J. Shelton.
"We talked about that (Tuesday), actually, getting that chip on the shoulder back," linebacker Riley Bullough said. "We've always been a team that prides ourselves in being hard-nosed, blue-collar players. We've gotten away from that a little bit, I think, so we've got to get back to that."

…

"When your team is in a good position, they're in bowl games, games people see and watch," senior receiver R.J. Shelton said. "At the end of the day, it's all for Michigan State. … It's all for people that care about this program, and we care about this program.

"So, we want this program to be in a good position. It's about obviously winning and making sure this place stays where it's supposed to stay, and that's at the top."
If Michigan State can play Spartan Dawg football once again, it can come out with a big road win against Maryland.
1. Trust in Brian Lewerke
Although the coaching staff might not admit it, they're probably relieved that they don't have to make a decision this week of who starts under center. Michigan State ruled Tyler O'Connor out this week, reportedly, due to a foot injury as he's been in a walking boot all week.
Must Read: MSU Football: 5 bold predictions for Maryland game
O'Connor was apparently injured during the Northwestern game after he put up some nice numbers in the second half. Damion Terry might also be out, too, with a hand injury, leaving Brian Lewerke as the clear starter. He started last week for the Spartans and got out to a 14-0 lead before getting rattled by a big hit in his own end zone for a safety in the second quarter.
Lewerke didn't quite look the same after that safety and finished the game 12-of-19 for 99 yards but he did lead the Spartans in rushing with 30 yards. He was replaced in the third quarter by O'Connor, but flashes of 'future quarterback' were shown.
The coaching staff needs to show that they trust this kid to get the job done and don't let a hampered O'Connor, who will likely dress, come in the game to replace him even if he makes some mistakes.
When a kid knows that the coaching staff trusts him, he usually plays better and more confident. Ride it out with the freshman and good things will happen.
This article originally appeared on