Michigan State Football: 5 bold predictions for November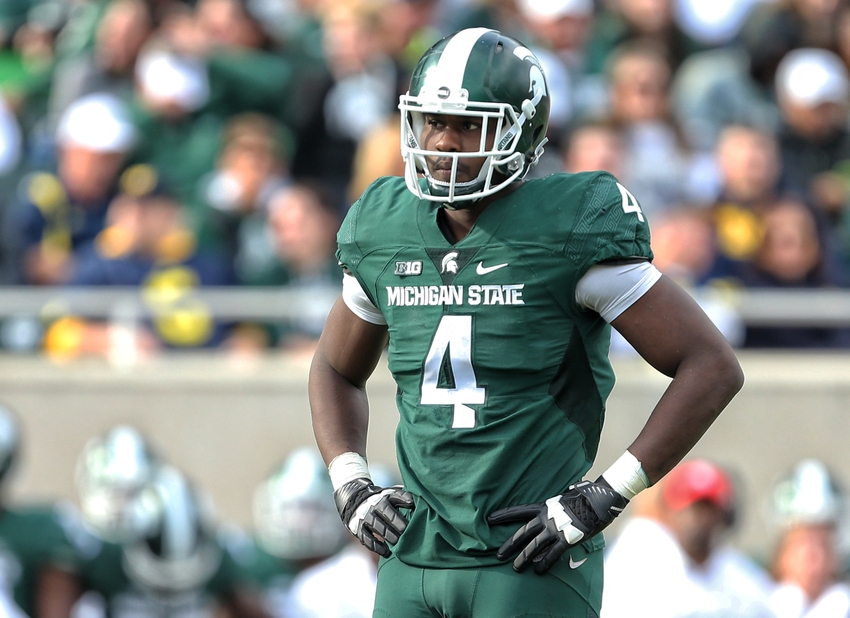 Here are five bold predictions for Michigan State football through the month of November.
The month of October is in the books and it's time to look toward November as a time of mental growth for Michigan State football. Losing to Michigan was a tough pill to swallow for Mark Dantonio, but there were positives to take from the game and the young guys can use that as a measuring stick for the rest of the year.
Brian Lewerke has broken his leg and has been ruled out for the rest of the season. That's a tough blow for a kid who had proven himself as the best quarterback on the depth chart and likely would have started the remainder of the season.
Sitting at 2-6 with injuries starting to pile up, the Spartans have four games left to make a push for a bowl berth. Let's take a look at the five bold predictions for this team in the month of November.
5. Offensive line keeps improving
Showing this against Michigan last weekend, the Spartans' offensive line looked like it got back on track. For the first time all year, the line was opening holes and giving the quarterbacks enough time to throw the ball.
Sure, there were a few exceptions when the line failed to pick up some of the blitzes and the quarterbacks were sent scrambling. It happened with Lewerke and ended up with him breaking his leg and being ruled out for the year. Damion Terry, too, was also injured because of a blitz.
However, for the most part this group was impressive against the top defense in the country and that has to be a confidence-booster for the remainder of the schedule. It faces two tough tests against Penn State and Ohio State, but as long as momentum is on their side, they will continue to improve.
Getting young guys like Thiyo Lukusa and Tyler Higby involved regularly will also be important for the unit's success next year.
4. Malik McDowell goes off for monster month
Malik McDowell has had a pretty solid season thus far. The junior defensive tackle, and sometimes end, has put up 34 total tackles with 1.5 sacks and there are still four games left to improve on those numbers.
If you asked him before the season what he would consider a successful year, he probably would have said 10 sacks and 50-plus tackles. He could definitely reach the 50-tackle mark, but he needs to have an incredible four-game stretch if he wants to record 10 sacks on the year.
Last year, he finished with 4.5 sacks and didn't quite reach the 40-tackle mark, so you could argue that he's on pace to have a better season than he did last year. He benefitted from the constant double-teams to Shilique Calhoun and strong defensive line presences of Lawrence Thomas, Craig Evans and Joel Heath.
Now he's the guy to watch for. Potentially the best defensive lineman in the conference, and maybe even the country, he is going to go off in the last four games of the year, proving to be a nightmare for opposing quarterbacks.
McDowell will record five sacks and 22 tackles in November, improving his draft stock tremendously, and there's probably no way he stays for a senior season.
3. LJ Scott finishes season with 1,000 yards
This one's easy: get LJ Scott the ball. Each time he touches the ball a good amount, he scores a touchdown and he's much more effective.
In fact, in the four games that Scott has less than 20 carries, he's accumulated just 131 total yards on 4.3 per carry. In the four games that he has 20 or more rushes, he has 470 total yards and 5.6 per touch. Moral of the story is simple: make sure he touches the ball more than 20 times per game.
If the coaching staff starts to realize this trend, which I'm sure they already have, I'd expect Scott to have a huge month of November and record three or four more 100-yard games. He has over 260 yards and two touchdowns in his last two games, and I'd expect that trend to continue.
Coming off his best game of the year against the nation's top defense, and a run defense that allowed just 96 yards per game, on average, on the ground, Scott has built some confidence up. He now feels like he can go off on any team in the Big Ten, and he's going to have to if he wants to reach 1,000 yards.
There's a good chance the Spartans don't make a bowl game, so he will need to go off in these final four games if he wants to reach that impressive plateau. And he will.
2. Tyler O'Connor shows improvement
Watching Tyler O'Connor this season has been frustrating. The senior captain has his team's respect, but he doesn't have the opposing defense's. He was just 7-of-14 for 84 yards with a touchdown and a crucial interception before the half.
There's nowhere to go for the senior quarterback but up. He can't get much worse and with his final month of college football ahead of him and the starting job in his hands to lose, he's going to play his best football of the year.
Knowing that a college career is winding down can hit a player hard with just a few games left, and that's what's about to happen to O'Connor. Realizing that his legacy may be tarnished if he doesn't help the Spartans to a bowl game will weigh on him heavily and he's going to look like an entirely different quarterback.
The pressure of Brian Lewerke breathing down his neck is now gone since the redshirt freshman is out for the remainder of the year and that will force him to relax a bit. Sure, Damion Terry is still there, but there's a good chance he won't see the field again.
O'Connor currently has 1,341 yards, 12 touchdowns and seven interceptions, but I'm going to predict he finishes the year with 2,200 yards, 20 touchdowns and 10 interceptions. His completion percentage will also improve from 60 percent.
1. Spartans finish November with 3-1 record
The remaining schedule is not easy. There are two very winnable games left for Michigan State and two games in which the Spartans will be major underdogs.
Must Read: MSU Football: 5 takeaways from loss to Michigan
Let's start with this weekend at Illinois. Michigan State is favored to win that game, and deservedly so. The Fighting Illini just aren't very good this year, also at 2-6, and the Spartans have more talent on the roster than Illinois. Michigan State should come away with a win, despite playing on the road, and will.
Next up would be Rutgers. The Spartans host the worst team in the conference and the game honestly shouldn't be that close, but anything can happen. Rutgers will give the Spartans a little scare and Michigan State will come out on top yet again for its second straight win to improve to 4-6.
Ohio State comes to East Lansing the following week and the chances are that the Buckeyes will be competing for a playoff berth. The Buckeyes will beat Michigan State, but it's going to be a much closer game than people think. The Spartans drop to 4-7 overall and 2-1 in November.
Lastly, traveling to Penn State in the final game of the year is a daunting task, but the Spartans beat the Nittany Lions last year 55-16. Clearly, these two teams aren't nearly the same as they were last year, but they're also not completely different, meaning that the score will be pretty even instead of a blowout one way or another.
Penn State has improved and has even pulled off an upset over No. 2 Ohio State, but the Spartans will be playing for a potential bowl berth — yes, 5-7 teams can make a bowl. With nothing to lose and everything to gain, Michigan State will have its best game of the season and upset the Nittany Lions on the road.
This article originally appeared on