Michigan Football vs Wisconsin: Important Takeaways from the Wolverines Win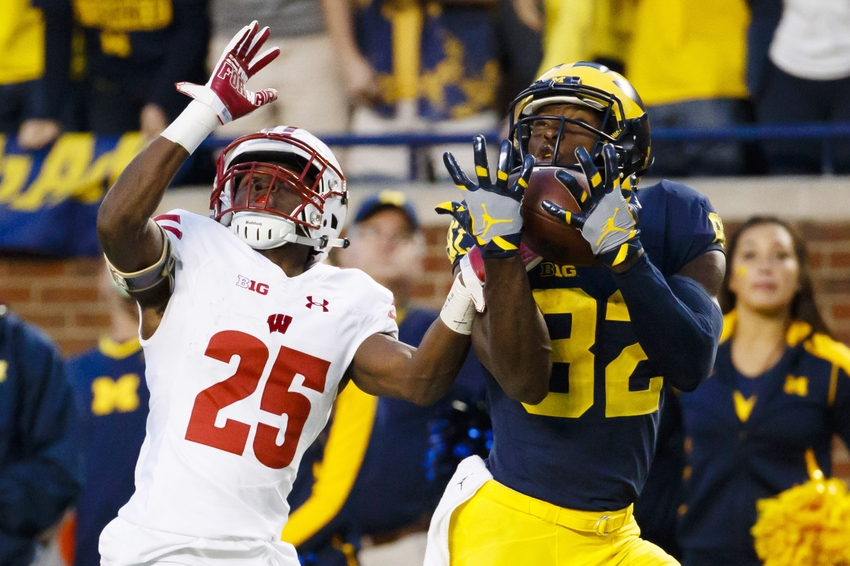 The Michigan football team survived against Wisconsin on Saturday and here are three important takeaways from the Wolverines 14-7 win.
Coming into Saturday's showdown with No.8 Wisconsin, Michigan football hadn't defeated a top-10 team in eight years. But, thanks a clutch catch by Amara Darboh, the Wolverines outlasted the Badgers and captured a huge 14-7 victory.
For weeks, even months now, Michigan football fans have been dying to know how good their team is and while Saturday's game left some questions, UM finally proved it can beat a big-time opponent.
Wisconsin may not be Ohio State or Alabama, but the Badgers remain one of the better teams in the Big Ten and beating them at home was a must for UM.
The game wasn't pretty. In fact, at times, it was ugly.
Coming in, many expected an old-fashioned Big Ten battle and that's exactly what took place at the Big House.
In truth, Michigan dominated many aspects of the game.
The Wolverines out-gained the Badgers 349-159. The Michigan defense also intercepted freshman quarterback Alex Hornibrook three times, including an incredible one-handed pick by Jourdan Lewis in the final minutes to seal the win.
Ultimately, Michigan football got through its first test of the season and although they didn't pass with flying colors, they passed nonetheless. A win is a win and when it gets you to 5-0 and gets you a win over a top-10 team, style points don't matter. The W is all that counts.
Here are three takeaways from Michigan's win over Wisconsin.
Michigan defense proves its elite
No that anyone doubted the talent of the Michigan defense, but when you shut down the eight-ranked team in the country, especially with the game on the line in the fourth quarter, it says something.
The Badgers are known for running the football. But against Michigan football, Wisconsin was completely turned away, rushing 28 times for only 71 yards.
Big-time win. Big-time gallery.

PHOTOS » https://t.co/aSgcOZ15xU #GoBlue pic.twitter.com/uwz3o4QG2B

— Michigan Football (@UMichFootball) October 2, 2016
Throughout the game, UM was relentless. They stonewalled Wisconsin all day at the line of scrimmage and battered Hornibrook from start to finish. The Wolverines not only sacked the freshman three times, they forced him into an average yards per pass of a paltry 3.9.
For the game, Hornibrook was just 9-of-25 for 88 yards. He did throw one touchdown, but finished with three interceptions, including one on the Badgers' final drive.
Michigan football may still have some work to do on offense, but as far as the defense is concerned, the Wolverines are as good as it gets in college football.
Wilton Speight has room to improve
Michigan football doesn't need to apologize for anything in its seven-point win over Wisconsin, but if the Wolverines are going to beat teams like Ohio State, Speight has to be better.
Overall, the first-year starter had solid numbers in the win over the Badgers, completing 20-of-32 passes for 219 yards, to go along with one touchdown and one interception.
Yet, the one interception that Speight did throw, led the tying score for Wisconsin and also took points off the board as it came when Michigan was driving to take a double-digit lead.
It wasn't all bad for Speight, who did hook up with Darboh on the game-winning touchdown, but it wasn't all smooth sailing.
WILTON ➡️ DARBOH. Clutch. (via @MichiganOnBTN)#GoBlue » https://t.co/zdV11O8YV5

— Michigan Football (@UMichFootball) October 1, 2016
Michigan converted just 3-of-15 attempts on third down and missed on three different scoring opportunities that could have put the game away.
Now, Speight isn't the only one to blame. However, elite quarterbacks get it done in the red zone and on third down.
Michigan doesn't necessarily need Speight to be an elite passer, but he will need to improve his performance if the Wolverines are going to beat the best college football has to offer.
Jourdan Lewis might be the nation's best corner
During the first few weeks of the season, Jabrill Peppers was the most talked about defender on the Michigan football team. Yet, after the way Jourdan Lewis played Saturday against Wisconsin, that may not be the case anymore.
Lewis, who was an All-American last season, missed the first three games of the season, but showed Saturday, he's back to being among the nation's best.
The senior notched four tackles in the win, as well as a pass defensed. Yet, he saved his biggest play for last, as he made an eye-popping interception to with less than three minutes remaining to clinch the victory.
The reaction that @brandymancan has to @JourdanJD's game-clinching INT for @UMichFootball is A〽️AZING…

LISTEN: https://t.co/CZIUQEbbPT

— IMG Audio (@IMGAudio) October 1, 2016
While Peppers makes his own impact on the defense, having a corner like Lewis, who can shut down the opposing team's best receiver is invaluable.
With Lewis back in the lineup the past two weeks, Michigan's pass defense went from good to great and the Wolverines defense in general has gone from elite, to national-championship caliber.
This article originally appeared on