Michigan Football: Takeaways From Win Over Indiana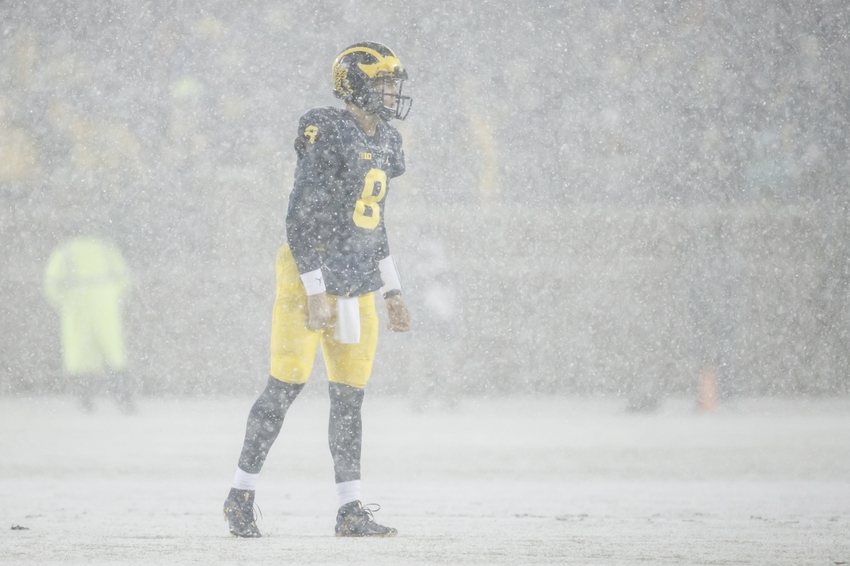 With Wilton Speight out and John O'Korn in, Michigan football's chances against Indiana looked in flux for a while, but the Wolverines managed a win.
It was senior day for Michigan football against Indiana. The Wolverines, who got their 10th win of the season, sent their seniors through the tunnel at the Big House for the last time and got the result they were looking for, even if it wasn't without hardship.
The story of the game was Wilton Speight being out—he was a game-time decision—and John O'Korn getting his first start in a Michigan uniform. Speight was warming up before the game and, according to reports, looked fine. Perhaps he'll be well enough to play next weekend at Ohio State.
That's the hope, anyway, because the Wolverines' offense was 50 shades of vanilla against Indiana.
O'Korn completed 7 of 16 passes for 59 yards, and few of his attempts went more than 10 yards down the field. His biggest contribution was a 30-yard scramble on third-and-8 with under 4:30 to go in the fourth quarter. That got him fired up for the first time, and the next play saw De'Veon Smith run for a 34-yard touchdown to give the Wolverines a 13-10 lead.
Where Michigan would've ended up without Smith's 158 yards and two touchdowns is something we probably just shouldn't even consider.
For what Indiana's offense has done this season—the Hoosiers averaged 467 yards and 27.5 points per game coming into this one—Michigan's defense can be extremely proud of the way it handled what can sometimes be an explosive unit.
Taco Charlton was an angry individual after getting an unsportsmanlike conduct penalty called on him late in the first half, and he released his steam in the Hoosiers' backfield with 2 1/2 tackles for loss and a sack.
Oh please God let Speight be back next week
O'Korn made his first start for a major college football program in front of more than 100,000 people, and that's what he played like.
It was very clear from the opening drive that Jim Harbaugh, Tim Drevno and Jedd Fisch weren't going to ask for very much from him. One of his tendencies in the two drives he got in Michigan's spring game was tucking the ball and running too early, not giving his receivers a chance to get into their routes.
That wasn't a problem against Indiana; O'Korn wasn't asked to hold onto the ball for more than a couple paces. Almost everything was short and quick, or it was a play-action rollout.
As uneventful as Michigan's day was through the air, O'Korn could've done much worse than 7 of 16 for 59 yards. What's most important in a game like the one Michigan just played—low-scoring and in the snow—is that he wasn't reckless and didn't turn the ball over.
This was against Indiana, though, and the Hoosiers' defense, even though much improved from previous seasons, is very much in the shadow of Ohio State's. The Buckeyes will have more pressure, better coverage and (God forbid) more takeaways.
One thing O'Korn did show that might have some promise is his ability to run. He did a couple times against Indiana, and once very successfully for 30 yards on a third-and-8.
The run defense is back
Did it leave? That's debatable. But either way, the Wolverines' run defense showed up in a big way against Indiana on Saturday.
Indiana's ground game hasn't been as dynamic as it was last season, but the Hoosiers still have a core of runners who can inflict damage. Some of them run around you, some run through you. Some do both, honestly.
Indiana had been averaging 164 rushing yards per game, but Michigan held that number to 64 (1.8 yards per rush).
Devine Redding is usually the guy you want to be scared of, but he wasn't doing anything against the Wolverines' front. He got 50 yards on 22 carries (2.3 average), and Indiana's best rusher was pretty much a non-factor for the entire game.
The Hoosiers messed around with the Natee Tyler-Zander Diamont power package, but it wasn't doing anything. Tyler and Diamont combined for nine yards on three carries.
Michigan is going to get a tremendous test against Ohio State next week with the combination of Mike Weber, J.T. Barrett and Curtis Samuel. After this performance, though, and after considering what Michigan has done for most of this season, there's no reason to be too down in the dumps about next week's threats.
As a quick aside here, Michigan's secondary was tremendous once again. Hoosiers quarterback Richard Lagow averages 286 passing yards per game, but he only had 191 on 14 completions against the Wolverines.
The Jabrill Peppers thing is bland and boring now
Bland, boring and predictable is what Jabrill Peppers has become on offense. It's no fault of his—it's not like Peppers stopped being one of the fastest and most electric players on the team. Rather, the play calling has gotten too predictable, and they've gone away from what made it work in the first place.
Peppers used to step on the field and demand the defense's attention, and it was suspenseful because you had no idea if he was even getting the ball or not. Perhaps you—oh, I don't know—called two timeouts back-to-back, only to see Peppers not get the ball. (Hi, Mark Dantonio.)
That's not the case anymore. If Peppers is on the field, he's getting the ball, and teams don't have to really worry about biting hard on a fake or being out of position for a counter.
The reason this matters is because it may become prominent next week against Ohio State. Let's say O'Korn gets the nod again at quarterback and Michigan's offense struggles like it did on Saturday. The Buckeyes are going to force the issue a little more than Indiana, and punting for field position isn't going to be the first option.
Having someone like Peppers who can come in and provide a spark could be crucial.
Sticking to the topic of Peppers, I think another reason we're seeing this slip in production and effectiveness is because Michigan's staff uses him considerably less in bigger games. When it's Rutgers, he's out there what seems like once every drive. But against Indiana, with an offense that's limping, he stayed on the sideline.
We'll see if that trend holds next weekend.
This article originally appeared on