Michigan Football: Keys to Beating Indiana On Saturday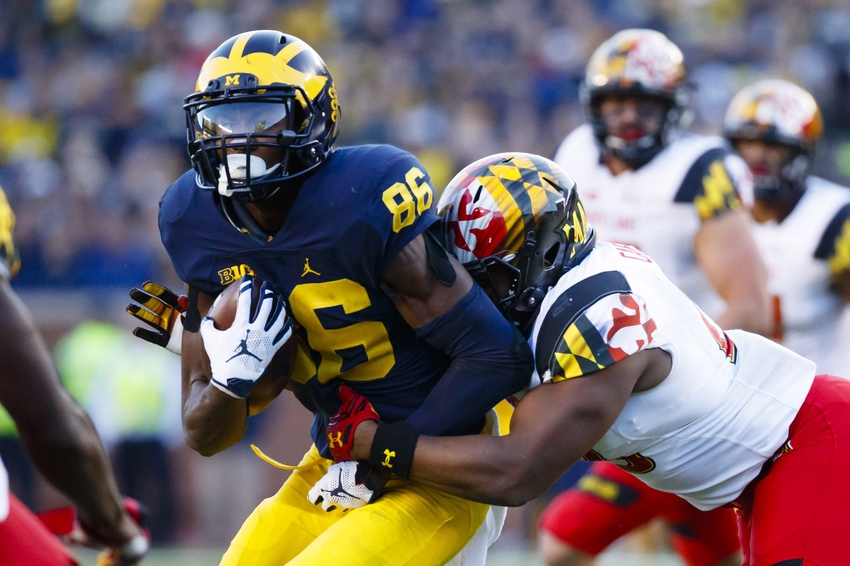 If Michigan football is going to the Big Ten Championship Game, it has to beat Indiana on Saturday. Here's how the Wolverines can do it.
For the first time this season we'll see how the Michigan football team responds to a loss. It's senior day in Ann Arbor, and it's going to be windy and cold and possibly snowy: ideal weather for a proper Midwestern sendoff if you ask me.
Indiana comes into town looking to get bowl eligible after a not-very-Hoosiery season in which they have looked like a normal mediocre team, not some sort of Dionysian football nightmare.
That should be encouraging for Michigan because in years past, opponents—including Michigan, of course—would have no damn idea what to expect from Indiana.
That said, Michigan just lost to the most aggressively predictable team in the conference, so who knows. There are a few keys to victory for Michigan in this game, and a few more things that they should be working toward shoring up that might not make a big difference in this game but could in the future.
The Edge
The defense has looked at least semi-human over the past few weeks, and its struggles in setting the edge has been the reason. Indiana running back Devine Redding is a darty little dude that has rushed for 901 yards and has caught passes for another 150 more. IU will try to get him out into space on screens and swing routes; they run the read option behind an inside zone blocking scheme (kind of like another team on the schedule, ahem), so if Redding's attacking the edge it'll probably be by way of a counter or a pass.
We'll see how well Mike McCray and Channing Stribling can adjust after getting exposed (again) last week. It wouldn't be surprising to see some more of Peppers waiting outside while McCray crashes inside today.
This is a potential bounce-back game for McCray and Stribling, though, because IU just doesn't run the ball effectively, so if they avoid mistakes it should be relatively easy sledding.
Michigan Football vs Indiana: 3 Predictions for the Wolverines
If the coaching staff doesn't make adjustments and Stribling and McCray struggle in maintaining the edge and/or tackling in this one, we should all be very worried about how much havoc Curtis Samuel and Mike Weber will wreak in Columbus on Nov. 26.
John O'Korn
This is just pretty much a total unknown. O'Korn last played in 2014 for a Houston team that does not resemble this Michigan team in any way. What's more, it's going to be either raining or snowing or both, so there's even more potential for utter chaos.
Hopefully the conditions will be good enough for the players to still be able to run and Michigan can rely on the running back hydra, Peppers, and O'Korn's mobility to stabilize the offense, assuming he gets his morning coffee.
When u send ur Starbucks mobile order to the wrong store ????????????

— JOK (@JohnOKorn) November 3, 2016
Don't expect a whole lot of passing in this one.
Still, we could learn a lot about what the team is going to look like going forward with a new quarterback. I said earlier this week that I have a hard time thinking O'Korn will be a disaster and I think he'll play well enough to beat IU, but I (and most others) thought that he would easily beat out Speight for the starting job before the season, so we don't know anything.
What's more, Indiana's defense is actually kinda good. It ranks 46th in defensive S&P+ behind a wonkish 4-2-5 scheme that will have linebackers in O'Korn's face for most of the game. The skill position players are going to have to help their quarterback much more than they did last week if the passing offense is going to be at all effective.
Running Game
Michigan rushed for fewer than 100 yards last week against Iowa and even that may not convey how flaccid the running game was against the Hawkeyes. Indiana ranks about 20 spots higher in rushing defense S&P+ and is, on the whole, quicker and more athletic than Iowa's defense.
De'Veon Smith got the lion's share of carries again last week and didn't look particularly impressive. I thought Chris Evans gave them a better chance to gain yards but was relegated to backup duties, Karan Higdon had -3 yards on three carries, and Ty Isaac got all of one carry for seven yards.
It'll be interesting to see how the coaching staff metes out carries against a stout IU front seven and if they'll rededicate the offense to the power running game after getting a little too cute last week.
If the Wolverines can move the ball on the ground effectively, the offense should be just fine. If they can't then things are going to get unpredictable, which is not what you want against Indiana.
This article originally appeared on