Maryland Football: Ty Johnson ready to shoulder load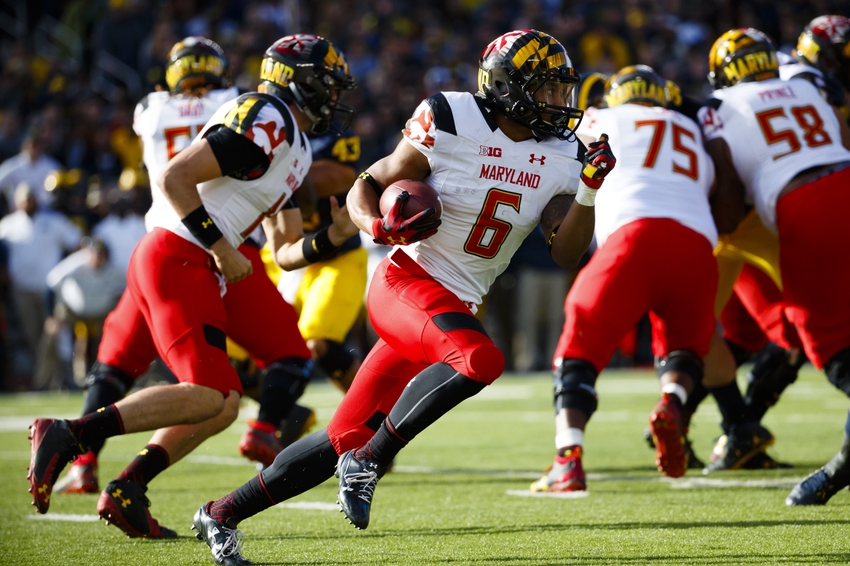 Ty Johnson entered the season as a key piece in a very crowded backfield.
Now, Johnson will be looked to as the lead back for Maryland for the remainder of the season.
Trey Edmunds suffered a fractured foot last month and will likely miss the rest of the season. Edmunds rushed for 158 yards and a touchdown in five games before the injury.
The running back position took another hit when Lorenzo Harrison was suspended indefinitely just minutes before last Saturday's game against Ohio State. On Wednesday afternoon, the College Park Police Department put out a press release stating that Harrison and teammate D.J. Turner were charged in connection to shooting BB guns at people on campus.
It's unclear how long Harrison's suspension will last. However, with only two games left in the regular season, it's probably a long shot that coach D.J. Durkin would lift Harrison's suspension.
With Edmunds and likely Harrison out for the remaining two games, how will Johnson handle getting the bulk of the carries?
Johnson leads the Terrapins with 656 rushing yards and is averaging 8.5 yards-per-carry. He currently ranks 12th in the Big Ten in rushing yards despite only having 77 carries.
He is only of just four players in the top 20 rushers in the conference with less than 100 carries. Harrison, Chris Evans (Michigan), and Curtis Samuel (Ohio State) are the others.
"With as violent as that position is, it's going to take more than one guy," offensive coordinator Walt Bell said. "That's why we've always prepared five and hope that by week 11 you'll have one or two left. That's the nature of the position. We've got a lot of depth at that position, some by development and some by luck. Now we're down to two or three and that's part of the position."
In addition to Johnson, Maryland also has Wes Brown, Jake Funk, and fullback Kenneth Goins Jr. that are capable of carrying the football.
Obviously, Johnson is the most explosive out of that group of backs. Johnson has touchdown runs of 66, 48, 21, and eight yards on the season.
"He's a fantastic kid," Bell added. "As he grows, I can see him becoming a leader of the football team by the time he's done. In terms of his improvement as his own runner and as a B-gap to B-gap runner, he's been much more patient and selective of when it's time to hit a homerun or to run north."
Johnson may not be the type of the back that's going to carry the ball 15-20 times a game. In fact, he's only received double-digit carries in one games this season (Indiana, 13).
However, that certainly doesn't mean that Johnson can't be the effective playmaker that the Terps are craving.
Johnson's game is built on speed and beating the defense to the outside. If he gets past the first wave of defenders and into the secondary, Johnson has the acceleration to run a long way and oftentimes finds the end zone.
The former three-star recruit also can catch the ball out of the backfield.
Johnson has caught 13 passes for 180 yards this season. He also took a 66-yard screen pass for a touchdown against the Nittany Lions.
Johnson has a very diverse skillset that has definitely helped the Terps throughout the 2016 season. Going forward, he could be the guy that the Maryland offense looks to for big plays, especially if quarterback Perry Hills remains on the shelf.
"I fully expect him in a year or two to be one of the guys that people in our organization count on for leadership and playmaking abilities," Bell proclaimed.
More from Terrapin Station
This article originally appeared on