Louisville Football: Sports Illustrated gives Lamar Jackson more Heisman respect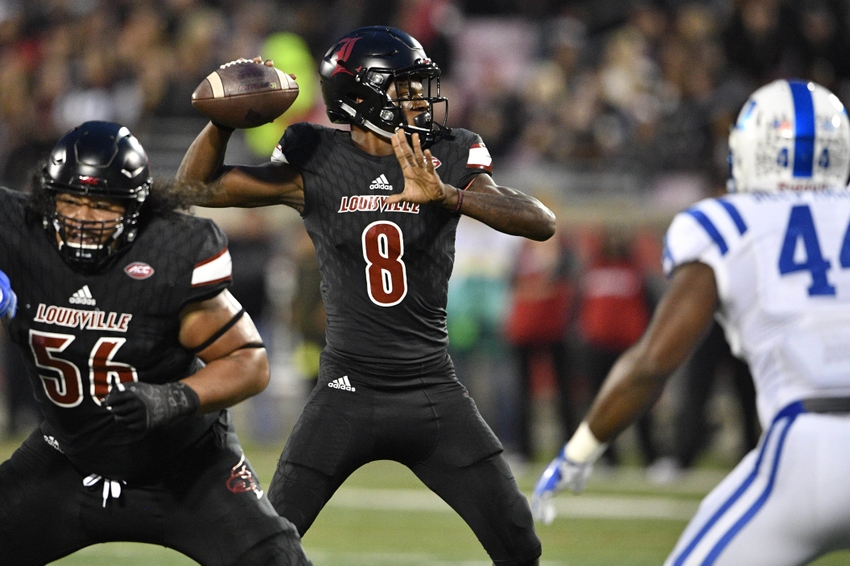 Louisville football quarterback Lamar Jackson is gaining more Heisman steam as the season progresses and this time Sports Illustrated gives him some love.
Lamar Jackson is becoming one of the best quarterbacks in the entire nation right before our very eyes. He has put the Louisville football team on his back as the Cardinals are number seven in the country and 5-1 on the season. Not to mention, he everyone's first choice for the 2016 Heisman Trophy, including Sports Illustrated.
SEE ALSO: ESPN's prediction for the Cardinals 2016 bowl game
It doesn't come as a surprise, since Jackson has had video game-like numbers this season. However, it is a great sign to see him getting so much attention, even on the week after the Cards barley beat Duke at home.
This is was Chris Johnson from Sports Illustrated had to say about Lamar Jackson in his article earlier today:
"If you tuned into Louisville's matchup with the Blue Devils expecting to see the sort of pyrotechnic show Jackson has conducted on the regular this season, you probably came away a little bit disappointed. Whereas the Cardinals' previous Friday night game, at Syracuse on Sept. 9, sent Jackson's Heisman bid soaring into the stratosphere (and included Jackson literally soaring over a defender), last week served as a reminder that, despite mountains of evidence to the contrary, he is, in fact, mortal. The Blue Devils held Jackson below his season average in rushing yards per game and made sure he never got rolling through the air, forcing the sophomore to record a season low in completion percentage (50%) and his second-worst quarterback rating (121.2).

The circumstances surrounding this game hinted at a touchdown barrage that ceased to be competitive well before the start of the fourth quarter. Jackson had run circles around the nation's No. 2 S&P defense (Clemson) in his previous outing and was coming off a bye. Duke deserves credit for making Jackson uncomfortable, but his showing will reflect as something of a let down. That's less an indictment on his play than a recognition that Jackson is capable of so much more. He still accounted for 325 yards and two touchdowns in a 10-point win, after all. That's pretty good."
Johnson is absolutely correct in his assessment of Jackson during the Duke game. Even though the Cardinals only won by 10, Jackson still had 325 yards and two touchdowns. For a "bad" game, Lamar Jackson still showed why he is the nation's premier difference-maker on the football field.
When the Louisville football team needed a game-clinching drive, Jackson was up to the task and able to finish. That is way more important than any impressive day of statistics.
Lamar Jackson is a winner and the college football world is taking notice.
This article originally appeared on