Leonard Fournette Abuses Mississippi State Defender with Brutal Stiff Arm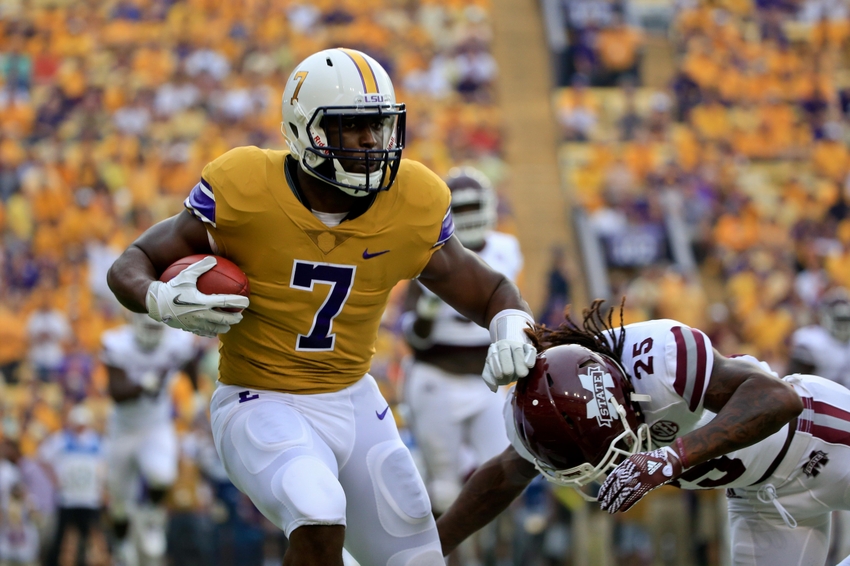 Everyone knows that LSU's Leonard Fournette is the best running back in the country because of plays like this against the Mississippi State Bulldogs.
LSU running back Leonard Fournette isn't having the season he was hoping for due to a sluggish start and an ankle injury. He's understandably taking his frustration out on opposing defenses.
In Saturday's game against the Mississippi State Bulldogs, Fournette needed to get going to help the Tigers pull off a much needed win. In the first quarter, Fournette got the ball and was immediately met by a Bulldogs defender. Rather than going down, Fournette stuck his arm out and floored the defender with an absolutely brutal stiff arm.
Seriously, Fournette essentially threw a defender to the ground with some serious force in order to get the first down. You can check out the stiff arm in the Twitter video below.
While Fournette gets almost all of the attention on LSU's offense, Tigers quarterback Danny Etling looked surprisingly sharp on the drive. He even threw a dime to E.J. Clark for a 37-yard touchdown in the back of the end zone on the opening drive to take a 7-0 lead.
The Tigers are still ranked No. 20 in the nation despite an ugly 1-1 start to the season. A win against Mississippi State would be huge for the Tigers, as a perfect record for the rest of the season could help LSU find their win in the College Football Playoff provided that a few other things go their way.
Of course, the Tigers will need Fournette to keep making plays like this as well.
This article originally appeared on