Jabrill Peppers Pretty Much Met Expectations In Heisman Voting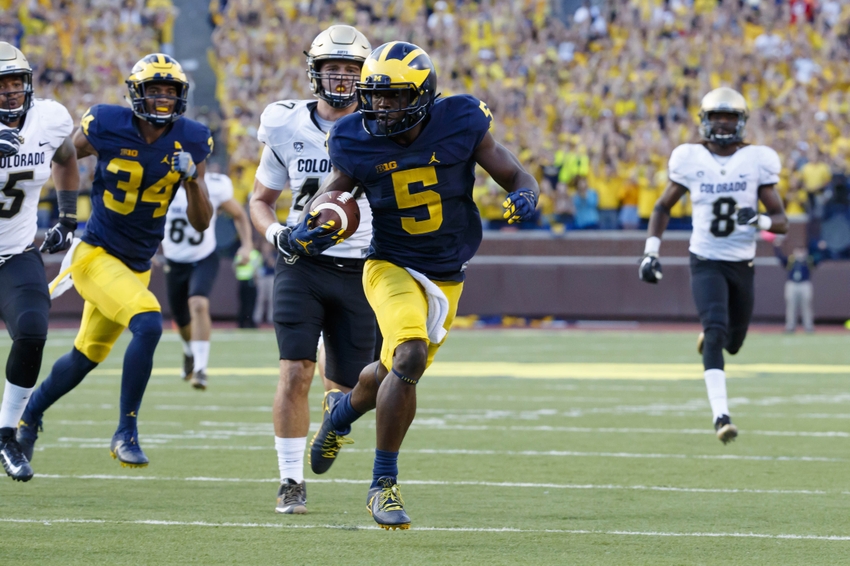 Jabrill Peppers was a long shot to win the Heisman Trophy, and he finished No. 5 in voting. For what he was, though, that's about right.
Very few people were legitimately expecting Jabrill Peppers to win the Heisman Trophy Saturday night. Peppers himself wasn't even counting on it.
Lamar Jackson won. Peppers finished No. 5. Between them were Deshaun Watson (No. 2), Baker Mayfield (No. 3) and Dede Westbrook (No. 4).
The margin between Mayfield and Peppers was fairly small: only 153 points. Peppers received 11 first-place votes.
The selling point for Peppers was his versatility. He played 11 positions throughout the season, scored a few touchdowns on offense and had a punt return for a touchdown as well. Then on defense he was a pressure specialist, known for delivering rattling hits.
Nobody was surprised to see Jackson win. Watson became a formidable challenger in the season's final weeks, but this wasn't really a nail-biter. Perhaps you were surprised, though, to see Peppers finish at No. 5 and not higher.
The previously mentioned gap between Nos. 3 and 5 helps demonstrate how close the back three competitors were in the eyes of the voters. Unlike, say, the College Football Playoff rankings, where there isn't a revealed point system, we can pretty well gauge the voters' moods here.
It's not like Peppers got robbed of what should've been a No. 2 finish. That obviously belonged to Watson. Peppers was jockeying for No. 3 and didn't get—but not by much.
As I pointed out earlier, Peppers getting an invite to New York City wasn't necessarily about the Wolverines finally having a Heisman contender back in the mix. That was part of it, definitely, but it was also about living up to the expectations.
Peppers did that. And if his days at Michigan are over—it's looking more and more like they are—then it will have been a far cry from a disappointment.
This article originally appeared on