It's Time To Give Clay Helton, USC Football Their Due Praise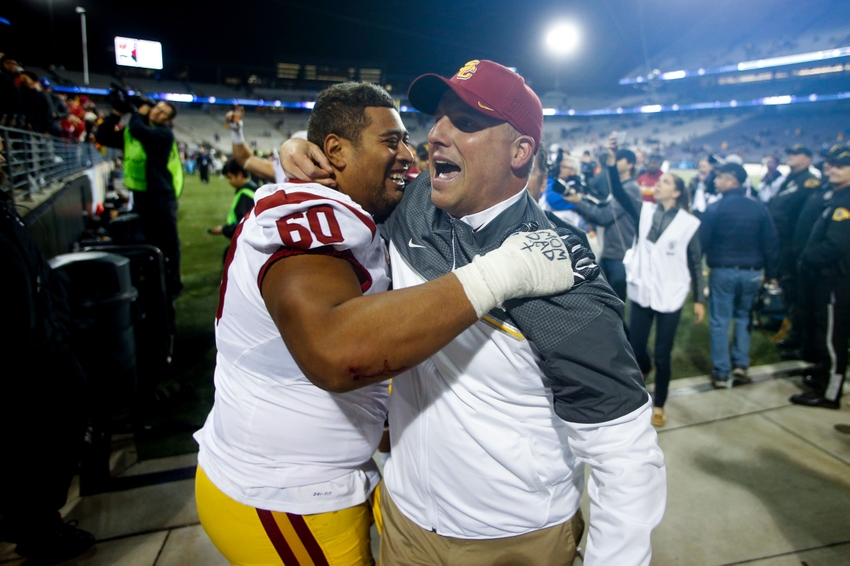 Clay Helton and USC football have turned it around in 2016. After besting Washington, they deserve as much praise as they had criticism for a 1-3 start.
It's easy to overreact. Fresh impressions are the strongest impressions and back in September, the anger and frustration surrounding USC was definitely fresh and decidedly strong.
Clay Helton didn't get a honeymoon period. Difficult match ups and problematic losses clouded the picture.
Fans, former players, local media, national media, everyone with a voice or a keyboard opened fire on the first time head coach.
He was out of his depth. He was not worthy of the job. He was finished.
With so many questions about job security swirling, it was hard not to have conversations about potential replacements. It felt like a matter of when, not if.
All the while, Helton and his USC Trojans repeated one three-word phrase.
No, not Faith, Family, Football.
Trust. The. Process.
While the world outside was storming, the Trojans were calm, taking on the persona of their head coach.
Players spoke about focusing on themselves, putting in the work to get better every week and then paid that off with their performances on the field.
Now, the fresh and strong impressions have swung the other way. The Trojans are riding high, having outclassed the undefeated Washington Huskies.
Yes, it's easy to overreact.
And maybe the surge of positive feelings around USC is just another exaggeration. Maybe Washington wasn't that good. Maybe the Trojans will fall back into old habits and underachieve against a pair of beatable rivals.
Even so, it is not an overreaction to give Helton his due.
With six consecutive wins under his belt — the longest win-streak at USC since 2008 — the head coach has earned every ounce of praise he receives this week.
USC is playing their best football in years, but it's not just about victories. Last year the men of Troy won four games in a row, but they relied on massive swings of momentum rather than consistent execution and engaged in tight battles with lesser opponents.
This USC team has dismantled lesser opponents and outplayed the likes of highly ranked Colorado and Washington during their streak.
They haven't been perfect, but they have lived up to their potential.
Helton has made tough decisions during his tenure in charge of USC football. He's rightly received criticism for some of those, but he's stuck to his guns and slowly but surely, many of those decisions are paying off.
TRENDING: Studs and Duds From USC's Big Win vs. Washington
Despite the debacle in last year's Pac-12 Championship game, Helton did not have to fire Justin Wilcox or his other assistant coaches. He could have persisted with that group, knowing that they had the potential to excel. After all, Wilcox is now drawing praise for his defense at Wisconsin while others from that group have landed on their feet.
But Helton knew what he wanted in a defense coordinator and he made the change to get it. The Clancy Pendergast hire didn't pay off right away.
USC's defense had plenty of kinks to work out in the first month of the season and gave up 45 defensive points to Alabama, but those growing pains seem a long way off considering the strides they have made since then.
The Trojans have held six high-scoring offenses to no more than 24 points since September. Most impressively, they limited a Washington team averaging better than 40 points per game to just one touchdown.
Similarly, Helton caught plenty of flack for turning to inexperienced assistants like Tee Martin and Kenechi Udeze but both are leading units at the core of USC's success over the past month.
---

Having trouble? Listen on Soundcloud, iTunes, Google Play or Stitcher.
---
Udeze's unit in particular was pivotal to the Trojans' victory on Saturday night, with defensive linemen Rasheem Green and Stevie Tu'ikolovatu setting the tone with dominating performances.
Not that Helton and company haven't made mistakes this season, ones which have put USC in tough position in the conference standings, but the head coach deserves credit for a willingness to correct mistakes as well.
The handling of Max Browne remains a dark spot on this season, but Helton made the difficult decision to make a change early instead of waiting for Browne to give him a reason to make the change. Nor was Helton too stubborn to admit that USC needed a spark in the first place.
THROWBACK: Clay Helton's QB Decision Put Max Browne Out to Dry
They found that spark in Sam Darnold, but the exceptional play of the redshirt freshman has only been one piece in the puzzle that is this turnaround.
The cornerstone of USC's victory in the hostile environment of Husky Stadium and every victory going back five weeks has been in the Trojans' mentality.
They could have given up. Nearly everyone else did.
Having fallen to 1-3, with a cacophony of voices insisting that the head coach was the problem and that he would soon be on his way, USC's players closed ranks and insisted that Helton was still their guy.
They trusted that Helton's leadership and approach would put them on the right track.
They believed in him enough to keep playing for him.
That kind of loyalty cannot be bought. It's won.
And it is essential towards building a team capable of overcoming all the ups and downs of competing for a championship.
The jury is still out on Helton and his ability to put USC among the national title contenders going forward. He and the Trojans still have a mountain to climb before the dreaded "USC is back" refrain can actually be believed.
For now, just as he has earned the loyalty of his players, a win streak, a signature victory and a team playing as well as any in the Pac-12 should earn Helton an apology from those who would have buried him after a 1-3 start.
It's time to give Helton his due praise.
This article originally appeared on