Iron Bowl Flashback: 1985 – Alabama 25, Auburn 23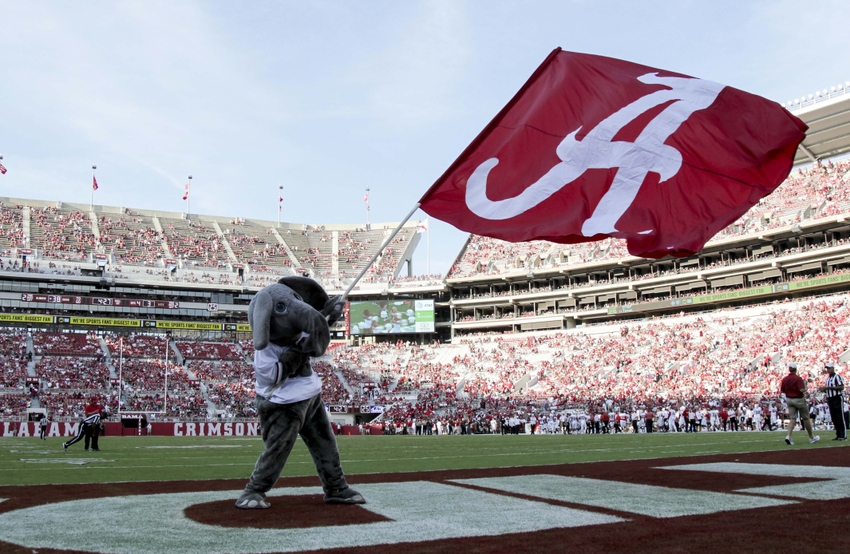 BamaHammer.com presents a daily Iron Bowl Flashback leading up to Saturday's game featuring No. 1 Alabama vs. Auburn in the 81st Iron Bowl (2:30 pm CT, CBS).
IRON BOWL FLASHBACK: Auburn and Alabama met in the 1985 Iron Bowl at Legion Field in Birmingham, Ala., in a game that is recognized as one of the best Iron Bowls in the series' history.
The Tigers were 8-2, while the Crimson Tide entered the game with a 7-2-1 record.
As is the case with most Iron Bowls, national implications take a back seat when state pride is on the line.
ICYMI: Iron Bowl Flashback – 1989
The Crimson Tide took a 16-10 lead in to halftime thanks to the foot of Van Tiffin, who kicked three first-half field goals.
After a scoreless but intense third quarter, the table was set for a fantastic finish. Alabama quarterback Mike Shula threw an interception in the end zone early in the fourth quarter, which set up a 16-play, 80-yard touchdown drive for the Tigers, culminating with a Bo Jackson touchdown plunge to take a 17-16 lead midway through the fourth quarter.
Alabama running back Gene Jelks scored on a 26-yard scamper just one minute later to give the Tide the 22-17 lead.
Auburn bled the clock on an 11-play, 70-yard drive that concluded with a Reggie Ware touchdown run. The Tigers would miss the 2-point conversion, but still maintained a 23-22 lead with under a minute to play.
On second down from the 20-yard line, Shula was sacked for an 8-yard loss with only 37 seconds remaining. A long completion set up fourth-and-short, which Alabama converted on a reverse to Al Bell, who gained 20 yards. Shula then hit Greg Richardson, who dragged defenders out of bounds on the 35-yard line to set up the game's final play.
The kicking team scrambled to get on to the field, not knowing that the clock was not running, and Van Tiffin hit a 52-yard field goal as time expired to give the Crimson Tide the 25-23 win.
The Crimson Tide and Tigers will meet for the 81st time in series history, with Alabama owning the all-time advantage, 44-35-1. Most recently, the Tide claimed a 29-13 victory in Auburn to clinch the SEC Western Division title and close out the 2015 regular season schedule.
Alabama head coach Nick Saban is 8-6 in his career against Auburn, including a 6-3 overall mark while with the Crimson Tide and a 3-1 record at Bryant-Denny Stadium.
More from Bama Hammer
This article originally appeared on