Illinois Football: Wes Lunt or Chayce Crouch, Who Is Better for the Illini?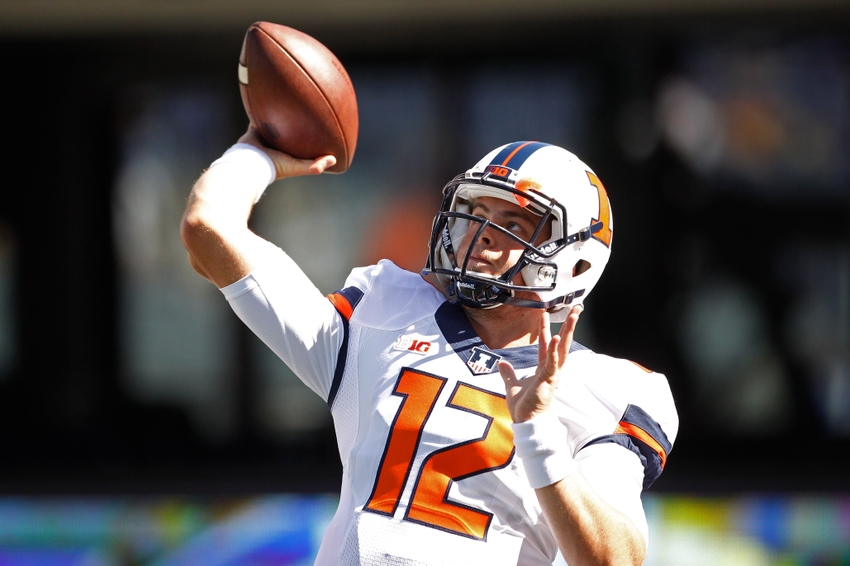 With the quarterback situation still up in the air for the Illinois football team, it is time to see which quarterback would really be better for this program.
Just looking purely at stats, it is very difficult to tell which quarterback would be better.
Wes Lunt has held the starting position on this football team for two and a half injury prone years.  He doesn't make crippling mistakes but the offense doesn't move as well as it should with him.
Lunt has a better completion rate, 60.5-percent, than backup Chayce Crouch, 56.3-percent.  He also has 6 touchdowns and only 1 interception compared to Crouch's 1 touchdown to 1 interception.
Those are the positives to Lunt.  He is a more conservative choice at quarterback that isn't going to win you games but won't lose you games either.
Illinois Football: Preview of the Michigan Wolverines Offense
There are also some negatives with Lunt as well.
Lunt is not a mobile quarterback whatsoever.  Illinois is struggling on the offensive line and having a quarterback who can't move around and rollout is like a duck sitting on a pond in the middle of hunting season.
Another negative in Lunt's game is his hesitation.  It seems like he has regressed when it comes to feeling more comfortable in the pocket and in the offense.
The weak offensive line might have something to do with that, though.
The final weak area of Lunt's game that I see is that he is too conservative at times.
I don't know if it is Lunt's inability to make the offense a little zestier, but he does not bring energy to this offense.  He isn't moving this offense and averaging only 6.51 yards per attempt might have something to do with that.
Overall, Lunt is a solid quarterback but there is another option behind him in Crouch.
Crouch has only made one start in his career and played a half of a game against Purdue the week before.  The sample size is extremely small with him right now.
If you want a quarterback with more of an edge then that would be Crouch.  He is more of an improvisational quarterback who can make big plays but also make big mistakes.
Crouch is averaging 7.78 yards per attempt, which is better than Lunt.  That means Illinois has the ability to move the ball a little further down field with him.
The main area that Crouch rules over Lunt is his running ability.  Illinois has a below average offensive line and having someone who can move out of the pocket is huge for this offense.
Just in the little playing time Crouch has seen this season, he has rushed the ball 29 times for 176 yards and 2 touchdowns.
Some of the negatives for Crouch include his accuracy in the passing game.
Crouch has a completion rate of 56.3-percent, which is over 4-percent worse than Lunt's completion rate.  Illinois needs to move the ball and if they are missing their wide receivers almost half the time then they can't do that.
Another downfall of Crouch is that Illinois becomes a more predictable team.
With Crouch in the game, the Illini are clearly more likely to run the ball because he isn't great at throwing.  This enables opposing defenses to load the box for the run.
Overall, I think Crouch can bring multiple elements to this Illinois offense.  There are some upsides and downsides to both of the quarterback's games.
If I were Lovie Smith, moving forward, I would have to choose Crouch as my starting quarterback.
But, choosing Crouch doesn't mean he is a better passer than Lunt.  The main reason I want Crouch as the starter is because he can move out of the pocket when the offensive line breaks down.
Having that running threat automatically makes the Illini scarier.  Hopefully, Crouch can get the start for the Illini on Saturday and this team can continue building for the future.
This article originally appeared on