Illinois Football: The 2016 Season Wasn't Doom and Gloom for Illini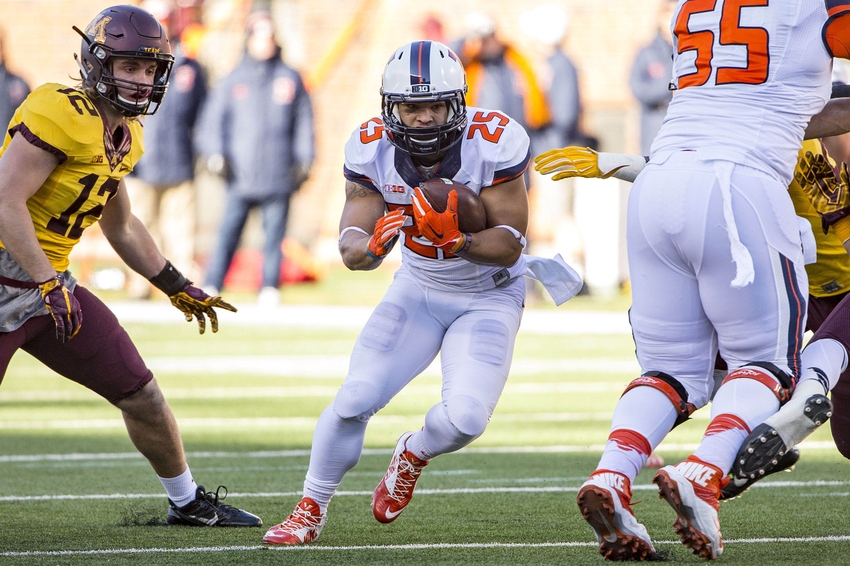 A bowl game sounds nice this time of year, but the Illinois football team once again fell short of that goal.
But, just because the team fell short of an imaginary goal set by me, does that make the season unsuccessful?
I don't believe it was an unsuccessful season.  There is a lot of good you can draw from the 3-9 campaign.
First I want to get all of the obvious bad things out of the way first.
The Illini only had a record of 3-9 this season.  That wasn't even sniffing a bowl game and a lot of those losses were blowouts.
Illinois lost the last three games this season 118-24.  That isn't exactly momentum for next season.
This season also showed fans how much the Illini lacked in depth on the football team.  When one player went down, like Wes Lunt, the team crumbled around him.
Illinois Football: Jeff Thomas Is Priority No. 1 for the Illini
Phew, I am glad I got that off my chest.  Now, onto the good things that prove to me, this season wasn't a failure.
Despite Illinois only being 3-8 heading into the final game against Northwestern, this team decided to play with pride and it showed on the football field.
I was proud how hard this Illini team fought in the last game of the season and it showed to me that Lovie Smith is really getting through to his players.
Lovie making an impact on the current players only bodes well for the future of this program.  That means he can connect with young athletes and that will do wonders on the recruiting trail.
I feel like the team really came together the last game of the season and this bond will transfer over to the 2017 campaign.
There were a lot of players that received playing time that I didn't think would receive that many snaps as well.
One of those players is running back Kendrick Foster.
Coming into the 2016 season, Foster was looked at as the likely backup running back to Ke'Shawn Vaughn.  But, somewhere along the lines Lovie and Garrick McGee saw something different.
Foster had 126 carries for 720 yards and 7 touchdowns on 5.7 yards per carry for the season.  He led the team in just about every statistical category.
The exciting part about Foster is that he is only a junior and will be back for his senior campaign.  The sky is the limit for this talented running back.
Another player that received a lot of playing time was freshman Stanley Green.
Green didn't get playing time right from the start, but a few games into the season he was launched into the starting role.
In only eight games this season, Green managed to accumulate 62 tackles, which ranked No. 4 on the team.
Green also managed to have a fumble recovery and he forced three fumbles as well.
It is exciting to see a freshman get so much work because the playing time now will only benefit him and the team in the future.
This season was a success despite the 3-9 record.  Lovie had a chance to see what he had at each position and now he can recruit specifically to fill those gaps.
The future is bright for this program and I can't wait to see how the team progresses.  With Lovie at the helm, I really do believe, We Will Win.
This article originally appeared on