How Can 2016 USC Make the College Football Playoff?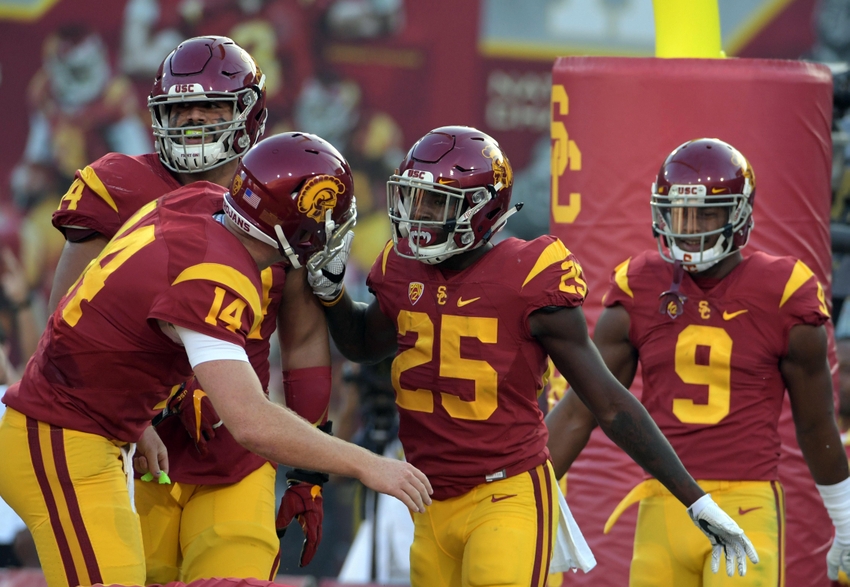 The 2016 season is coming to close and College Football Playoff debates are trendy. Somehow, three-loss but red-hot USC is right in the thick of the discussion. Can they actually make it? Maybe.
Tuesday marked the fourth time the College Football Playoff Committee released their weekly rankings. Alabama, Ohio State, Michigan and Clemson are all in the drivers seat, while Washington and Wisconsin are the on the outside looking in, at fourth and fifth respectively.
Clay Helton's streaking Trojans sit 12th, up a spot from last week after beating UCLA 36-14 at the Rose Bowl.
As winners of seven-straight games, USC has suddenly become a hot-button issue for the committee and pundits everywhere. Could they actually make the playoff?
Last week, Bill Connelly of SB Nation said they'd be an interesting case if there was an eight-team playoff.
Saturday night, USA Today's Dan Wolken said he wouldn't be opposed to the idea, while ESPN's Paul Finebaum argued Tuesday on the Dan Patrick Show that they should be considered.
Yes, this is the same Trojan team that started the season 1-3 amid loud calls for the firing of its first-year head coach.
And alas, here we are. On November 22, 2016, Helton was asked about a potential playoff berth in his post-practice press conference.
"We don't worry about things that we can't control," Helton said in a boiler plate answer with focus on this upcoming week's game against 4-7 Notre Dame.
But that doesn't mean we at Reign of Troy can't. You know you're wondering if it's possible –it is– so we cooked up how it could all go down.
Albeit unlikely, the best fit scenario for USC to somehow find a way into the Playoff isn't exactly a wrath of chaotic devastation where everyone loses. That would do nothing but add to the mess and traffic in front of the Trojans.
Instead, the long shot has to be based on the dominos falling just so, with the hunted staying put and the hunters falling out of the picture.
Step 1: Win the Pac-12
It goes without saying: the only way USC could make the Playoff is if they win the Pac-12.
Part of the committee's permitted criteria is whether or not a team is a conference champion. Since the CFP started in 2014, all eight playoff teams have won their conference.
While neither a two-loss or three-loss team has made the field yet, it's been widely speculated that a conference title could weigh heavily in the room, giving the Trojans an outside shot if they make it happen.
RELATED: USC Gave UCLA a Dose of the Pete Carroll Era
Of course, that means USC getting help on Saturday night in the form of a Utah win over Colorado in Boulder.
If the Utes come through, the Trojans will head to Santa Clara to take on the winner of the Apple Cup in the Pac-12 Championship Game. A win there clinches either a trip to the Rose Bowl or the College Football Playoff.
Step 2: Alabama and Clemson Hold Steady
At this point, 11-0 Alabama has likely already clinched its place in the Big Dance. Barring back-to-back losses to Auburn and Florida, they're in. USC needs that to hold firm, since they cannot afford two-loss Florida to sneak back into the playoff picture.
The same is true in the ACC. Clemson has already won the Atlantic division over Louisville, and a victory over Virginia Tech or North Carolina would ensure their place in the Playoff.
Step 3: Ohio State Needs to Take the Big Ten
USC would likely need Ohio State to become the conference's champion with some cushion beneath them. That means a convincing Buckeyes win over Michigan to eliminate the Wolverines from playoff contention, followed by a title game win over Wisconsin to give the Badgers a third loss.
The key however, is Michigan State upsetting Penn State this weekend in State College. Since PSU beat Ohio State last month, a Nittany Lions victory coupled with a Buckeyes win in The Game would give Penn State the Big Ten East.
Most importantly however, it would make it likely that current No. 2 Ohio State would make the Playoff as an 11-1 team that did not win its division.
USC only makes the field of four if the committee favors conference champions above all.
USC only makes the field of four if the committee favors conference champions above all, meaning an 11-1 OSU team doesn't force their hand.
Should MSU come through, the Big Ten's chances of two playoff teams would drop significantly. The only two-loss teams in the conference would be a Michigan team with a pair of November losses, and potentially 10-2 Nebraska –if they get past Iowa.
If USC wins the Pac-12 and finishes 10-3, you could assume they'd rank ahead of Michigan based solely on the committee's weighing of conference championships. Nebraska's only prayer is to win the Big Ten.
Michigan winning the Big Ten could still work in USC's favor, but without starting quarterback Wilton Speight, the likelihood of that has diminished. Plus, two-loss Ohio State would have a superior resume to two-loss Michigan.
Step 4: Pac-12 Strength Must Overvalue the Big 12's
Here's where it gets tricky. The Big 12 will be decided next weekend when Oklahoma and Oklahoma State meet in Bedlam, with the winner finishing with a 10-2 record.
Barring a Clemson collapse in this scenario, the Big 12 champ would be the one team standing in the Trojans' way at a miracle run to the Playoff.
The Sooners' argument at 10-2 is simple. Like USC, they will have finished the season with nine-straight wins and have one of their losses being to a playoff team away from home. Oklahoma lost to Ohio State by 21 in Columbus back in September.
Oklahoma State's case is a bit different. Though the Cowboys' only noteworthy win would be over their in-state rivals and they too would finish on a long winning streak of eight games, their Week 2 loss to Central Michigan is the most controversial result of the season.
An referee blunder gave their MAC foes an extra untimed down at the end of the game, which resulted in the Chippewas scoring on a spectacular hook and ladder Hail Mary to win.
Should the committee ultimately decide to wink-wink nudge-nudge and ignore that loss, it's hard to fathom how a three-loss USC would rank ahead of a Power 5 champion with essentially an 11-1 record.
However, if Oklahoma beats OSU, the Trojans must find a way to pass them. That likely comes through strength of schedule.
Should Washington win the Pac-12 and lose to USC for a second time in Santa Clara next week, the Trojans will have four wins against teams currently ranked the CFP's Top 25. Three of which would be against teams ranked in the Top 10.
Conversely, Oklahoma's resume would be based on beating current No. 10 Oklahoma State and No. 18 West Virginia. All while allowing 40 points or more three times, including 59 to floundering Texas Tech.
USC's losses to Alabama and Stanford would essentially cancel out with Oklahoma's to Ohio State and Houston.
So the decision would then come down to what do you find more impressive: The Sooners finding ways to win close games against bad teams like Texas Tech and Texas, or the Trojans' third loss coming to No. 22 Utah on a Friday night, with seconds on the clock in the first start with a freshman quarterback?
It's not easy. USC would have better wins, but Oklahoma would have one fewer loss and are currently ranked four places ahead of the Trojans. That's a big ask.
How Things Would Look
If USC somehow, someway, gets all of the help they need, everyone currently ahead of them but Oklahoma or Oklahoma State would have either three losses, and/or not be a conference champion. Thus, it opens the door for the Trojans to have a strong argument.
Here's what we'd expect the standings to look like if they got it to go their way:
1. Alabama (13-0)
2. Ohio State (12-1)
3. Clemson (12-1)
4. USC (10-3)
5. Oklahoma (10-2)
6. Michigan (10-2)
7. Washington (11-2)
8. Wisconsin (10-3)
9. Louisville (10-2)
10. Colorado (9-3)
It doesn't seem like a crazy way for the chips to fall. There's only one true upset needed, and considering that Michigan State nearly beat Ohio State last week, why can't take down Penn State this week?
TRENDING: 10 Things USC Fans Can Be Thankful For in 2016
But it's USC's leapfrogging of several teams –particularly Oklahoma– while rising eight spots in the CFP Rankings in 12 days on the basis of a conference champion designation and three Top 10 wins that makes it a stretch.
Especially since one Colorado win over Utah makes it for naught.
Besides, do the Trojans really want to face Alabama again? We know what happened the last time.
This article originally appeared on