Heisman Trophy Watch 2016: Top 5 candidates after Week 11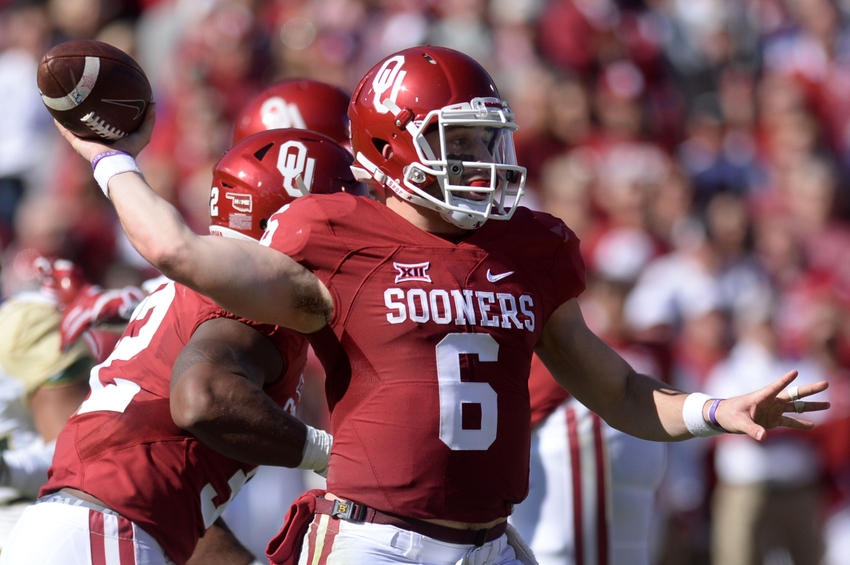 Week 11 is in the books and here is who stands out as top Heisman Trophy candidates heading into Week 12.
Has any college football season flown by as fast as this one has? Fans are wishing that they had the last 11 weeks back as we are just two weeks away from the end of the regular season and the start of conference title week.
National title contenders are beginning to reveal themselves even though last week had the most upsets in recent memory. In fact, five top-10 teams went down in upset fashion and three of those teams were undefeated heading into the games.
Two guys who made this week's Heisman Trophy watch list were actually part of those upsets, but on the wrong side of things. Fortunately for the unbeaten teams that fell, there's a good chance they only drop a couple of stops because of the teams below them not impressing enough to move up.
Some of the guys who we thought would be staples of the Heisman race this season are either having off-years or are just part of lackluster teams in 2016. A few examples would be LSU's Leonard Fournette who has had a tough time staying healthy, Dalvin Cook of Florida State, Stanford's Christian McCaffrey and Oregon's Royce Freeman.
This season has been pretty wild and it's only going to get crazier. Luckily the Heisman candidates are become more solidified. Who tops the list this week?
5
Donnel
Pumphrey
RB,

San Diego State
I've said it in weeks past, if you haven't heard the name Donnel Pumphrey, you should get to know it. He's a senior at San Diego State and will likely be playing on Sundays next fall, especially if he keeps running like he has been this season.
Heck, Pumphrey has been a stud for his entire collegiate career, but it's unfortunate that it's taken this long for him to get any credit. He's not even considered one of the best running backs in the nation when people talk about potential draft picks, but that's a shame.
As a freshman, he rushed for 752 yards and eight touchdowns. The next year, he ran for over 1,800 yards and 20 scores. He followed that up with a 1,600-plus yard junior season with 202 total touchdowns and now his senior year is topping them all.
Through 10 games, Pumphrey has rushed for 1,779 yards and 14 touchdowns on 6.6 yards per carry. Not only is he remaining consistent on each carry, but he's almost guaranteed 100 yards every week. He has posted nine straight 100-yard games and has four 200-yard performances on the season.
It's unbelievable what this kid can do and his Aztecs are 9-1. If he continues to post near-200 yard games and the Aztecs keep winning, he'll be on this list.
4
Jake
Browning
QB,

Washington
I was tempted to remove Jake Browning completely from my Heisman Trophy watch list for this week, but then I remembered that one bad week doesn't make a season. The sophomore gunslinger would probably be the top quarterback chosen in the upcoming NFL draft if he was eligible to leave, if that says anything about him.
Browning did had a tough game against a resurgent USC team, though. He nearly doubled his interceptions on the season against the Trojans, throwing two after having just three coming into the game. He was also just 17-of-36 for 259 yards and a touchdown.
It seemed like no one could get anything going for the Huskies and that led to a mammoth home upset, dropping them from the ranks of the unbeaten teams. However, Washington will remain in the top-10 this week and it's likely that the Huskies will be heading to the Pac-12 title game in a few weeks.
Washington can win out and still make the playoff with the way this year is going and if that happens and Browning engineers a turnaround, he will be a top-three Heisman candidate by the end of the year.
Still, you can't overlook how impressive 35 touchdowns to just five interceptions is.
3
Deshaun
Watson
QB,

Clemson
Everything I've been hearing about Deshaun Watson from outsiders has been negative over the past few weeks. People have been knocking his decision-making, which has been an issue this year. He's thrown 13 interceptions through 10 games, but he still remains one of the most talented players in the country.
There's a reason he's widely considered a top-four contender for the award and will likely be in the top-two or three by the end of the year. He just passed for 580 yards and three touchdowns with three interceptions against Pitt at home in a losing effort.
If a guy can throw for nearly 600 yards and three scores, that means the rest of the team isn't doing its job — namely the defense. He threw an incredible 70 passes, completing 52 of them. His accuracy was impressive, but all anyone is going to look at is the interception rate.
I'll admit, that would probably be the lone reason I wouldn't vote for him to win the Heisman. Having 13 interceptions through 10 game is a big turn off but he has still been lighting up defenses all year long with both his arm and legs.
I dropped him from No. 2, but he didn't move much.
2
Baker
Mayfield
QB,

Oklahoma
Don't look now but Baker Mayfield has been incredible over the past couple of months. Ever since the Oklahoma Sooners got off to a 1-2 start to the season, he has been lights out, picking apart opposing secondaries on his way to a seven-game winning streak. He looks like the Heisman contender that he was a season ago.
After those first three games of the year, everyone was so quick to write him off. Heck, even the recent Twitter poll for Heisman voting includes Jabrill Peppers and not him, but that needs to change.
The junior quarterback is putting up video game-like numbers, passing for 3,212 yards with 33 touchdowns to only seven interceptions. His 72 percent completion rate is also the highest it's ever been in his career and he might just be the dark-horse candidate that might overtake Lamar Jackson in the end.
If Oklahoma can continue to win and end up with the Big 12 title like I think they will, the Sooners could realistically make the College Football Playoff with two losses. If that's the case, how could you not vote for Mayfield after that incredible turnaround — assuming Louisville doesn't make it.
1
Lamar
Jackson
QB,

Louisville
Shocker, right? Louisville's impressive sophomore sensation quarterback has been leading the Heisman race all season long and there might be no one who will surpass what he has done. I mentioned that Mayfield has a shot to climb up and upset him, but that would take a massively productive finish to the season.
Jackson has been exciting, electric and just flat-out good for the Cardinals this season. He has been a touchdown machine and no defense has been able to really slow him down.
The sophomore is coming off a game in which he passed for 145 yards and a touchdown and ran for another 153 yards. Some people called that an off-game for him even though Louisville won 44-12 and didn't need him to dominate, but that's when you know a player is elite. When he can account for almost 300 total yards and have it be a disappointing performance in a blowout win.
On the season, Jackson has been embarrassing defenses. He makes even the best defenders look like peewee league tacklers. He has passed for 2,898 yards and rushed for 1,334 yards with 46 total touchdowns. It's hard to imagine a more explosive player in college football in the past few years.
More from Saturday Blitz
This article originally appeared on