FSU Football: Top 3 Reasons Dalvin Cook Should be a Heisman Finalist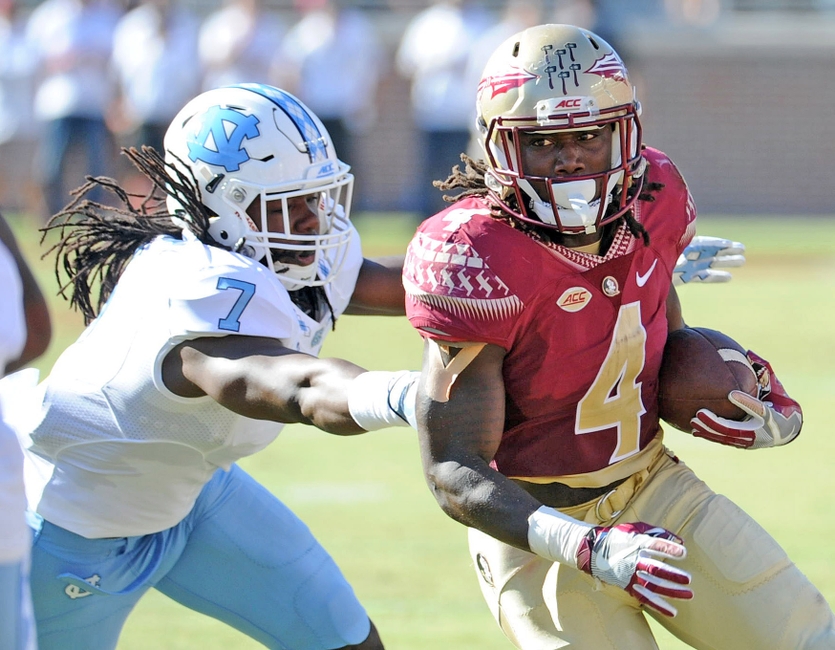 FSU football running back Dalvin Cook has proven to be one of the top players in all of college football and should be one of the Heisman finalists in 2016.
Monday evening, as many as five of the top players in college football will find out if they are going to be invited to New York City this weekend as finalists for the 2016 Heisman Trophy. For FSU football running back Dalvin Cook, it will be the second straight season he should get one of those invites.
After a record setting 2015 season that saw him get shut out of a trip to the Big Apple, Cook set career records for the Seminoles this season and is just 72 yards away from breaking his own single season record. Cook has been, without question, one of the top players in the whole sport during the 2016 campaign.
Here are the top three reasons why Cook should be the seventh player in FSU football history to be named a Heisman Trophy finalist.
No. 1 – Cook almost always shines the brightest against the best teams
One of the biggest compliments that you could give No. 4 during his time in Tallahassee is that when the lights come on and the best competition faces the Seminoles, Cook has had some of his biggest games.
In 2016, that was almost always the case. In the opener against a top 11 ranked Ole Miss team, he had 202 combined yards. Against No. 10 Miami, it was 209 combined yards and a touchdown. When a playoff bound Clemson team came to town, it was a 169 rushing yard and four touchdown day – while Cook went for 179 combined yards and a score against the SEC East champion Florida Gators.
Yes, there was the 54 yard game against Louisville early in the season – but you can look at almost every single Heisman winner and find one game that they would struggle in and have a bad day at the park.
No. 2 – Dalvin Cook is by far the best all around Power Five running back when you look at the numbers
Right now, it looks like it's going to be a quarterback who will be the overall favorite to be the 2016 Heisman Trophy winner – either Louisville's Lamar Jackson, Clemson's Deshaun Watson, Washington's Jake Browning or Oklahoma's Baker Mayfield.
When it comes to running backs (a position that has won just two awards since the 2000 season), the argument this season was between Cook, LSU's Leonard Fournette and Stanford's Christian McCaffrey. While the second two have taken a step back, Cook has stayed strong and has been in a battle for the second half of the season with Texas running back D'Onta Foreman for those honors.
Well, as they say, the numbers don't lie:
For anyone wanting to compare Dalvin Cook to D'Onta Foreman in the @HeismanTrophy race… be sure to peep the quality of the defenses faced. pic.twitter.com/CC13bKDWP5

— Singleshot ⚾ (@Singleshot25) December 1, 2016
No. 3. – Cook deserves the honor after being left out following the 2015 season
It may not be the best reason in the world, but most of the college football world knows that Dalvin Cook should have been one of the finalists last year and had the numbers to back it up. He's almost equaled his numbers following the 2015 regular season – just 38 yards and one touchdown short of those totals at this point.
While those of us who root for FSU football would love for Cook to be the fourth Heisman Trophy winner in program history, the odds are stacked against him since the award has been Lamar Jackson's to lose since Louisville embarrassed the 'Noles early in the year.
But it can not be argued by anyone that, over the last two seasons, there have been five better players in all of college football than Dalvin Cook. He was left out of last year's group – a mistake that should not happen again in 2016.
This article originally appeared on