Florida Gators Football Moves Up In The College Football Playoff Rankings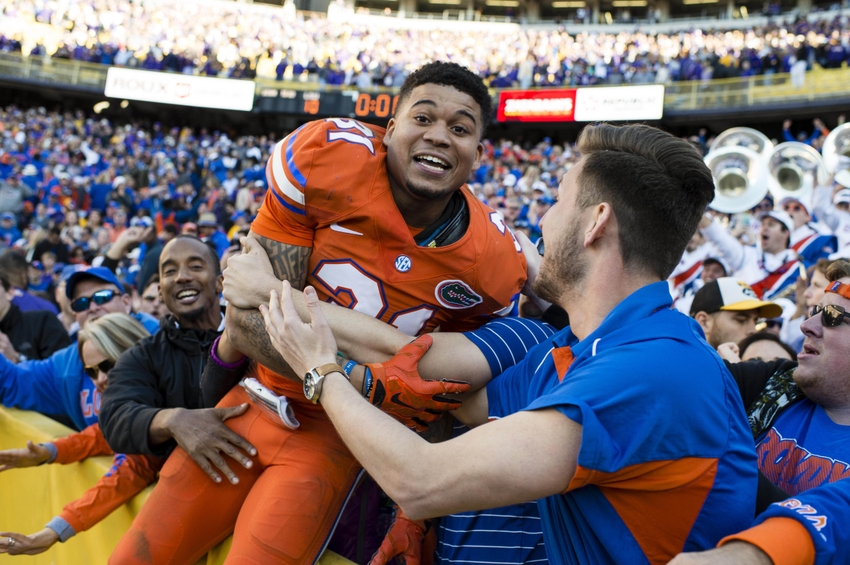 The Florida Gators secured a massive victory over the LSU Tigers in Baton Rouge. Find out how much that helped Florida in the College Football Playoff Rankings.
---
The Florida Gators secured what ranks amongst the greatest wins in program history on Saturday, November 19. With the emotion and controversy of relocation, Florida traveled to Baton Rouge and shocked the masses by defeating the LSU Tigers 16-10 on a goal line stand.
On the strength of what was an all-time showing by Florida's defense, the Gators have made a massive jump in the College Football Playoff Rankings.
Florida entered this past week as the No. 23 team in the College Football Playoff Rankings. Its win over LSU helped it improve to 8-2, win the SEC East, and earn a resume-builder in one fell swoop.
During the College Football Playoff Rankings reveal on ESPN, it was announced that Florida had made the jump from No. 23 to No. 15.
For what it's worth, Florida also moved up from No. 21 to No. 13 in the AP Top 25 and from No. 18 to No. 13 in the Coaches Poll.
Florida is guaranteed a spot in the 2016 SEC Championship Game against the No. 1 Alabama Crimson Tide. Before it can play Alabama, however, it'll head back on the road to Tallahassee for a game against the Florida State Seminoles.
If Florida does the unthinkable and upsets LSU and Florida State in consecutive road games, then the committee would be hard-pressed to keep the Gators out of the Top 10.
From there, the Gators' national championship dreams would be effectively revived.
If Florida were to carry that momentum into Atlanta and shock the world against Alabama, it'd be hard to argue against the Gators making the College Football Playoff. Defeating the Crimson Tide is a task that no team has been able to accomplish, and it's rarely been close.
Before Jim McElwain can even think about Alabama, however, he must win a rivalry game against a team that's defeated Florida in three consecutive tries: Florida State.
The question is: can the No. 15 Florida Gators avenge the 27-2 demolition it endured in 2015, improve to 9-2, and turn the rivalry with Florida State back in its favor?
More from Hail Florida Hail
This article originally appeared on