Comparing Jacob Eason to Matthew Stafford after one month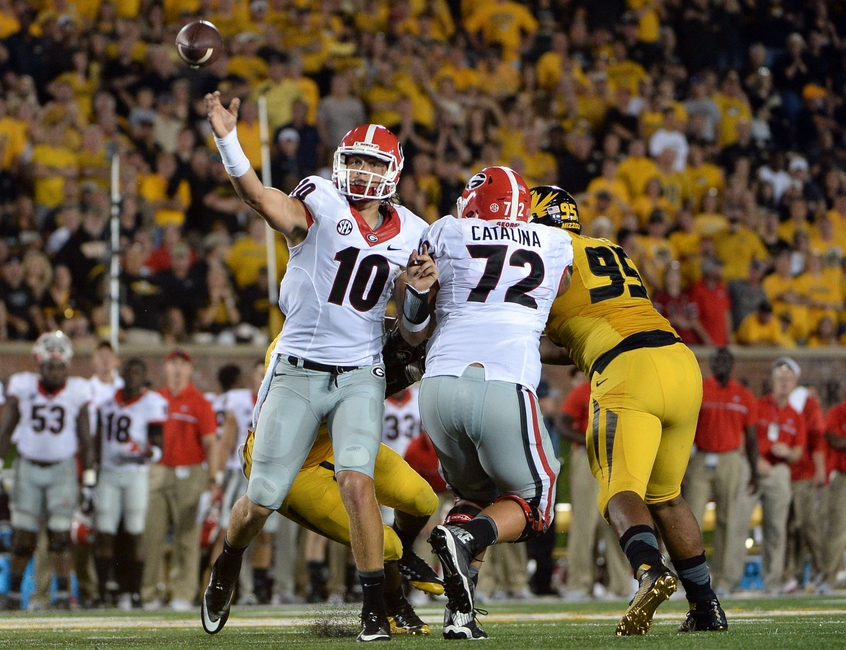 One month of football is in the books. Now we can reflect on Jacob Eason and how he holds up to someone he is often compared to.
The person that he is often compared to is Matthew Stafford. The comparisons of Eason to Stafford are going to keep coming because they are obvious. Both are highly rated recruits, came to Georgia from out-of-state and are both big guys with strong arms.
Now, we are a month into 2016 season, and we are at a point where we can make adequate comparisons between the two quarterbacks. Let's dig deeper into this comparison.
Wins
The first comparison will be the most important one, which quarterback led the Bulldogs to wins, and how efficiently did they do so? In Eason's first month, Georgia is 3-1 and 2-1 with the Washington native as the starter. On the other hand, in Stafford's first month of his freshman year, his team was 5-0, but he was 2-0 as a starter at this point.
Eason
Eason yielded the first start of the season to the incumbent Greyson Lambert, but Eason eventually took over and looked better all around. Down by ten in the first game against UNC, he led Georgia on a great drive that ended with a touchdown pass to Isaiah McKenzie, albeit a small pitch on an end-around. But he later connected with McKenzie on a deep pass that helped Georgia put the game away.
Since then, Eason has been the starter. Against Nicholls State the game-plan was more centered around the run game, but Eason's touchdown pass to McKenzie was the highlight of the day. However, he threw an interception late that led to a Nicholls State touchdown, which kept the game close.
Eason's best game was against Missouri as he was relied on to throw the ball over 50 times, and he completed 29 passes. He had 300 yards and three touchdowns to one interception, and he threw the game-winning touchdown pass to McKenzie on 4th-and-10 late in the game.
Stafford
Like Eason, Stafford did not win the starting job immediately. But unlike Eason, Georgia played Western Kentucky on opening day instead of No. 22 North Carolina. Stafford was 3-of-5 that day with one touchdown, but Georgia won 48-12 so obviously Joe Tereshinski III did nothing to lose his starting job.
Tereshinski started the Bulldogs next game against South Carolina but left the game with an injury placing Stafford in the spotlight. He was only 8-of-19 for 171 yards with three interceptions. Fortunately, the defense played great, and Georgia won 18-0.
In a 34-0 win over Alabama-Birmingham the next week, Stafford only threw 17 passes but completed 10 of them for 107 yards. But his second win as a starter was a game won by Joe Cox. Stafford was only 8-of-16 for 76 yards before he was benched in the fourth quarter. Cox threw two fourth-quarter touchdown passes to lead Georgia to a 14-13 win.
That led to Joe Cox getting the start against Ole Miss, but Stafford did play much of that game. He finished the game 7-of-18 with 91 yards, and Georgia did win 14-9, but Kregg Lumpkin carried the offense that day with 101 yards on only 13 carries.
Edge: Eason
Neither quarterback looked great in their first month playing for Georgia, but Eason has proven to be more reliable than Stafford was. Where the run game bailed Stafford out with good games against South Carolina and Ole Miss, Eason has had to pick up the slack with a run game that has been nearly shut down.
Stats
Eason
In his first four games as a Georgia Bulldog, Eason is 64-of-123 with five touchdowns and three interceptions.
Stafford
In his first five games as a Georgia Bulldog, Stafford was 36-of-75 with one touchdown and three interceptions.
Edge: Eason
Georgia relies on Eason much more than they relied on Stafford in September of 2006. Both threw three interceptions, but Eason threw almost 50 more passes. And Eason has thrown way more touchdowns in his first month than Stafford did in his. Eason has also managed to complete more than 50 percent of his passes, whereas Stafford was under 50 percent.
Losses
Georgia was 5-0 in September of 2006, but Georgia currently has one loss with Eason as the starter this September.
Georgia lost last Saturday to Ole Miss 45-14. Eason was 16-of-36 with 166 yards and one interception. Clearly, it was not a pretty performance. But that game included six dropped passes, including three in a row and two of those three were in the end zone.
The drops would not have made much of an impact on the game, but it would have at least helped out Eason's numbers.
Conclusion
So far, Eason has been the better quarterback as a true freshman in his first month between him and Stafford.
It's also worth noting that Eason's first four games included just one home game against a FCS team. The other three games were a pair of SEC road games and North Carolina in the Georgia Dome.
In September 2006, Georgia played three non-conference games at home; FCS team Western Kentucky, UAB from Conference USA and Colorado from the Big 12. Those three teams finished 2006 with a combined record of 11-24.
More from Dawn of the Dawg
The two conference games were both on the road as well against South Carolina and Ole Miss. Neither team was as good as the Missouri or Ole Miss teams Georgia played in this year.
There are still two months left in the regular season, so comparisons between the two will persist. Stafford's 2006 season ended with him passing for 1,749 yards with seven touchdowns and 13 interceptions.
Stafford struggled throughout 2006 before playing much better as a sophomore in 2007 and looking like a superstar in 2008. Time will tell how quickly Eason begins to look like the star quarterback he is predicted to be. But based on the first month, it appears he's on a much faster pace than Matthew Stafford to do just that.
This article originally appeared on