College football needs you, Tim Tebow, please don't go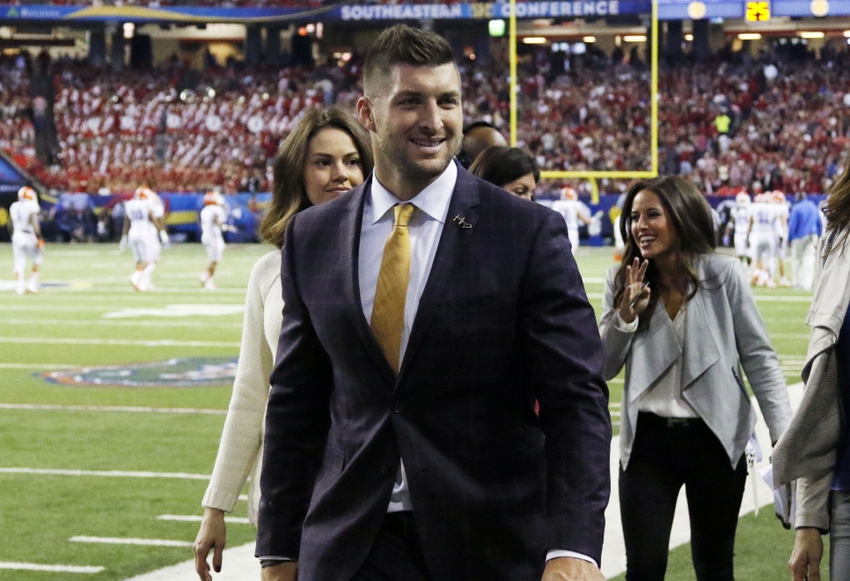 College football and Tim Tebow are like peanut butter and jelly, apple pie and ice cream, and hot wings and beer. So why is he even looking at this whole MLB thing?
Tim Tebow; incredible athlete, pure as the driven snow. extremely likeable, and the face of college football for the last decade (although it feels much longer).
Even when he was struggling his way through the hopes of an NFL career, it was always his accomplishments in the college ranks that gave his supporters ammunition with which to deflect the dumbfounding hate for Tebow.
While Tebow's college football eligibility at Florida (or any other NCAA school) may be long expired, having him on the set of shows like SEC Nation or giving commentary for important games was a good thing for the sport. He is honest, prepared, and never callous behind the microphone. He brings the same joy and passion to his job as an analyst as he did on the field as a Gator.
And now, he wants to play baseball.
We thought it was just a lark. A jape from the Crimson Tide football trolls.
It's not. He's tearing a page from Michael Jordan's discarded chapters and making an attempt to play major league baseball. He's had his workout, and he's drawn some interest from a few teams (one of which is my beloved Atlanta Braves. We need to talk, Mr. Coppolella).
If you watched his baseball workout and know anything about the game, you saw what probably every scout and baseball executive who was there saw. Someone with some raw talent who could potentially put a lot of butts in the seats and draw a lot of media attention.
I spoke to my friend – a baseball coach and founder of the Cherry City Baseball Club in Salem, Oregon – Dan Hughes, about Tebow's workout. Here was his assessment.
"If he were 19, I'd say go for it. But he's 29. He needs a lot of work. He has a terrible uppercut swing, can't hit anything on outer half of the plate. His throwing motion still looks like he's playing football. It looks awkward and forced and he's going to throw out his shoulder if he continues it throughout the course of a minor league season and offseason workouts. His footwork is a mess. He's fast and has raw power potential, but he needs 3-4 more years of work to MAYBE be ready for the big leagues"
Not much room for interpretation there. I'd be willing to bet there were nearly identical things said about Michael Jordan in 1994.
But, with all due respect, I'm speaking to you now, Mr. Tebow.
Come back to us, Tim. Don't wander off like this. Please don't become a modern day Andy Kaufman, strutting around the ESPN commissary with the baseball equivalent of the Intergender Wrestling belt under your suit. Don't get lost in the murk of unrealized dreams. Some of them simply don't happen.
It's not uncommon, you know, for athletes to excel beyond any expectation in college, only to go on as just another face – if even that – in the pros.
I can't imagine having the kind of athletic talent which you have, only to be relegated to a microphone and swivel chair. But if your life as a missionary has taught you anything, it should be that sometimes you go where you're needed, not necessarily where you want to go.
College football needs you, Tim. It's better with you around.
We know you were great. Beyond great, and nearly superhuman. Your talent, character and unequaled drive (or is it stubbornness?) were unmatched on the college gridiron. You became bigger than just a name, but never bigger than the game. Let us remember you for that, not for being the guy who went bananas on the playground when no one picked him.
Think of it like this. The roster spot that you may end up occupying could potentially belong to a budding young teenager with a real shot at making it to the bigs one day. Your folly could end up derailing someone else's dream.
Your oft-repeated "it's great to be a Gator" was more than just a press conference calling card – those were words which you obviously felt and believed.
Be that again, Tim.
Be a Gator.
I'm a Bulldog, and I'm begging you to be a Gator again. Immerse yourself in college football and let us have you as a lightning rod for debate and trolling every week.
Every. Single. Week.
More from Saturday Blitz
This article originally appeared on