Clemson Football vs SC State: Official Injury Report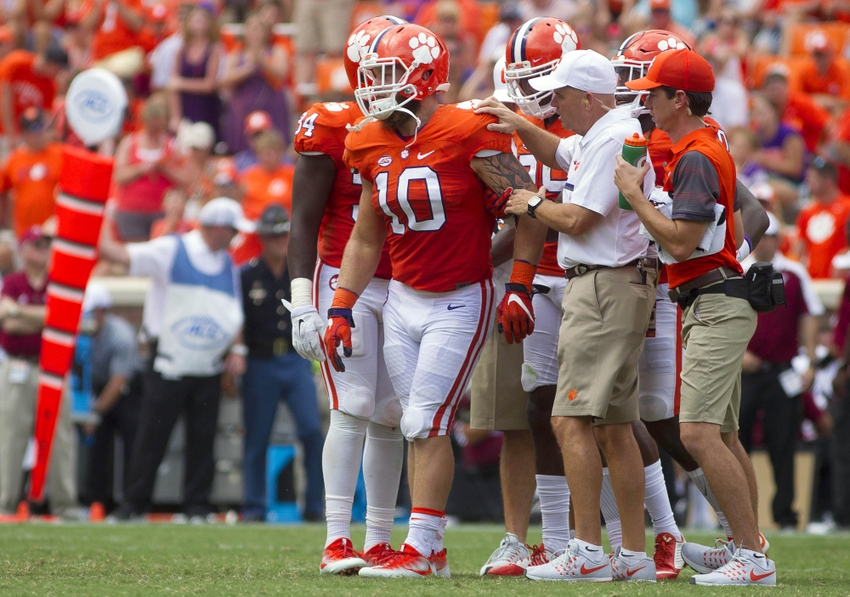 Clemson football will host the S.C. State Bulldogs on Saturday. Here is the official injury report for the Tigers heading into the match-up.
Injuries, as many have said before, can make or break a team.
The biggest key for Clemson football in 2016 is getting through the season without injuries. When players get hurt, it throws off the chemistry and such that a team would have otherwise.
Clemson has, for the most part, been about par with injuries this season through two weeks.
Here is the official injury report for the Tigers heading into the match-up.
Out:
Adrian Baker, DB, Knee
Austin Bryant, DE, Foot
Brian Dawkins Jr., DB, Knee
Chandler Reeves, OL, Knee
Hunter Renfrow, WR, Hand


More from Rubbing the Rock
Doubtful:
Ben Boulware is listed as doubtful, but I would be shocked if he plays.
He is doing any and everything to prove to the coaches that he is good to go, but I would expect the staff to hold him out and let him recover for Georgia Tech.
Austin Bryant is expected to return for Louisville and could be listed as doubtful for Georgia Tech while Hunter Renfrow suffered a broken bone in his hand and will not be back until mid-to-late October.
Adrian Baker is still recovering from a torn ACL and there is talk that he could be back by midseason, but it just depends how he is faring then.
Hopefully Clemson football can get through the S.C. State game without anymore injuries and remain healthy heading into what is probably the toughest back-to-back stretch on the schedule in a road trip to Georgia Tech and a home game against Lamar Jackson and Louisville.
Make sure you check back here on Rubbing the Rock for all the updates and analysis heading into the game against S.C. State.
This article originally appeared on