Clemson Football vs Auburn: What We Learned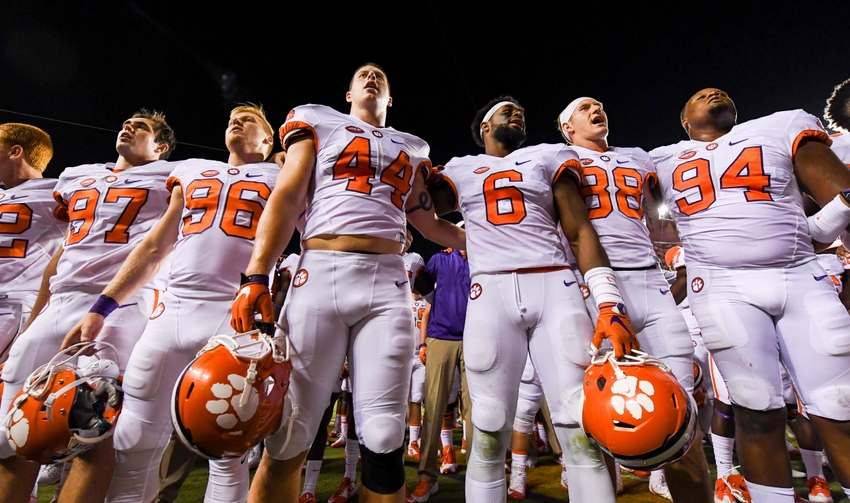 The Clemson football team escaped with a 19-13 victory over the Auburn Tigers on Saturday. Here is what we learned from the season opener.
Clemson football escaped with a 19-13 victory over Auburn on the season opener on Saturday.
Here are some takeaways from the Tigers' win down on the plains in Jordan-Hare Stadium.
The defense isn't going anywhere.
After losing so many players to the NFL, there were questions about the Clemson football defense. The Tigers lost their top-two pass-rushers and basically the entire secondary.
There were so many concerns, but Brent Venables and his defense played an excellent game. They shut down the run and, if you take away a couple of dumb penalties, they shut down the Auburn offense.
Clemson allowed 262 total yards of offense and forced three turnovers.
Dexter Lawrence is a first-round draft pick.
One of the biggest reasons for the Clemson defensive success was big freshman Dexter Lawrence.
Lawrence was an animal. He, alongside Christian Wilkins and Scott Pagano, created havoc in the Auburn running game all night long. He looked like a man among boys and engulfed the War Eagle offensive line.
Big Dex finished the night with seven tackles and a sack.
The crazy thing is- other than Louisville and FSU- that is the best offensive line Lawrence will face this season. I can only imagine what kind of destruction he will cause in the coming weeks.
More from Rubbing the Rock
Clemson has room for error, which shows the evolution of the program.
As much as I adamantly disagree with Dabo's call, you have to give him respect for what he has done for the Clemson football program.
If this were one of the Tiger teams from years past, they would have lost this game. There's no way you would have had the room for error and still came away with the victory.
This is my biggest takeaway. For the first time in about 30 years, Clemson football can make a few mistakes and still win games against formidable opponents. Do we want ugly football? No, but the Tigers proved they can play ugly and still come away victors.
Do we hope for a perfect game? Absolutely. But we can know that the Tigers can overcome their mistakes and still be in position to win games because of the evolution of the program.
This article originally appeared on