Can Duke Football Still a Make a Bowl Game This Season?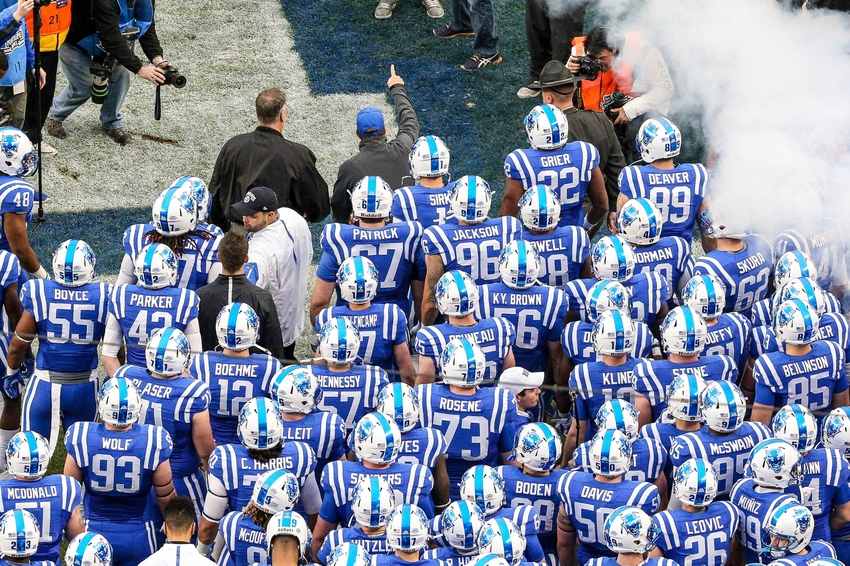 Duke Football is currently 3-5 with a difficult schedule remaining. Can the Blue Devils advance to their 5th straight bowl game and continue their streak?
Duke is struggling so far this season at 3-6 overall and 0-5 in the ACC after a close loss to Virginia Tech. The Blue Devils have three games remaining this season, including two against teams that were ranked in the Top 25 at one point this season. How likely are the Blue Devils to extend their program record to five consecutive bowl game appearances?
The Duke Football program has had to endure a lot of adversity this season. The Blue Devils lost starting quarterback Thomas Sirk to after he re-injured his Achilles right before the start of the season. The have also dealt with season-ending injuries to cornerback/safety/kick returner DeVon Edwards, running back Jela Duncan Jela Duncan, and linebacker Tinashe Bere. Additionally, punter Austin Parker and wide receiver Anthony Nash are both out indefinitely. Injuries have played a key role in the Blue Devils' struggles this season along with one of the most difficult schedules in recent program history, but Duke still has a chance to advance to the postseason this year.
Thanks to the NCAA and the large number of bowl games, the Blue Devils technically only need to win two more games to be bowl eligible. If there are not enough six-win teams to fill every bowl game, then the 5-7 teams will be selected based on their Academic Progress Rate (APR), which Duke usually excels in every year. Still, the Blue Devils will be assured a bowl game if they can win the final three games of the regular season.
The matchup against #21 UNC this week is now a must-win game for the Blue Devils. The rivalry game will be Duke's final home game of the season, and it comes on a short week with the Thursday night ESPN slot.
The final two games are both on the road against conference teams that are struggling recently. Pittsburgh is in the midst of a two-game losing streak with a trip to #2 Clemson this Saturday, and Miami, who was once ranked in the Top 10, lost four straight games until beating Pitt this past weekend.
The team has excelled and struggled at times, but have been competitive in the majority of their games this season. The Blue Devils have not been able to finish games well with the significant injuries, a first-year starting quarterback, and loss of talent on defense, but Duke will have to put it together in these last three weeks in order to advance to a bowl game this season.
This article originally appeared on