Big Ten Power Rankings After Week 11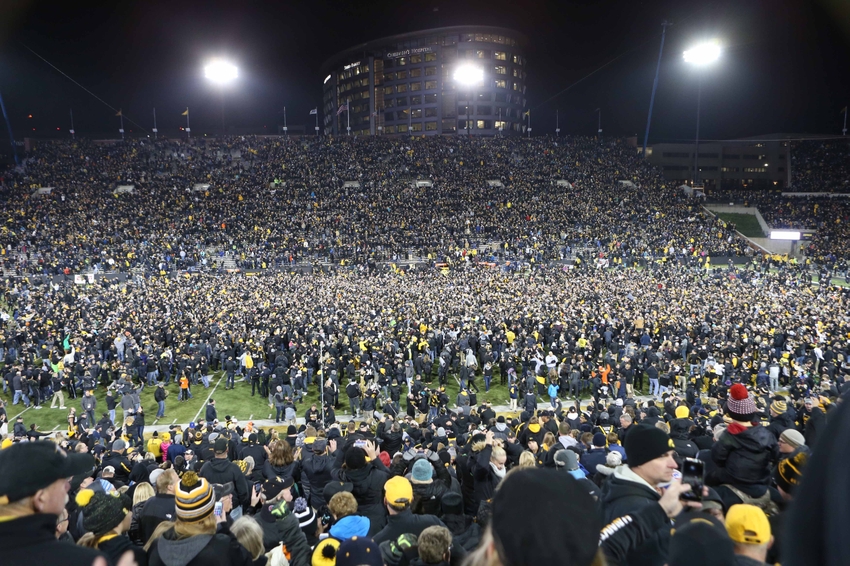 After an interesting Week 11, things are changing again at the top of the Big Ten.
Just when we thought it was all figured out, an upset changed everything.  Iowa's win over Michigan Saturday night shifted the Big Ten East race.
While Michigan still controls their own destiny, Penn State now has the best odds to win the East division.  Who would have thought that six weeks ago?  Over in the West, Wisconsin won and Minnesota lost, so the Badgers regained control of the division.
Let's take a look at how the rankings shake out this week.
1
Ohio State
Buckeyes
(9-1, 6-1)
Last week:
(8-1, 5-1)
Last rank:
2nd
The Buckeyes shellacked the Terps Saturday to the tune of 62-3, the second week in a row they have put up 62 points. It looks like Ohio State's offense is clicking at just the right time. With Michigan's loss though, they now need some help with Penn State losing a game in order to have a chance to win the East division.
2
Michigan
Wolverines
(9-1, 6-1)
Last week:
(9-0, 6-0)
Last rank:
1st
Not too many saw a loss for the Wolverines until maybe the game at Ohio State, but Iowa had different plans. Michigan's defense lived up to it's name for most of the game. However they were hindered by an untimely special teams penalty and gave up just enough yards on Iowa's last drive to allow the Hawkeyes to kick the game winning field goal. The Wolverine offense struggled all night. They'll try to rebound against Indiana Saturday.
3
Wisconsin
Badgers
(8-2, 5-2)
Last week:
(7-2, 4-2)
Last rank:
3rd
Wisconsin had one of its easier games of their schedule and took full advantage, beating Illinois 48-3. The Badgers totaled 455 yards and held Illinois to 200 in the win. Wisconsin controls their own destiny to the Big Ten West. Next up is a road trip to face Purdue.
4
Penn State
Nittany Lions
(8-2, 6-1)
Last week:
(7-2, 5-1)
Last rank:
4th
The final score was deceiving, but Penn State found a way to win against Indiana, 45-31. In previous years, it's doubtful the Nittany Lions would have found a way to win a game like that but this squad is different. They dig deep and rally, no matter the deficit. Now they are in a good position to win the East if they win out and Michigan drops another game. Hard to believe. Up next is a trip to Rutgers.
5
Nebraska
Cornhuskers
(8-2, 5-2)
Last week:
(7-2, 4-2)
Last rank:
5th
You gotta hand it to Nebraska quarterback Tommy Armstrong Jr. He was knocked out of last week's game against Ohio State and was cleared right before the game against Minnesota. Then he lead his team on a 91-yard game-winning touchdown drive to beat the Gophers. All while hurting his hamstring. Armstrong is one tough guy. Nebraska still is alive for the West Division but will need some help with a Wisconsin loss. They host Maryland next.
6
Iowa
Hawkeyes
(6-4, 4-3)
Last week:
(5-4, 3-3)
Last rank:
7th
Iowa was the team of the week with the 14-13 victory over previously unbeaten Michigan. The Hawkeyes have been inconsistent all season, but put up a huge defensive performance with their offense doing just enough to get the win. Iowa became bowl eligible with the win and will travel to Illinois this week.
7
Minnesota
Golden Gophers
(7-3, 4-3)
Last week:
(7-2, 4-2)
Last rank:
6th
Minnesota had its four-game winning streak end at Nebraska, losing 24-17 to the Cornhuskers. The Gophers had a touchdown lead at halftime, but were shut out in the second half. Minnesota now lost control of their own destiny in the West and will need help. They'll look to rebound in the next game against Northwestern.
8
Northwestern
Wildcats
(5-5, 4-3)
Last week:
(4-5, 3-3)
Last rank:
9th
Northwestern was down early to Purdue 10-0, but then outscored the Boilermakers 45 to 7 the rest of the way in the rout. The Wildcats posted over 600 yards of total offense, including 352 yards of passing from quarterback Clayton Thorson. Northwestern is now one win away from bowl eligibility, but they face a tough test at Minnesota this week.
9
Indiana
Hoosiers
(5-5, 3-4)
Last week:
(5-4, 3-3)
Last rank:
8th
Indiana came up short of pulling off a huge upset over Penn State, ultimately falling 45-31 in a closer game than the final score indicated. The Hoosiers led by three with about 10 minutes to go in the game, but Penn State scored the final 17 points to pull away. The signature win alludes Kevin Wilson once again, but his team will get another shot against Michigan.
10
Maryland
Terrapins
(5-5, 2-5)
Last week:
(5-4, 2-4)
Last rank:
10th
Remember when Maryland was 4-0? That seems like a faint memory for Terps fans, as the team dropped their third straight, losing to Ohio State 62-3. The Terps have allowed 163 points during the losing streak and they'll need to win at least one of their last two in order to become bowl eligible. Up next is a trip to Nebraska for the first ever meeting between the two schools.
11
Illinois
Fighting Illini
(3-7, 2-5)
Last week:
(3-6, 2-4)
Last rank:
11th
The elation of beating Michigan State was short-lived for Illinois, as they got stomped by Wisconsin 48-3. The Illini could do little to stop the Badgers and they will fail to become bowl eligible unless there are not enough eligible teams like last season. Illinois ends its home schedule against Iowa this week.
12
Purdue
Boilermakers
(3-7, 1-6)
Last week:
(3-6, 1-5)
Last rank:
12th
Purdue's early 10-0 lead evaporated quickly as they were blown out by Northwestern 45-17. Purdue's defense could do very little to stop the Wildcats, allowing over 600 yards. Purdue will finish under .500 and without a bowl game. They'll close out their home sked against Wisconsin this Saturday.
13
Michigan State
Spartans
(3-7, 1-6)
Last week:
(2-7, 0-6)
Last rank:
13th
Michigan State took out weeks of frustration on Rutgers, shutting them out 49-0 and picking up their first conference win. The Spartans are now the slightly better team at the bottom of the conference, a far cry from where they thought they would be this season. Michigan State plays at home for the final time this year against Ohio State.
14
Rutgers
Scarlet Knights
(2-8, 0-7)
Last week:
(2-7, 0-6)
Last rank:
14th
Rutgers did very little against a bad Michigan State team, losing 49-0. The Scarlet Knights have been shut out three times this year against conference opponents and now sit all alone at the bottom of the Big Ten. Nothing much more needs to be said about this team, and they are heavy underdogs this week against visiting Penn State.
More from Victory Bell Rings
This article originally appeared on