Big Ten Conference: Football Power Rankings After Week Six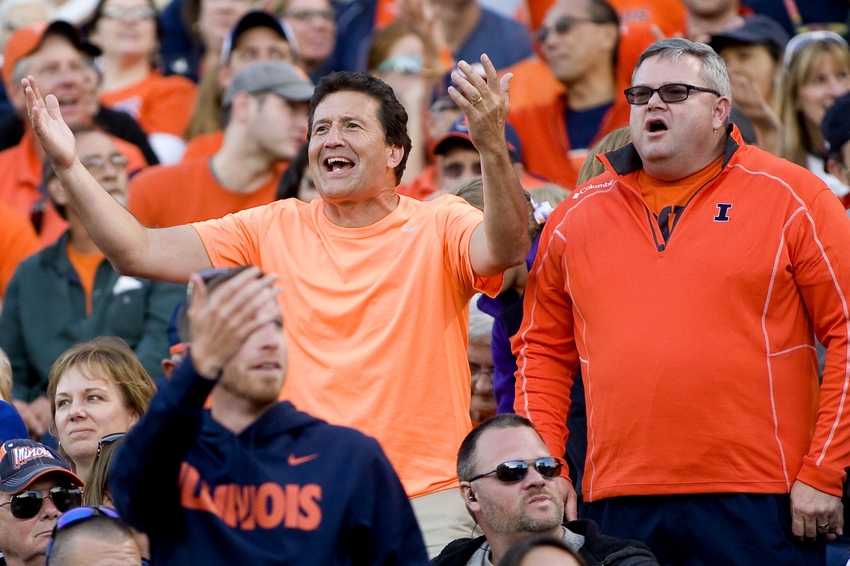 Every week here at Writing Illini, we'll provide some serious #hottakes on the state of Big Ten football through our power rankings.
Week six in the Big Ten wasn't much to write home about. Two of our current top five teams were on a bye week, and none of the games proved to be particularly exciting or memorable… unless you're a Purdue fan.
We learned a little bit more about Penn State (moving in the right direction) and continued learning about Michigan State (decidedly moving in the wrong direction).
That OSU-Wisconsin game looms large in week seven but, before we get there, read on to see where everyone ended up after last week!
1. Ohio State Buckeyes (LW: 1 | ⇔)
Indiana proved to be a tough out, regardless of the final score. I guess you can say the Buckeyes didn't earn many "style points" last week, but it doesn't matter right now. The next big test is coming up — a huge night game in Madison against the Badgers.
2. Michigan Wolverines (LW: 2 | ⇔)
Speaking of style points, the Wolverines certainly did earn them last week. I mean, was that the biggest, most lopsided blowout in the history of the Big Ten, or what? I know Rutgers isn't good, by any means, but holy crap.
3. Wisconsin Badgers (LW: 3 | ⇔)
The Badgers were off last week. That, plus being at home, should give them every edge they'll need if they're going to upset the Buckeyes.
4. Nebraska Cornhuskers (LW: 4 | ⇔)
The Cornhuskers were off last week. They travel to Indiana for what could be a very tough road game, given the Hoosiers' potential to put up points.
5. Penn State Nittany Lions (LW: 7 | ⇑2)
Penn State continues to climb, becoming this week's newest member of the top five, after taking down a previously hot Maryland squad. It helps to have the best RB in the conference, Saquon Barkley.
6. Iowa Hawkeyes (LW: 8 | ⇑2)
And the roller coaster continues for the Hawkeyes. It was an ugly affair, but rarely is a game up in the Twin Cities anything else. The championship game is still likely out of the question, but a successful season and a solid bowl berth are not.
Illinois Football: Illini Make Top 5 for Bobby Roundtree
7. Maryland Terrapins (LW: 5 | ⇓2)
Prior to last week, the Terps had the most momentum of any team in the league. But they got their first real taste of competition this week in Happy Valley and got run over.
8. Minnesota Golden Gophers (LW: 6 | ⇓2)
I mentioned last week that the Gophers' grasp on their rising stock was tenuous, at best. Playing a struggling Iowa team at home was certainly a winnable opportunity, but Minnesota came up short.
9. Northwestern Wildcats (LW: 10 | ⇑1)
The Wildcats were off last week. At one point, I might have suggested their next trip to East Lansing was going to be too tough to overcome. Not so sure, anymore.
10. Indiana Hoosiers (LW: 11 | ⇑1)
Indiana put up a valiant effort last week. Some questionable and conservative play-calling (with nothing to lose, mind you) didn't help.
11. Michigan State Spartans (LW: 9 | ⇓2)
How the mighty have fallen. No, seriously, HOW?
12. Purdue Boilermakers (LW: 12 | ⇔)
It looks like maybe Purdue wasn't back to being Purdue. Sorry, Boilermakers! However, they can thank the undisciplined Illini, refs that hate celebrations and the right FG upright for this win.
13. Illinois Fighting Illini (LW: 13 | ⇔)
I'm not meaning to make excuses for Illinois. Purdue owned them at the point of attack. That was a very disheartening loss, more so than Western Michigan.
14. Rutgers Scarlet Knights (LW: 13 | ⇔)
Bloodbath. No other way to describe that loss to Michigan. Bottom of the barrel match-up next week against Illinois. FUN!
This article originally appeared on