Axe Week: Wisconsin Badgers Riding Huge Wave of Momentum Heading into Border Battle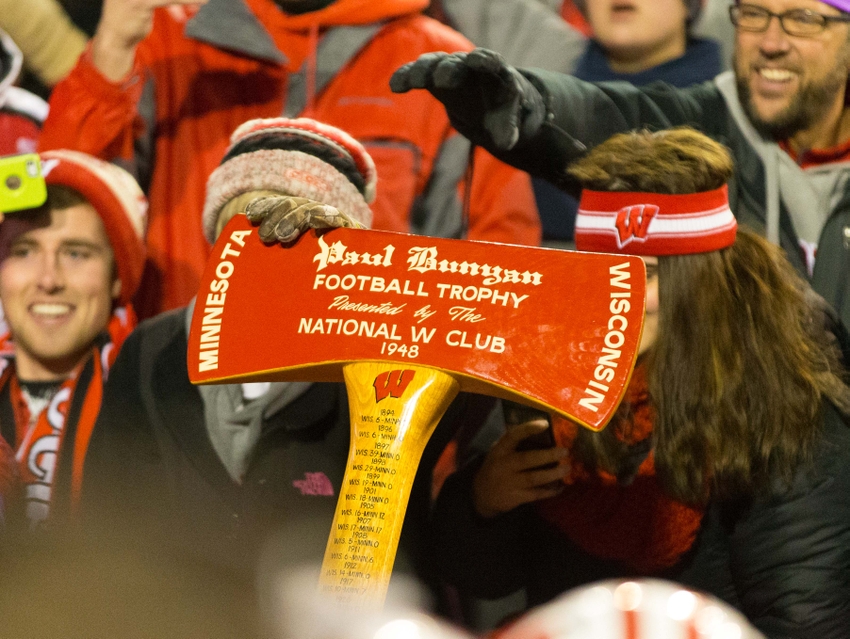 Buckle up Badger fans, it's officially Axe Week!
There was no let down for the Wisconsin Badgers against the Purdue Boilermakers, blowing them out 49-20 Saturday afternoon in West Lafayette, IN. The Badgers are heading into the battle for Paul Bunyan's Axe with the Minnesota Golden Gophers riding a huge wave of momentum and playing their best football of the year.

49

20
The Badgers have now won five straight and seem to be starting to peak at exactly the right time. Wisconsin's running game is hitting its stride right now and it seems as if they have everything figured out in that department. As a team they ran for 221 yards against the Boilermakers and Corey Clement added 112 yards to bring his season total to 1,040 yards, second in conference. Redshirt freshman Bradrick Shaw is showing everybody that the future of the running back position will be just fine in his hands, scoring two touchdowns against Purdue and has reached the end zone four times in the past four games.
Defense, however, is the group that has been playing at a high level throughout the entire season with no signs of slowing down. They rank third in the Big Ten, fifth in the country, in scoring defense allowing just 13.4 points per game. They also rank third in the conference in total defense allowing 292.5 yards per game, eighth-best in the country as well. They are also tops in the Big Ten in rush defense and fifth in the country allowing 98.3 yards per game on the ground.
One area of emphasis on the year has been takeaways and the defense has answered the call. The Badgers now have 17 interceptions on the year and four fumble recoveries. Leo Musso and D'Cota Dixon lead the team with four interceptions.
The offense is clicking, specifically the running game, and the defense continues to play at an extremely high level. Head coach Paul Chryst cannot have this team overlook the Gophers, however, and they need to keep this wave of momentum going. Not only is a Big Ten championship game in sight, so is a possible spot in the College Football Playoff.
Wisconsin has plenty on the line Saturday afternoon when they take on Minnesota. I wouldn't want the battle for the Axe any other way.
More from Badger of Honor
This article originally appeared on