ASU Football: Arizona State at UTSA Preview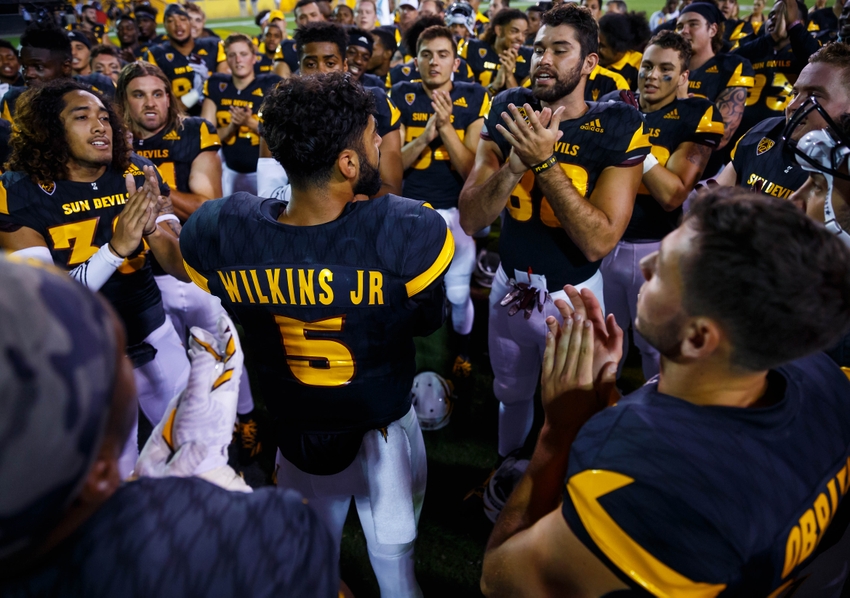 After a statement win vs. Texas Tech last Saturday, the 2-0 Arizona State Sun Devils are back it Friday night with their first road test agianst Texas-San Antonio.
The Sun Devils are riding high after a 68-55 win vs. the Red Raiders thanks to a record-breaking performance from running back Kalen Ballage and a strong game from quarterback Manny Wilkins.
After a back-and-forth first half, the Sun Devil defense was able to quiet Tech quarterback Patrick Mahomes as ASU outscored the Red Raiders 31-21 in the second half to seal the victory.
The defense finished with a safety, two sacks and two interceptions from Gump Hayes, including one interception returned for a touchdown.
As it was in Week 1, the Sun Devils defense struggled in the first half but made the correct adjustments at halftime and limited the production of the opposing offense.
Unlike the NAU game, Wilkins and the Sun Devils were effective from start to finish. After only scoring nine points in the first quarter, they went on to score at least 14 points in each quarter to keep the pressure on quarterback Patrick Mahomes and the Texas Tech offense.
A key for Arizona State was their balanced offense, as they rushed for 301 yards and threw for 351 yards. On the other hand, Texas Tech only rushed for 72 yards while throwing for 540 yards.
More from Devils in Detail
This week's opponent, Texas-San Antonio, doesn't pose the same offensive threat as Texas Tech.
The Roadrunners are 1-1 with a season-opening win vs Alabama State, 26-13, and a loss last Saturday at Colorado State, 23-14.
UTSA relies on their quarterback Dalton Sturm to lead the offense as he boasts a 72.9 completion percentage, 450 passing yards, four touchdowns and two interceptions.
Roadrunners are a pass-first offense as they average 261.5 passing yards a game versus to only 80.5 rushing yards a game.
If the Sun Devils can force UTSA into obvious passing situations, that will boast well for their chances to leave San Antonio with a victory. It will enable Todd Graham to blitz and for the defense to force turnovers.
The Sun Devils will want to get off to a good start and quiet the raucous crowd inside the Alamodome as this is their game of the season.
Prediction:
Arizona State 45, Texas-San Antonio 24.
Arizona State could get off to a slow start in their first road game of the season, but the Roadrunners just don't have the offense to keep up with the Sun Devils high-octane offense. Defense will be aggressive Friday night, creating havoc in the backfield and forcing turnovers.
This article originally appeared on