All for Tennessee Official Week 11 College Football Predictions for SEC and Top 25 Games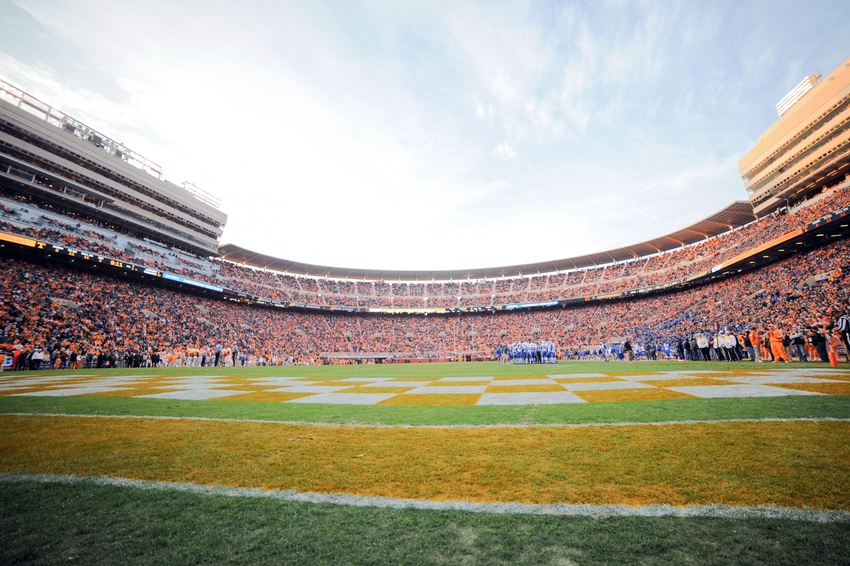 Here are the All for Tennessee official Week 11 college football predictions for Southeastern Conference and Top 25 games.
Well, now that the election is over, it's time to get back to sports…and our college football predictions.
There are three more weeks left in the regular season, and Tennessee Vols fans feel a new sense of rejuvenation with the chance to win the SEC East back in play.
However, since they are at the mercy of other events happening, they will be watching other SEC games intently over the weekend.
That's what makes college football in November exciting for so many teams! The Vols are just one of those teams.
As Johnny Majors famously said, they remember what you do in November. Tennessee football fans and Butch Jones are in a great position to leave a strong impression on their November slate this year.
With the College Football Playoff seemingly in good shape, there is still the possibility for a ton of changes there as well over the next few weeks.
So hold onto your seats everybody. This is about to be an extremely wild ride.
This week, our college football predictions include one non-SEC Top 25 game, and there are seven other SEC games to get to.
One of those games is a Top 25 match-up as well.
So we've got a great November stretch of games to predict for you, including a huge game between the Vols and the Wildcats.
Here are our official Week 11 college football predictions for SEC and Top 25 games.
Mississippi State Bulldogs at No. 1 Alabama Crimson Tide
Saturday at Noon; Bryant-Denny Stadium; Tuscaloosa, Ala.
Line: Alabama -30; Over/Under: 54.5
Two years ago, this was the top SEC game with the SEC West on the line. This year, it already figures to be a blowout with Dan Mullen's Bulldogs rebuilding and Alabama playing better than ever.
But don't give up just yet!
Just when you were ready to right off the Bulldogs, they pulled off an unbelievable upset over the Texas A&M Aggies last week, who everybody believed to be the second best team in the conference.
With Nick Fitzgerald turning into the new Dak Prescott, now he gets to test himself against an elite Alabama defense. Of course, that's just one side. The real question becomes if Mississippi State's suspect defense can handle Jalen Hurts.
What Will Happen?
This isn't going to one of our college football predictions upsets. Mississippi State's strength is its offense. But no offense does anything against Alabama's defense, and Nick Saban has long since figured out Dan Mullen's spread.
So this game is not even going to be close. Alabama will do what it's done to every offense, and they will gain over 200 yards rushing against this very poor Mississippi State defense. Jalen Hurts will throw for another 200 yards. And the Tide dominate from start to finish.
Alabama: 41 Mississippi State: 9
South Carolina Gamecocks at Florida Gators
Saturday at Noon; Ben Hill Griffin Stadium; Gainesville, Fla.
Line: Florida -11; Over/Under: 37.5
Right after Florida beat Georgia two weeks ago, nobody would have considered this to be an interesting game. But later that night, behind a resurgent team under Will Muschamp with Jake Bentley at quarterback upset the Tennessee Vols.
Then they beat the Missouri Tigers a week later, and the Florida Gators were shut down by the Arkansas Razorbacks. All of a sudden, these teams look a bit more evenly matched, making this a very difficult call for our college football predictions.
Florida's offense was nonexistent last week, and South Carolina has a great defense. It could look worse with Austin Appleby replacing the injured Luke Del Rio at quarterback. Meanwhile, the Florida defense hasn't proven itself against any halfway competent offense, and South Carolina might have one of those now with Bentley at quarterback.
Add in the fact that Muschamp will be motivated against his former team, and this game is extremely interesting.
What Will Happen?
All of the things we mentioned make this an incredibly favorable game for the South Carolina Gamecocks.
However, this team has been noticeably worse on the road this year while the Gators remain undefeated at home. That will remain the biggest difference in this game.
Florida wins an ugly affair and maintains control of the SEC East for at least one more week.
Florida: 21 South Carolina: 14
No. 9 Auburn Tigers at Georgia Bulldogs
Saturday at 3:30 p.m.; Sanford Stadium; Athens, Ga.
Line: Auburn -10.5; Over/Under: 48
The Deep South's Oldest Rivalry resumes this week with this game. Gus Malzahn is leading a resurgent Auburn Tigers team now in the thick of the SEC West and College Football Playoff hunt behind a great defense, dominant running game, and efficient quarterback play.
In his first year as head coach of the Georgia Bulldogs, Kirby Smart is overseeing in inconsistent team that has a solid defense, a great running game, and a freshman quarterback with a cannon for an arm.
On paper, Auburn seems like it should win this game running away. However, this is a rivalry game in the SEC, and Georgia is playing at home. They are also a good enough team to hang with anybody.
That means anything could happen here.
What Will Happen?
Jacob Eason will have a breakout game here as a freshman, and Georgia's defense will rise to the challenge against Malzahn's offense.
With Auburn going on the road and looking ahead to an upcoming epic Iron Bowl match-up, the Dawgs are about to catch them severely off-guard.
Georgia wins an epic game against the Tigers with a late touchdown drive by Eason.
Georgia: 28 Auburn: 24
Vanderbilt Commodores at Missouri Tigers
Saturday at 3:30 p.m.; Faurot Field; Columbia, Mo.
Line: Missouri -3.5; Over/Under: 54.5
Get ready for the dullest game in the conference between far and away the two worst teams. The Vanderbilt Commodores and Missouri Tigers are dead men walking…and they are about to compete for the worst team title in the SEC.
If they weren't so evenly bad, this would be a totally dull one for us to do in our College Football Predictions. But the even-handed terribleness makes it interesting.
The Commodores overall look like the better team with a tough defense under Derek Mason and a decent running back in Ralph Webb, even if pathetic quarterback play drags them down.
Meanwhile, the Missouri Tigers are awful everywhere, even with Drew Lock playing decent at quarterback.  So while Vanderbilt is better overall, this is still a toss-up between bad teams.
What Will Happen?
Get ready for an ugly affair that nobody cares about on the SEC Network. Missouri is an extremely sloppy team, and Vanderbilt has a defense good enough to create tons of sloppiness.
As a result, the Commodores will march into Columbia and walk away with a low-scoring victory thanks to a series of Mizzou mistakes.
They will do just enough to win and give themselves some momentum as they improve to 5-5 and gain an outside chance at a bowl game.
Vanderbilt: 13 Missouri: 9
No. 24 LSU Tigers at No. 25 Arkansas Razorbacks
Saturday at 7 p.m.; Razorback Stadium; Fayetteville, Ark.
Line: LSU -7; Over/Under: 46
Just to show you how quickly things change, everybody was asking what's wrong with the Razorbacks last week and whether or not LSU could sneak into the College Football Playoff.
Now, this week, people are wondering if interim coach Ed Orgeron can accomplish anything at LSU and praising the Razorbacks for an impressive win. What changed?
Well, nothing among the teams. Arkansas beat an overrated Florida football team while LSU lost to the best team in the country. This week, they meet again as they both desperately fight for a better standing in an SEC West that neither of them can win.
Arkansas's defense did appear to find itself in the bye week, and the balanced offense continues to bode well if it avoids mistakes. However, it has a tough task against LSU's dominant defense this week, even if it'll shut down LSU's offense and Leonard Fournette, who has no passing help.
What Will Happen?
This is going to be your typical great SEC football game, one we love doing for our college football predictions. It'll come down to tough defense and running.
Raleigh Williams III and Devwah Whaley will have a fight against LSU's defense, and Leonard Fournette will have a fight against Arkansas's defense. Williams and Whaley aren't as good as Fournette and have a tougher defense to face.
However, they have more help from the passing game too. Still, Danny Etling is not bad, even if Alabama shut him out last week.
So the difference will be Fournette. Despite focusing on him, Arkansas won't be able to stop him, just as they couldn't stop Auburn's rushing attack three weeks ago. And LSU will cruise to victory as a result.
LSU: 27 Arkansas: 17
Ole Miss Rebels at No. 8 Texas A&M Aggies
Saturday at 7:30 p.m.; Kyle Field; College Station, Texas
Line: Texas A&M -10.5; Over/Under: 54.5
Just as you thought Kevin Sumlin's Texas A&M Aggies were a different team this year and wouldn't falter after a fast start, they choked away a game to the Mississippi State Bulldogs…two weeks after losing to the Alabama Crimson Tide.
So they look like they could be going through the same thing again. John Chavis's defense is beginning to collapse, Trevor Knight is gone for the year, and the motivation is gone.
What'll help them this week, then? Well, they are playing a very weak Ole Miss defense, their motivation is gone as well, and they have also lost their quarterback, Chad Kelly, for the year.
As a result, Texas A&M vs Ole Miss is not half as exciting as we thought it might have been just a couple of weeks ago.
What Will Happen?
Jason Pellerin will get his first career start this week as Hugh Freeze will save the redshirt on Shea Patterson. He already has three interceptions in 13 passes.
Jake Hubenak will continue on with the Texas A&M Aggies this week in place of the injured Knight. He has three touchdowns to only one interception and nearly led the Aggies back last week against the Bulldogs.
See the difference? Hubenak will be ready to go and is facing a banged up defense, while Chavis's defense will give Pellerin hell.
Texas A&M rolls to victory at home due to that.
Texas A&M: 34 Ole Miss: 17
No. 20 USC Trojans at No. 4 Washington Huskies
Saturday at 7:30 p.m.; Husky Stadium; Seattle, Wash. 
Line: Washington -8.5; Over/Under: 62.5
After Texas A&M's loss last week, Chris Petersen's undefeated Huskies have to be riding high with their appearance in the Top 4 of the College Football Playoff rankings.
Now, they have a very tough first test following that ranking against the USC Trojans, who have gotten on a roll since their 1-3 start. With five straight wins and the Pac-12 South still in play, Clay Helton's Trojans have a ton to play for Saturday as well.
Sam Darnold, their freshman quarterback, has saved them and just might be the most efficient quarterback in the Pac-12.
However, this week, he faces a very good defense in Washington, and USC's defense faces an even better quarterback in Jake Browning. Myles Gaskin's rushing attack is pretty tough to deal with too.
What Will Happen?
USC has revitalized itself and could very easily take back the Pac-12 South if they get past this game and Colorado loses another game.
But that's not what's going to happen here. They'll give the Huskies a scare and even take a big lead early, but Petersen will regain the team's composure at halftime.
Then Browning will torch the Trojans in the second half to lead his team back. Washington takes the lead in the fourth quarter and holds on behind Gaskin's legs.
Washington: 31 USC: 24
Kentucky Wildcats at Tennessee Volunteers
Saturday at Noon; Neyland Stadium; Knoxville, Tenn.
Line: Tennessee -14; Over/Under: 60
This is another game that would've been an easy call for our college football predictions two weeks ago. But all of a sudden, we are not so sure.
The Tennessee Vols seemed dead in the water after losing to the South Carolina Gamecocks but then came back to life thanks to the Florida Gators' loss to the Arkansas Razorbacks. Thanks to that, both Tennessee and Kentucky are playing to stay in the SEC East race.
And both teams have serious weaknesses.
The Vols, though, are finally starting to get healthy with Alvin Kamara and Cameron Sutton back on the practice field and the offensive line returning to form. Joshua Dobbs is still a leader and can carry the team on his back as well.
The defense, though, still has some issues, particularly against the run, and Stephen Johnson poses a challenge for them this week as a dual-threat quarterback.
What Will Happen?
We've had a terrible read on Tennessee in doing our college football predictions this year. That goes back to picking them to lose to Florida, beat Alabama, and beat South Carolina.
But we'll return to form in SEC play this week. The Vols are not going to let their revitalized chance to win the East go to waste, and they are better than this Kentucky team.
They'll pull out the victory at home, but it won't be easy. Thanks to the defensive issues, Johnson will make the Wildcats another team that builds an early lead on Tennessee.
Kentucky will take a two-score lead into halftime, but Butch Jones and the Vols will rally in the second half. Dobbs will take over, as he's done against Kentucky the past two years, and Tennessee will have one big special teams play to end up winning pretty convincingly.
Tennessee: 38 Kentucky: 27
More from All for Tennessee
This article originally appeared on