Alabama Football: Saban, Kiffin Doesn't Need Our Advice for the Offense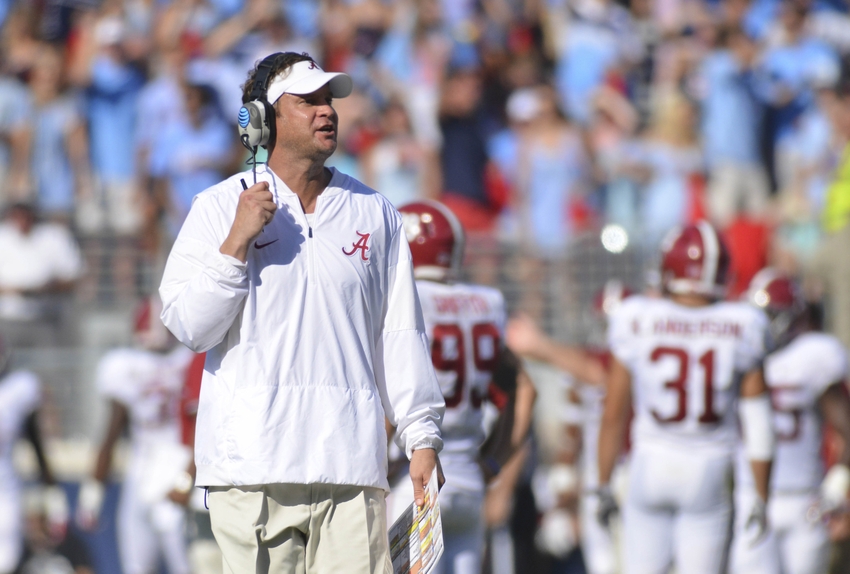 When Alabama football was down 21 points to the Rebels, folks were questioning the play calling. It was all part of the plan.
Alabama football fans wanted this game after the past two seasons against the Ole Miss Rebels. After the Tide found themselves in a 24-3 hole on the road in Oxford, folks started to question what the offense was doing.
Come to find out, it was all part of the plan.
Many people, including me, were left wondering why Tide offensive coordinator Lane Kiffin kept calling jet sweeps and runs to the perimeter instead of running right at the Rebels in the first half. I didn't go far as some did and tweet Kiffin my tips because something told me he was probably too busy to check his phone. Coach Nick Saban filled everyone in during his press conference on Monday.
Remember last season when running back Derrick Henry would pound opponent's dreams into submission? That was what the Alabama coaching staff wanted here. With all of the side to side running for the Rebels' defense, the staff hoped that once the second half started, the Landshark defense would be worn out. And they were.
Keep your eye on Ole Miss DL getting up off ground after plays. They're gassed. When I saw that as an OL, I knew we had 'em. #MISSvsBAMA

— Aaron Taylor (@AaronTaylorCFB) September 17, 2016
"I think that a lot of the stuff we did in the first half set up some of the things that we did later on," Saban said. "But I also think that we were really trying to … We thought that we could execute these things. And if you look at them on the film, if we would have blocked them correctly – again, attention to detail and execution – they would have been better plays.
I guess there is a lesson here for all of us. The next time we wonder what's going on, I think it would be wise to remember that possibly the two that make over $8 million combined may know more than we do.
This article originally appeared on