Alabama Football: Postgame Notes vs. Texas A&M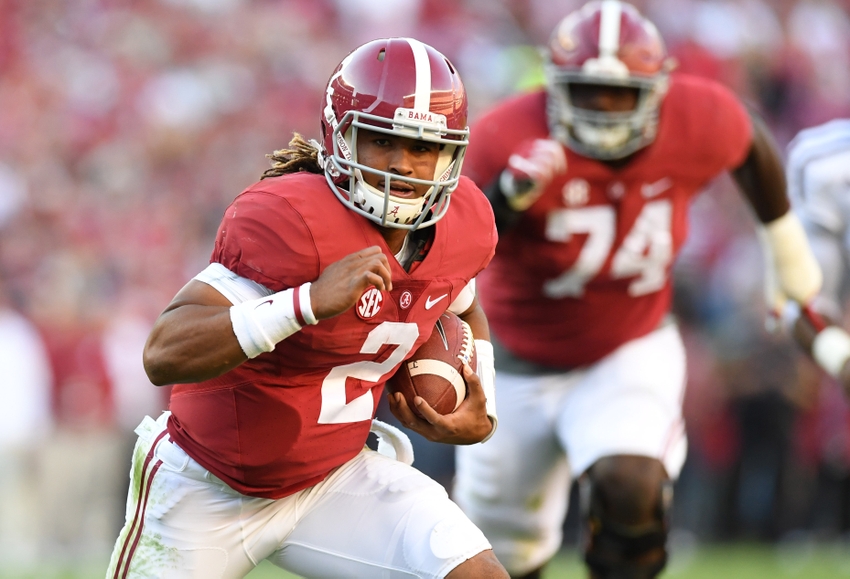 With Saturday's victory over Texas A&M, Alabama football owns the longest winning streak in the Football Bowl Subdivision, having won 20 consecutive games dating back to last season.
With the win over Texas A&M, Alabama football owns the longest winning streak in the Football Bowl Subdivision, having won 20 consecutive games dating back to last season (last loss: Sept. 19, 2015 vs. Ole Miss). The 20-game streak is the fourth-longest in school history (the record is 28 games, accomplished twice: 1991-93 & 1978-80) and is the longest under the direction of head coach Nick Saban (previous long- 19 games 2009-10).
ICYMI: Alabama rolls past Texas A&M, 33-14
During the current stretch the Crimson Tide has won nine games at Bryant-Denny Stadium, seven road games and four consecutive neutral-site games while going 13-0 against teams from the Southeastern Conference. During the streak, Alabama has outscored its opponents by 462 points (738-276; 36.9-13.8), an average of 23.1 points per game.
Alabama head coach Nick Saban is 119-19 (.862) in home games during his college head coaching career. He owns the advantage at every stop he has made during his collegiate coaching career, including a 60-7 (.896) mark while at Alabama. Saban has won 31 of his last 33 contests at Bryant-Denny Stadium and has lost back-to-back matchups only once, with consecutive losses coming at the end of the 2007 season (LSU and ULM).
Saban owns a 48-10 (.828) all-time record when playing in a Southeastern Conference game at home, going 16-4 (.800) during his time at LSU and owning a 32-6 (.842) record at Alabama. While with the Crimson Tide, Saban has posted four perfect home SEC slates and has not lost more than one home conference game in any season other than 2007 (two losses). All six of his losses at home have been by seven points or less with half of those by three or fewer. Under Saban, Alabama football has outscored its SEC home opponents 1,230-553 (32.4-14.6 points per game) and has limited the opposition to 14 points or less on 23 occasions, including six shutout victories.
Saban owns a 100-26 (.794) career record in 126 games against SEC opponents. While at Alabama, he has compiled a 70-13 (.844) record versus conference foes, and is outscoring opponents by a staggering 3,309-1,297, or 39.9-15.6 points per game. Of his 13 losses against SEC opponents while at Alabama, all but two (Florida, 2008 and South Carolina, 2010) have been by seven points or less. Saban's first matchup with an SEC team came in the 1995 Independence Bowl against LSU, where his Michigan State Spartans fell, 45-26, to the Tigers. He would later go on to coach LSU to 30-12 overall record against conference opponents.
Alabama's 33-14 win over No. 6 Texas A&M today gives head coach Nick Saban 68 career wins vs. Associated Press Top 25 teams, good for third all-time. Former Penn State head coach Joe Paterno leads the list with 86, four victories ahead of Florida State's Bobby Bowden (82). Paul "Bear" Bryant is fourth at 66. Recently retired Duke, Florida and South Carolina coach Steve Spurrier is fifth at 64. Saban's winning percentage against AP ranked teams (68-37, .648) tops Bryant (.592), Bowden (.557), Spurrier (.529) and Paterno (.512).
Saban is quickly moving up the charts for victories in SEC regular-season games against conference opponents with 99 following the win over Texas A&M on Oct. 22. His 99 wins moves him into a tie for sixth with Auburn's Shug Jordan and Tennessee's Phil Fulmer on the league's list of conference wins. Each coach ahead of Saban on the list, except for recently retired South Carolina and Florida head coach Steve Spurrier, is in the College Football Hall of Fame. Paul "Bear" Bryant tops the list with 159 conference wins at Kentucky (1946-53) and Alabama (1958-82). Spurrier is second with 131 league wins followed by Johnny Vaught (Ole Miss, 106), and Vince Dooley (Georgia, 105). Saban ranks first in league history in SEC regular season winning percentage at .792 (99-26). He is second in league history in winning percentage in all games at .821 (156-34). Saban is eighth on the SEC career wins list at 156. Tennessee's Robert Neyland is seventh at 173.
ICYMI: Hey Corso, Don't Pick Bama!
Under Saban, the Crimson Tide is 101-6 (.943) when leading at the half. Alabama led Texas A&M, 13-7, at the half on Oct. 22, and has held the lead in 18 of its last 23 games dating back to the start of the 2015 season, including seven of eight games this season.
Jonathan Allen's first quarter sack of Trevor Knight was the 24th of his career, putting him one shy of Kindal Moorehead (1998-2002) for second all-time at Alabama. The Crimson Tide's all-time leader for career sacks is Derrick Thomas (1985-88) with 52.0.
With two quarterback sacks on Saturday against Texas A&M, Alabama's Tim Williams ran his career sacks total to 18.5. That moves him into 10th place, one ahead of John Copeland (1991-92) on Alabama's career sacks list.
ICYMI: Hold The Rope With Fran At Alabama
Jonathan Allen's 29-yard fumble return for a touchdown in the third quarter is Alabama's ninth defensive touchdown this season, which leads the nation. Alabama football has now scored at least one defensive touchdowns in its last four games. The score is Allen's second fumble return for a touchdown this season (75 yards vs. Ole Miss on Sept. 17). Allen now has 104 return yards on his two touchdowns. Seven different defensive starters have scored the nine touchdowns.
With two passing touchdowns and one rushing touchdown today, Jalen Hurts has been responsible for 20 touchdowns this season (11 passing, 9 rushing), tying him for ninth on the Alabama football single-season list with Mark Ingram (2009, 17 rushing/3 receiving) and Greg McElroy (2010, 19 passing/1 rushing).
With eight catches for 69 yards vs. Texas A&M on Saturday, tight end O.J. Howard has established a new single-game best for receptions. Howard's previous career high was seven vs. Tennessee in 2015.
Calvin Ridley's four-yard touchdown reception from Jalen Hurts was the 12th touchdown catch of his Alabama career, tying him for ninth in Alabama history with Kevin Norwood (2010-13). Keith Brown (2004-07) and David Bailey (1969-71) are next on the Tide list with 13 each. Amari Cooper's 31 touchdown catches is the Alabama career record.
Adam Griffith's 32-yard first quarter field goal today extended Alabama's first half scoring streak to 126 games, the longest streak in the nation. The last time UA failed to score in the first half was on Sept. 29, 2007, when Alabama and Florida State headed into halftime in a scoreless tie. The Seminoles won that game, 21-14. Entering today's game, Alabama owned a 110-16 record during the current streak.
Alabama's school record consecutive games scoring streak was extended to 206 games with Adam Griffith's 32-yard field goal in the first quarter today. Alabama football was last held off the scoreboard in a 9-0 loss to Auburn on Nov. 18, 2000.
With two first-quarter field goals, senior placekicker Adam Griffith moved into sole possession of fifth place on the Alabama career field-goal list at 46, breaking a tie with Jeremy Shelley, who had 44 from 2009-12. Van Tiffin (1983-86) is fourth with 59 career field goals. Leigh Tiffin (2006-09) is Alabama's career leader with 83.
Jonathan Allen's 29-yard fumble return for a touchdown in the third quarter against Texas A&M is the 58th non-offensive touchdowns of the Nick Saban era and the 12th for Alabama this season, which leads the nation and extends the single-season record in the Saban era. Alabama has scored at least one non-offensive touchdown in each of its last 10 games – four interceptions, five fumble returns, three punt returns and a kickoff return – dating back to the CFP semifinal vs. Michigan State on Dec. 31, 2015.
Alabama's captains for today's game vs. Texas A&M were Reuben Foster, Eddie Jackson and Cam Robinson. Junior safety Hootie Jones made his first career start for Alabama today vs. Texas A&M. Jones is the 14th Alabama student-athlete to make his starting debut this season.
This article originally appeared on