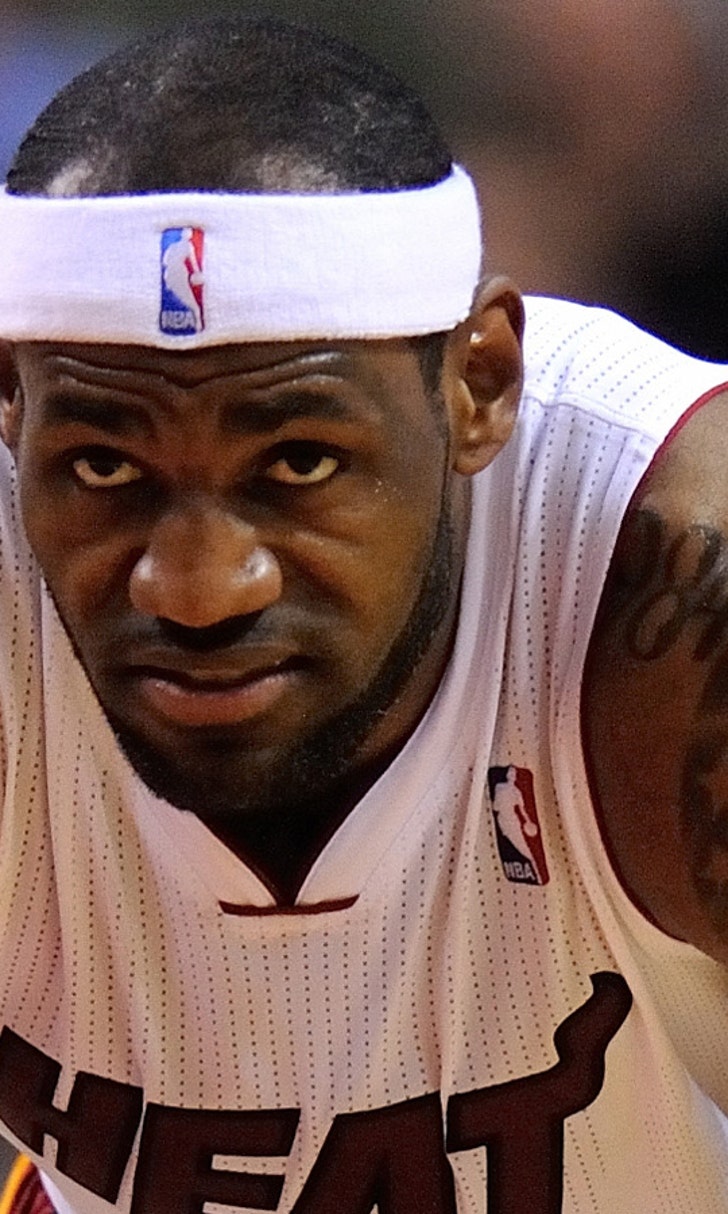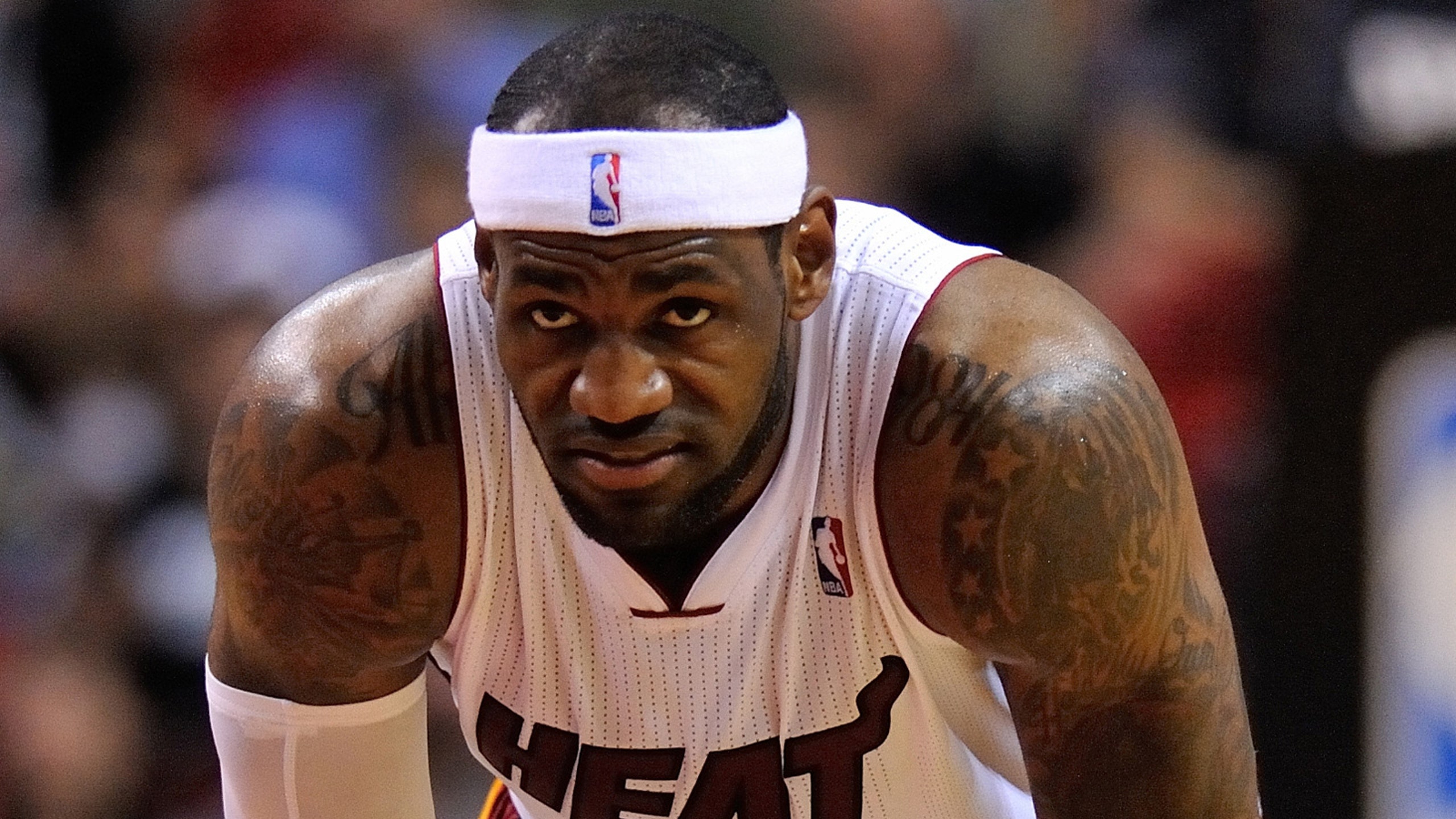 With top seed — and MVP — in sight, LeBron doing his thing again
BY foxsports • April 6, 2014
The latest LeBron James MVP moment Sunday came during the final seconds of the third quarter.
The Miami Heat led the New York Knicks 70-64, when Carmelo Anthony missed a 19-foot jumper with 10.4 seconds to go in the period. James grabbed the rebound, turned and headed down court.
"I was pushing in transition, seeing if we could get some early offense," James said when asked to describe the play. "I'd seen their point guard (Pablo) Prigioni trying to pick me up at the 3-point line and I had a full head of speed, so I wanted to attack the rim.
"(Udonis Haslem) did a great job of sealing off Amar'e Stoudemire."
The result was layup, a foul on Stoudemire and chants of "MVP!, MVP!" emanating from the AmericanAirlines Arena crowd.
And as part of his MVP DNA, James made sure to credit a teammate with a major, if unofficial, assist.
The three-point play contributed to James' 38-point performance that sparked the Heat to a 102-91 victory against the Knicks.
Miami (53-23) now leads Indiana (53-25) by a full game in the race for the Eastern Conference top seed. The Pacers lost at home to Atlanta 107-88 on Sunday night.
Six games remain for Miami in the final 10 days of the regular-season as the Heat and their King aim for respective three-peats -- as NBA champions and league MVP.  Oklahoma City's Kevin Durant appeared to be James' main competition.
And later Sunday night, Durant did his part, scoring 38 points of his own to pass Michael Jordan's career-best with his 41st straight game with at least 25 points scored. But the Thunder lost in Phoenix.
James is averaging 26.8 points, 6.9 rebounds and 6.5 assists as he tries to capture MVP honors for the fifth time in six years. He won the award twice with Cleveland before winning it the past two seasons with Miami.
"He's the best. There's no doubt about that, no matter who gets the award this year," Heat center Chris Bosh said. "He's still the best. Four out of five years ... I don't think it'll ever be done again.
"I just want him to continue to get better and just do what he does, improve at it and be on top of his game for the playoffs."
James looked tired as he answered questions after an effort that included five rebounds and six assists in nearly 43 minutes. He also had five turnovers after the game tipped off at 1 p.m.
"I wasn't awake yet," he said with a smile. "I had four turnovers in the first quarter. The first play of the game I turned the ball over.
"I owned that from the beginning and I figured it out from that point."
Figuring out things is a James strong suit, something even a teammate of little more than two months understands.
"He's a player I always take wisdom from," guard Toney Douglas said. "He knows the game. Every little thing he says, I'm always in tune.
"He's easy to play with. He doesn't get mad or frustrated so easily. He trusts his teammates, and that's what makes him the best player to play with."
James appreciated the fact the team would not practice Monday as coach Erik Spoelstra has chosen to practice less this season as a way of trying to keep his veteran team fresh for the playoffs.
Although Dwyane Wade (hamstring) and center Greg Oden (back) -- who both missed a sixth straight game on Sunday -- might benefit most, center Chris Andersen also didn't play due to a knee injury.
"We don't have enough bodies to practice," James said with a laugh. "Four or five guys out tonight. What are we going do, play 3-on-3?
"The rest is very important. Spo giving us this rest helps ... it helps even the coaching staff ... to sit down and decompress and refuel the body for the next time we come in."
Reduced practice time not only can aid the injured, it can help the weary. With James having expressed the desire to play in each of the remaining games as Miami seeks the No. 1 seed, he, too, clearly would benefit from some time off as during the final 1 1/2 weeks of his latest MVP race.
You can follow Charlie McCarthy on Twitter @mccarthy_chas or email him at mac1763@bellsouth.net.
---
---