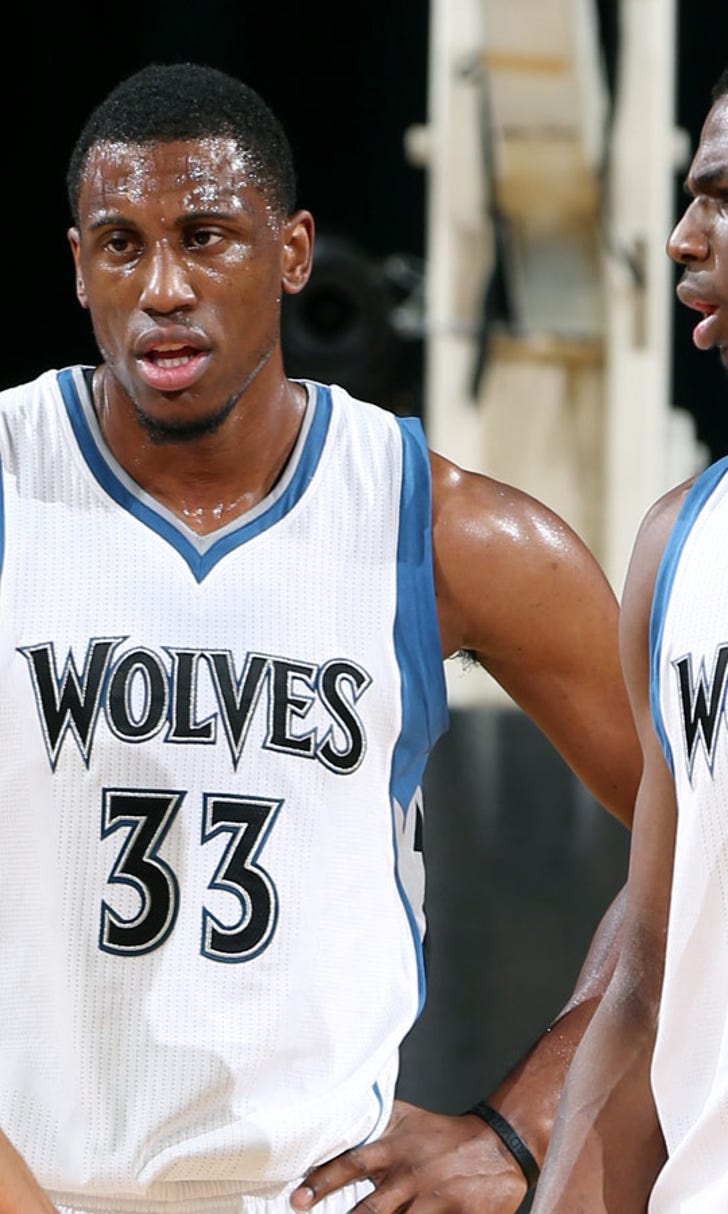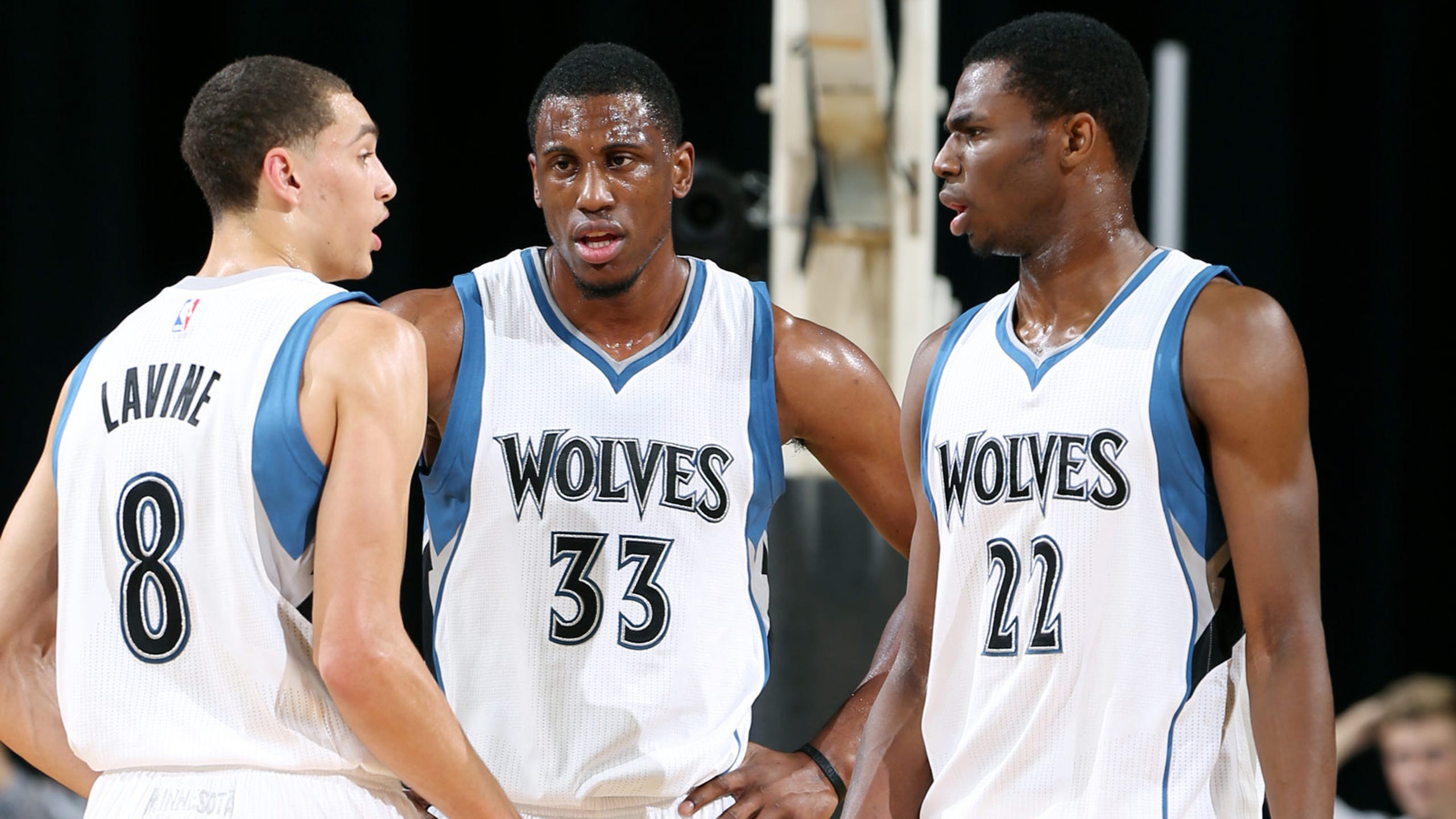 With blended roster, Wolves should be fun team to watch in 2014-15
BY foxsports • October 29, 2014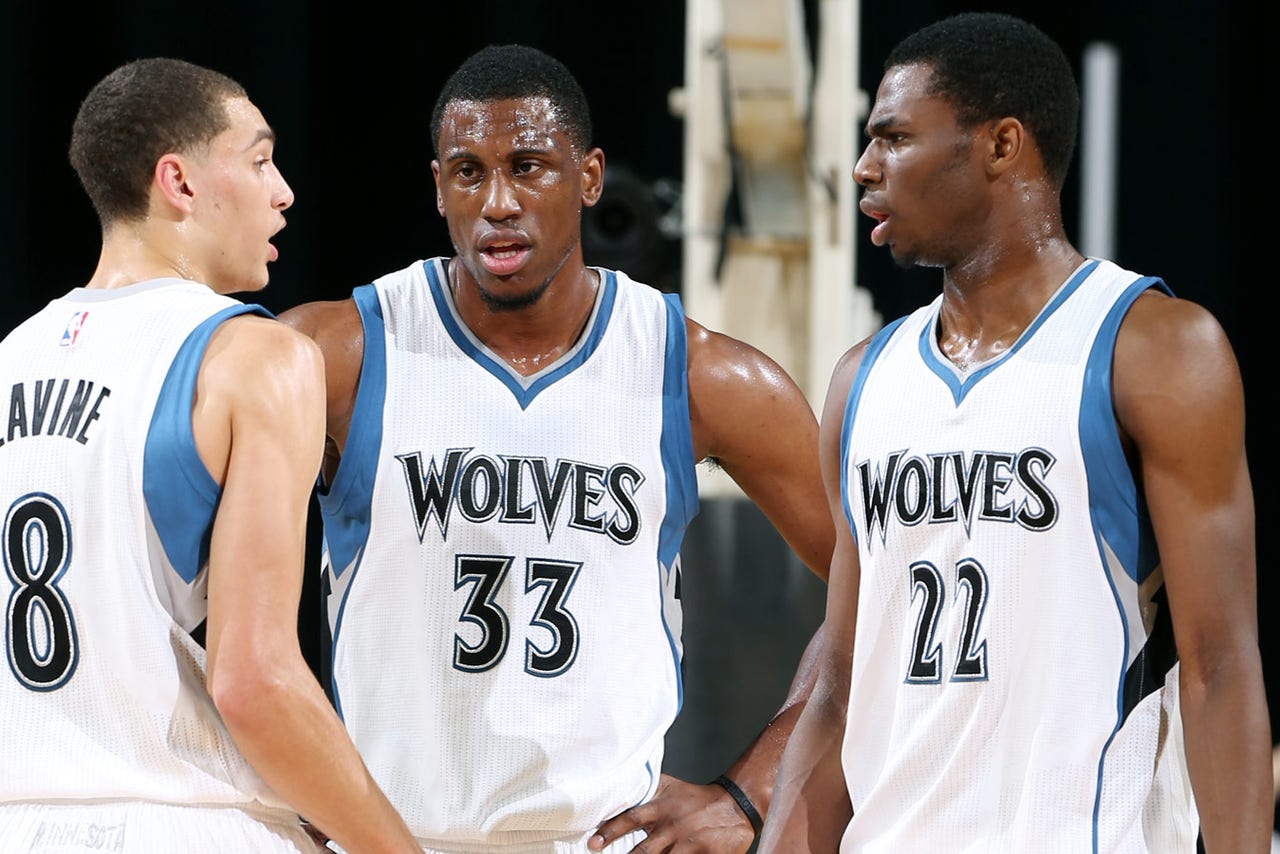 MINNEAPOLIS -- When it comes to the 2014-15 Minnesota Timberwolves, there are misconceptions hidden among the harsh truisms facing the Land of 10,000 Lakes' top hoops offering.
The Wolves aren't exclusively youthful. Eight of them were born during the '90s --giving them the eighth-youngest roster in the league -- but seven players are entering at least their fifth NBA season. So it's a mix of adolescence and experience; not the Flip Saunders daycare some have made it out to be.
"We're labeled as a young team," said Saunders, one of pro sports' most powerful individuals as president of basketball operations, coach and part owner after promoting himself this offseason. "That's not totally true."
"We're like Adam Sandler's movie 'Blended.' We're a blended type of team. We'll have to see how that blend really comes in and how that really works."
They aren't rebuilding, either. Just building. To reconstruct is to suggest something was there in the first place, but that's hardly the case for a franchise in danger of its 11th straight year without a postseason berth.
So the young core of Andrew Wiggins, Anthony Bennett, Gorgui Dieng, Shabazz Muhammad, Zach LaVine and the rest Saunders has molded is the foundation of something totally new.
"We're out for blood," Wiggins said during training camp.
Said LaVine: "You don't go out there and say 'Oh, we're going to win 30 games this year.' You go out there to win every game. That's what we're trying to do. In reality, we're not going to have a perfect season -- we know that -- but we're going to go out there and compete just like we're the top team in the league."
In defying reality, the 13th overall pick in this year's draft also acknowledges it. With Kevin Love traded away and Wiggins, Bennett and Thaddeus Young here in exchange, the Wolves felt they got the best return for a disgruntled star forcing his way out of town they could've asked for. From the top of the roster to the bottom, they are deeper. More athletic, too. And capable of defending in ways the club hasn't seen in recent years.
But while Minnesota inched forward into the Wiggins-And-Perhaps-Rubio Era, the rest of the Western Conference soared. San Antonio got better by staying the same, with Tim Duncan, Tony Parker and Manu Ginobili back in the fold. Oklahoma City will have a guy named Kevin Durant healthy by December. Dallas added Chandler Parsons and Tyson Chandler to reinsert itself into the conference title conversation. The Clippers are still the Clippers. The Pelicans are the better, more mature, Anthony Davis-led Pelicans. Houston, Portland and Golden State will have something to say about the race, too.
Love, meanwhile, is wearing Cavalier wine and gold and vying for a championship alongside LeBron James.
"Of course we're going to miss him," point guard Ricky Rubio said. "He's one of the best -- if not the best -- power forwards in the league, but we just have to move on. We had a good trade. I think if the young guys do what they supposed to do and what we expect them to do, it's going to be great."
The Wolves, meanwhile, are relying on a 19-year-old with no NBA games to his credit, a point guard who has yet to prove he's elite and a group of veteran role players, essentially.
Success won't be measured in victory and defeat.
"Success, to me, is going out and playing hard every night," Saunders said. "We're going to go through the process, but we also have to know that over the course of a season -- we have a lot of very talented young players -- we have to know where they're at.
"We're going to go through some growing pains."
Said 11th-year veteran Kevin Martin, the team's top returning scorer from last year: "When people ask Flip expectations, he doesn't want to put a number on it with wins and losses. I feel the same way. I feel like our theme should be respect the process, individually and team. This year, we can surprise or we can also be on the other end of it."
So what's to be expected from a team with barely tangible expectations?
At first, fun. With Wiggins -- the No. 1 pick in this year's draft who has a chance to be a once-in-a-generation type talent -- Rubio and a speedy, athletic roster, Minnesota will be an NBA League Pass favorite that excels in transition and lights up the highlight reel with dunks and alley-oops. The same tenets ought to improve a defense that ranked 26th in points against last season, too, especially when Rubio, Wiggins, Young and Corey Brewer are on the floor together.
But ultimately, the hope evading this franchise and fan base since Saunders' first go-round as coach won't be mined from the final standings. How long entertainment value sans wins keeps folks interested remains to be seen.
Instead, hope would be characterized by Wiggins vindicating the hype that's followed him around since he was 13. And Bennett, after a disappointing rookie season, proving his own No. 1-overall worth. By Rubio improving as a shooter, and the organization figuring out what it wants to do with him as the end of his rookie contract nears (the deadline to sign him to an extension is Friday, and if it passes with no accord, Rubio will enter restricted free agency after the season). By Young continuing to be the solid, two-way power forward he was for seven years  in Philadelphia. By Nikola Pekovic staying healthy and earning some of those incentives in his five-year, $60 million deal. With LaVine overcoming rookie hurdles to become the Wolves' combo guard of the future. By 2013 first-round picks Dieng and Muhammad playing pivotal roles.
In many cases, the present will be about what's to come.
And Minnesota's players know it.  
Rubio, the de facto face of the franchise with Love out of the picture, recently caught wind of a prognostication that had the Wolves finishing last in the conference.
"From there, we only can do better," Rubio smiled. "We only can surprise people, and I think we have to believe. We have to believe that we can go farther than people thinks, but not just (what) people thinks; we have to really believe that we can be a good team."
If not today, then tomorrow.
Follow Phil Ervin on Twitter
---
---