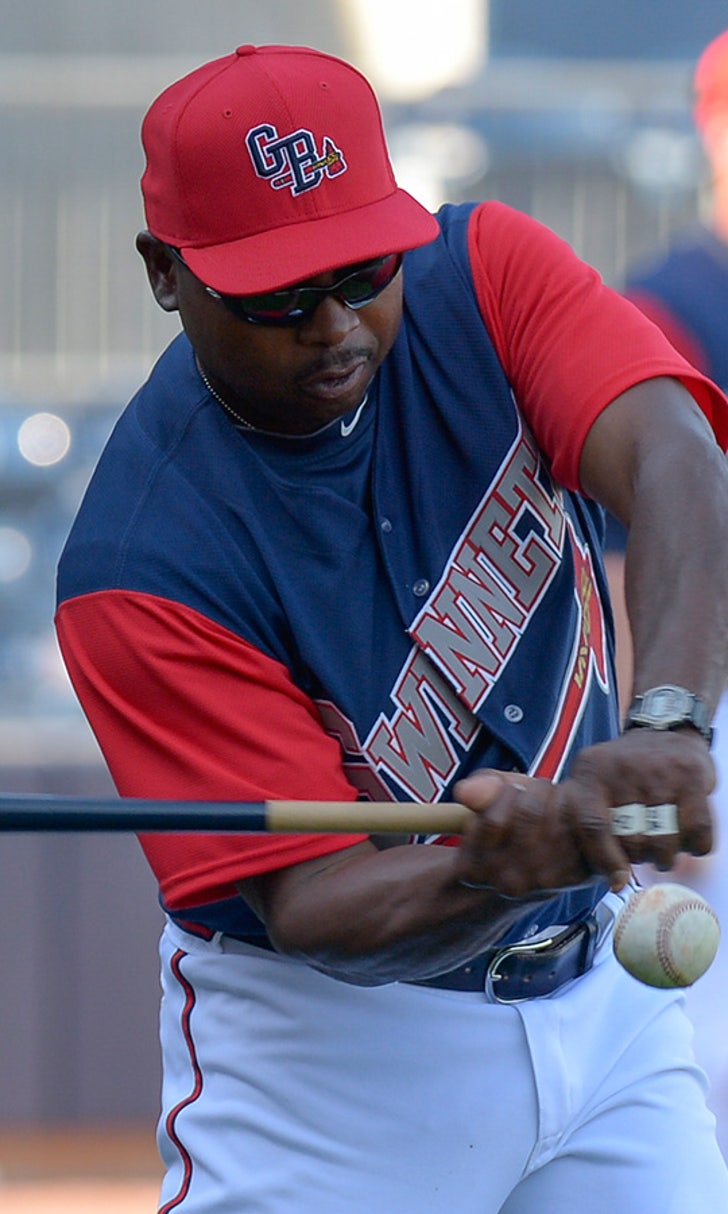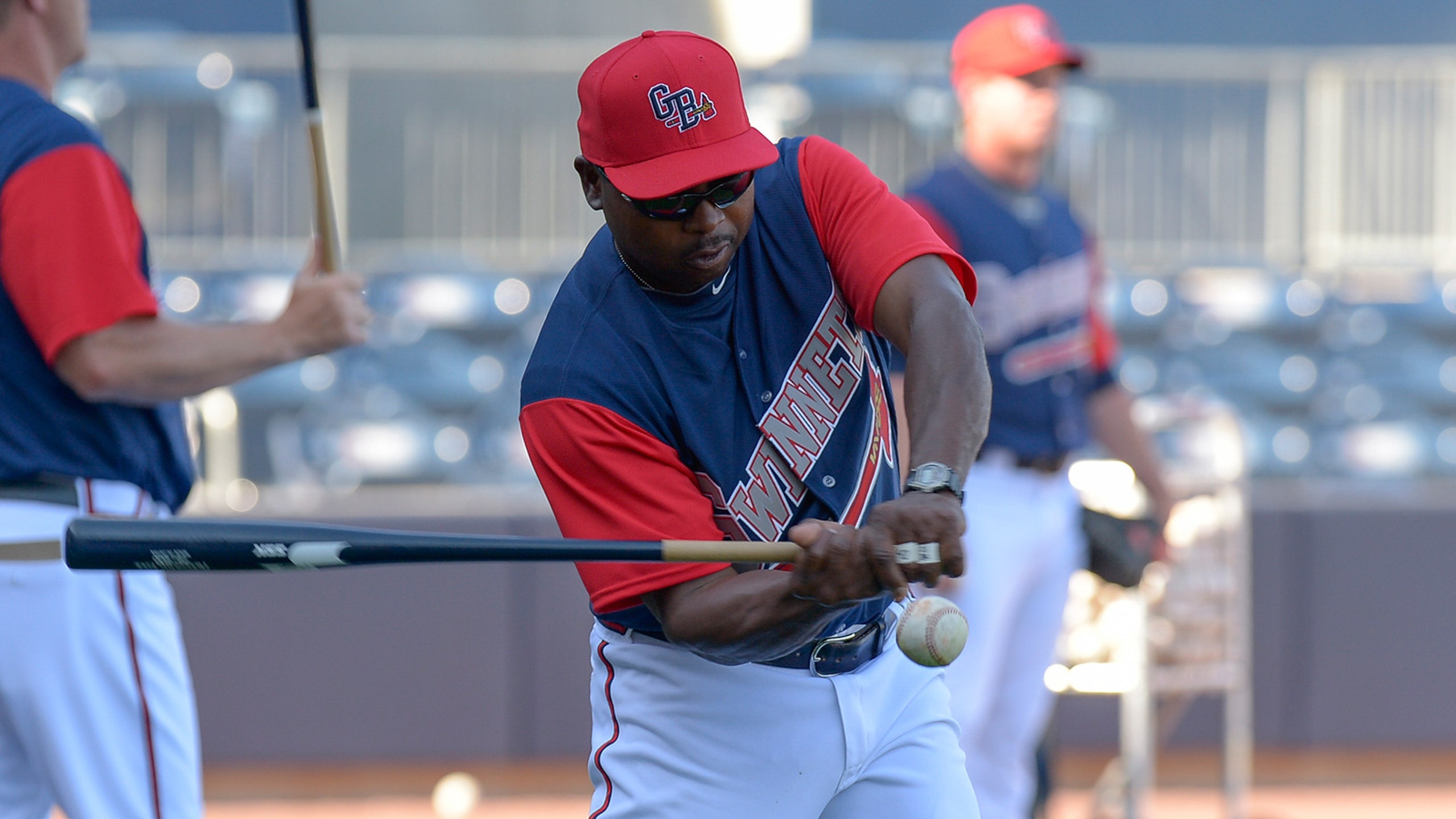 Triple-A Gwinnett coach Ingram content in hitting 'fraternity'
BY Zach Dillard • August 8, 2014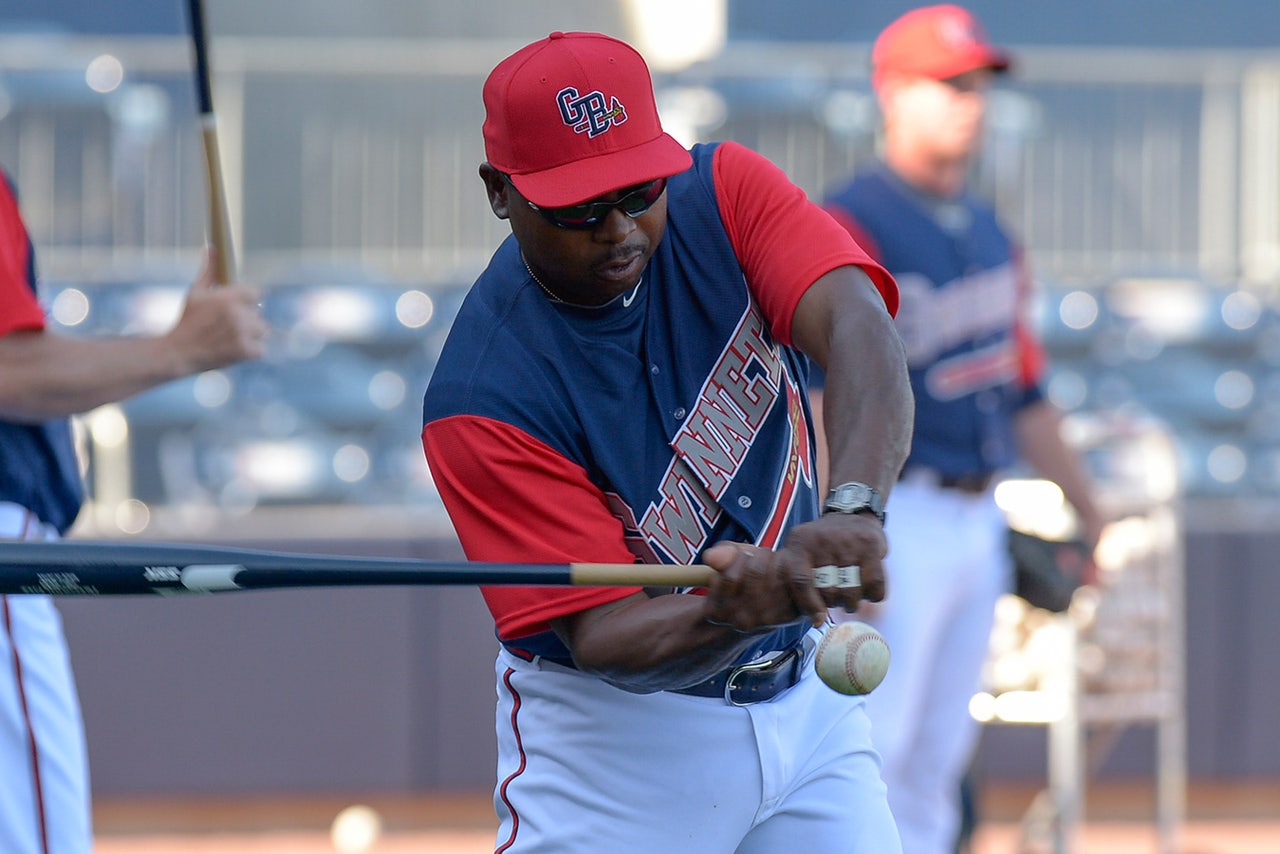 LAWRENCEVILLE, Ga. -- On Thursday afternoon at Coolray Field, as an unrelenting sun beat down on what Gwinnett Braves manager Brian Snitker described as the hottest day of the season, Garey Ingram purposefully made his way from behind the batting cage to second base to third base and back to home plate.
After overseeing batting practice in the mid-90s Georgia heat, Ingram and Snitker worked exclusively with Edward Salcedo, a 23-year-old still adjusting to fielding the ball as a converted right fielder. Snitker held a bat. Ingram was tasked with fielding incoming throws from Salcedo, who has displayed a cannon of an arm in his short time out of the infield, at various stations around the empty diamond. The three men were the only ones left on the field, others in uniform retreating to air conditioning or shade.
In a world where player development is the primary focus, this is routine for a Triple-A hitting coach ... even when hitting isn't involved.
Ingram, a Columbus, Ga., native who worked his way back closer to his hometown this past offseason after coaching four seasons at the Braves' Double-A affiliate in Mississippi, hardly minded the extra work. The 44-year-old has navigated his way through minor-league stadiums and routines for the better part of the past 25 years. The temperate changes, the obligations of the job do not.
"Baseball has been taking care of me my whole life," he said after toweling off the sweat and taking seat across from the team's indoor batting cages, "so I can't complain."
Following a whimsical playing career that included 82 major-league games with the Los Angeles Dodgers, Ingram, who was hampered by injuries as a player, immediately transitioned from minor leaguer into the coaching ranks of those preoccupied with the art of hitting -- a hitter's fraternity, as he and many others have framed it.
His career's narrative follows similar guidelines as many other long-time baseball coaches, guys who have forged careers in the sport even if big-league stardom never arrived. In many ways, the myriad stories they tell are better for it, every Show-related memory more vivid.
Ingram recalls being 24 years old when his minor-league coach, Tom Beyers, pulled him out of a game in Tulsa, Okla. After waiting one inning for an explanation, he finally pressed the issue in the dugout: Why? That was when he found out about his first call to the Dodgers' big-league club. He recalls arriving in Los Angeles and instead of first going to the Dodgers Stadium clubhouse, he went to the second-level concourse to see the field from a fan's perspective. ("I almost passed out.") There's also the second of two keepsake baseballs he keeps at his home in Columbus, which is the first groundball he ever fielded in the majors.
That day, he sent the Dodgers clubhouse manager to the opposing dugout to get it inscribed. It reads: "Best wishes. Good luck. Tony Gwynn, No. 19."
The first of the two commemorative baseballs, of course, is Ingram's minor claim to baseball fame. It's from his second major-league game and his first major-league at-bat. The main characters include three former All-Stars and one Hall of Famer, but he has a difficult time getting through the entire tale without laughing
He wasn't ready to pinch-hit that day at Denver's old Mile High Stadium, as it was the eighth inning and his team was already winning. So when, from the other end of the dugout, Dodgers manager Tommy Lasorda told him he was hitting for pitcher Orel Hershiser -- coincidentally, Atlanta Braves pitching coach Roger McDowell replaced Hershiser on the mound that day -- there was some mild panic involved. Ingram couldn't find his helmet or batting glove. As he went out to hit, center fielder Brett Butler tried to talk him from his frenzy.
"That was probably the scariest moment of my life," Ingram said, still laughing. "So I get in the batters box and Reggie Smith was our first-base coach, I'll never forget this. I took the first pitch and I swung and fouled a second one off, so it was a 1-1 count. The next pitch I got jammed so bad where the ball hit my handle and trickled down the first-base line and just went foul. So I was running thinking it was gonna stay fair and when I stopped and looked at Reggie Smith at first base, he was dying laughing with his hand over his mouth. That kinda relaxed me. Later it was a 2-2 count and I saw Brett Butler in the on-deck circle and he was turned to the side and clinching his butt like, 'Don't be so tight.'"
Apparently, their relaxation techniques took hold. Ingram stuck to his plan, choked up and made contact.
As soon as the ball came off his bat, he put his head down and sprinted to second, stopping to take in the scene surrounding his first major league hit. It wasn't until second-base umpire Steve Rippley asked him a simple question -- "Ingram, what are you doing?" -- that he realized he had made a crucial mistake.
He shouldn't have stopped. The ball cleared the left-field fence.
He remains only the 113th MLB player ever to hit a home run in his first at-bat.
Now he's trying to prepare a new generation of hitters to hit the ground running -- and sustain that success -- when they reach the majors. And the Braves have certainly needed Ingram's pupils in what has been a forgettable season in terms of offensive production. The big-league club ranks 28th out of 30 teams in runs scored entering its weekend series against the Washington Nationals, and three position players have already been called up from Gwinnett this season: Tommy La Stella, Christian Bethancourt and Phil Gosselin. Ingram played a part in preparing them for that next step, just as he did previously with the likes of Andrelton Simmons and Evan Gattis during their minor league careers.
All the same, it can be challenging at times to be a hitting coach in a pitching-dominant organization.
Tony Gwynn and his legendary batting practices. That was a spectacle Garey Ingram was not going to miss.
First, Mr. Padre would step in for his first round of cuts, aiming for the first-base bag each time. For his second round of BP, second base was the target. Third round? Third base. ("I'm talking he's coming within three or four yards of the base every time.") During a Dodgers-Padres game in the mid-1990s, Ingram could be found in the opposing dugout, watching a future Hall of Famer molded in a similar frame, possessing one of the greatest hitting minds the game has ever known. Ingram, a fellow hitting obsessive, took every opportunity he could to soak it all in.
That groundball the late Hall of Famer inscribed is not an accidental keepsake: Gwynn was a hero, and it's probably no wonder both men went into coaching after their divergent playing careers were over. It can be difficult to walk away from the hitter's fraternity.
Ingram traces his own coaching influences back to Little League all the way through his high school coach Bobby Howard -- the same man who recent Hall of Fame inductee Frank Thomas, Ingram's teammate for two years at Columbus High School, credited during his emotional speech; both Howard players can warn of the dangers of the punishing Thrill Hill exercise -- to Smith and Lasorda in L.A. If he was aiming for a long baseball life, he's hit the mark. He broke into rookie ball with Raul Mondesi and Pedro Martinez in Great Falls, Mont., in 1990, played alongside Butler and Mike Piazza and worked with up-and-coming prospects like Gattis and Matt Kemp.
His Rolodex is deep, but the task at hand in Gwinnett isn't simple.
Since 2011, the Braves organization has not boasted a single top-50 position prospect in baseball, according to MLB.com. Three of the franchise's top four 2014 prospects do swing the bat for a living -- Bethancourt, Jose Peraza (Double-A Mississippi) and '14 first-round pick Braxton Davidson -- but that's not the norm. General manager Frank Wren has constructed a pitching-centric farm system, including taking pitchers with five of his seven first-round draft picks. It's a strategy that has yielded the likes of Julio Teheran, Alex Wood and Craig Kimbrel, among others, but a select few big-time hitting prospects.
That's not to say the strategy is ill-advised, because it has certainly led to marked success in recent years. It does, however, put a greater emphasis on coaching and development at the minor-league level, particularly when MLB-ready prospects are needed to perform when two expensive acquisitions (Dan Uggla, B.J. Upton) do not produce at the plate. When the big-league club is fighting for its postseason life, any of Ingram's Triple-A bats could get a call.
"It's a challenge sometimes because you do get some guys who aren't as skilled as some other guys. Some other guys get it quicker. And that's the name of the game," Ingram said. " ... We're in the field of development. And the way I look at it, I don't care if you're a first-rounder or a 69th-rounder -- which Piazza was a (62nd)-rounder by the way -- I work with guys the same way. Because you never know when they're gonna call from Atlanta and say, 'Hey, we need this guy to come in and fill in.' That's just the way I approach it.
"I was a 44th-round draft pick, and I think that kinda helps me understand the guys that aren't really high-round picks. Because if you were a high-round pick, you were obviously doing something really well to be picked in that round, but they still have to work. But if I have to do something to help a kid get along just to compete at the level they're on, I feel like I've done my job."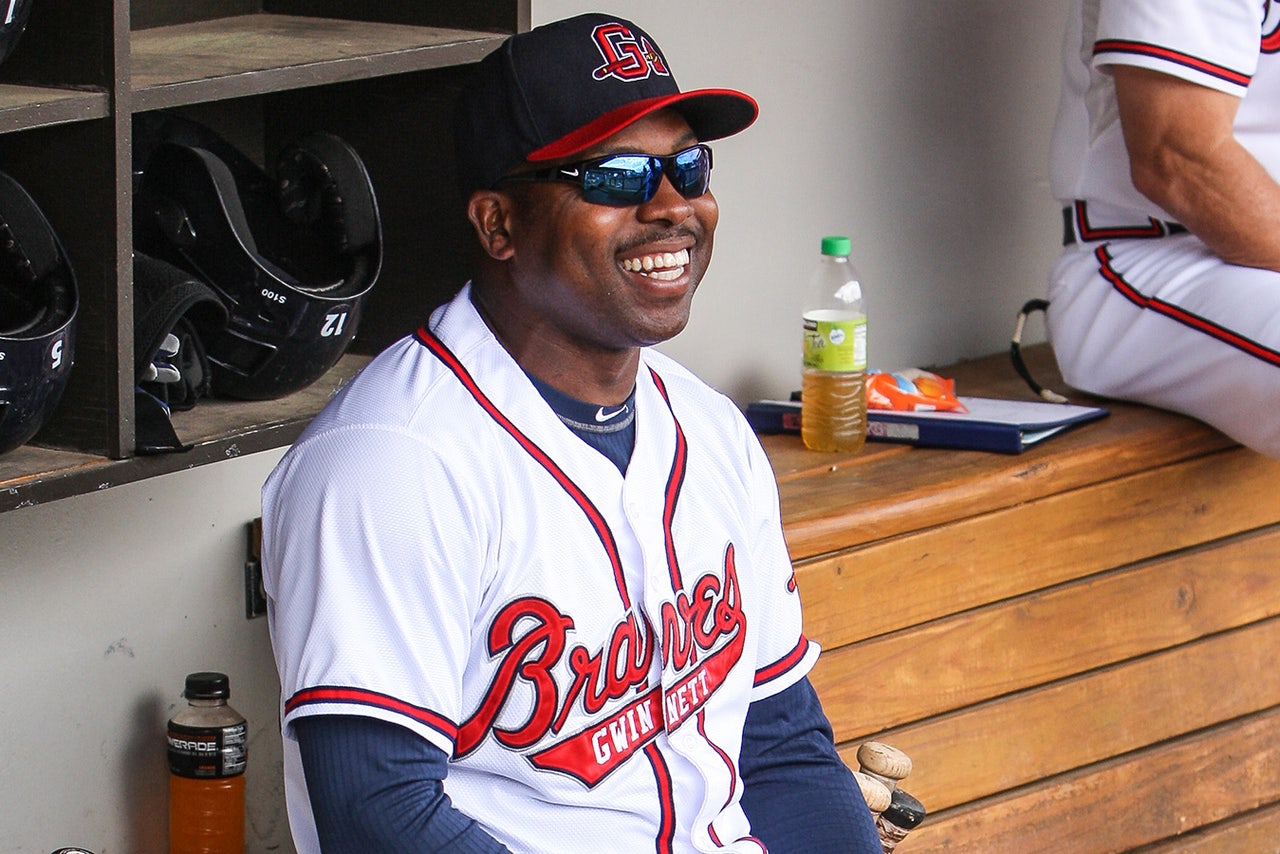 Garey Ingram played 82 career games for the Los Angeles Dodgers, hitting .261/.340/.345 with three home runs.
Taking cues from the likes of Smith and Gwynn, Ingram has taken a hands-off approach with a couple of Atlanta's current players, which is not the easiest task for a fundamentally-sound hitting instructor when dealing with a variety of stances and styles.
(Take Evan Gattis for example, whose unorthodox swing was a case study in patience for Ingram when he watched him for the first time down at the franchise's spring training complez. Ingram could have -- and likely considered -- plenty of tweaks for the catcher's violent and powerful swing, but he focused on the results and the sound the bat made on contact instead. It's turned out well so far.)
"I like to gain a hitter's trust, because if they trust you they'll do anything for you as far as trying different things and experimenting with different things," Ingram said. "I let them know that they actually become their own hitting coach once they get in the batter's box. I do really believe that less information is better information.
"It seems like when I was watching major-league hitters (during my playing days), they didn't look like they're trying to get a hit, they looked like they were trying to make solid contact and square the ball up. Now, since I've been coaching, it seems like hitters more are thinking, 'I have to get a hit, I gotta get a hit. I gotta get a hit.'"
La Stella has easily been the most successful pupil Ingram has churned out this season in Gwinnett, as he's taken over the everyday second base job and is hitting .284/.362/.351 for 104 weighted runs created during his rookie campaign. While not an instant superstar, the Coastal Carolina product is a pretty solid example of Ingram's work at Gwinnett and Mississippi: at 25 years old, the 5-foot-11 infielder posted strong batting numbers throughout the minors and constantly focused on maintaining a consistent, fundamentally-sound approach at the plate, even as his power numbers dipped and the demand for his services in Atlanta became more and more apparent.
He's even earned the nickname "Tommy La Singles" in some circles: it's not exactly the Seven Grains Of Pain like Ingram's hitting icon, but the teacher probably sees a lot of his own favored approach filling in the 2-hole in manager Fredi Gonzalez's lineup on a nightly basis.
As September looms and the Braves continue to chase down the Nationals in order to defend their NL East crown, more call-ups will soon follow as the rosters expand. Right now, while averaging 3.7 runs per game, the big-league club can use all the offensive help its farm system can provide. Without any can't-miss position prospects a la Yasiel Puig, Jose Abreu, Bryce Harper or, yes, Mike Trout waiting in the wings, Garey Ingram will probably have a hand in what -- or who -- is coming up the pipeline.
"We hope they don't come back," Ingram said of his players. "That's our job."
---
---