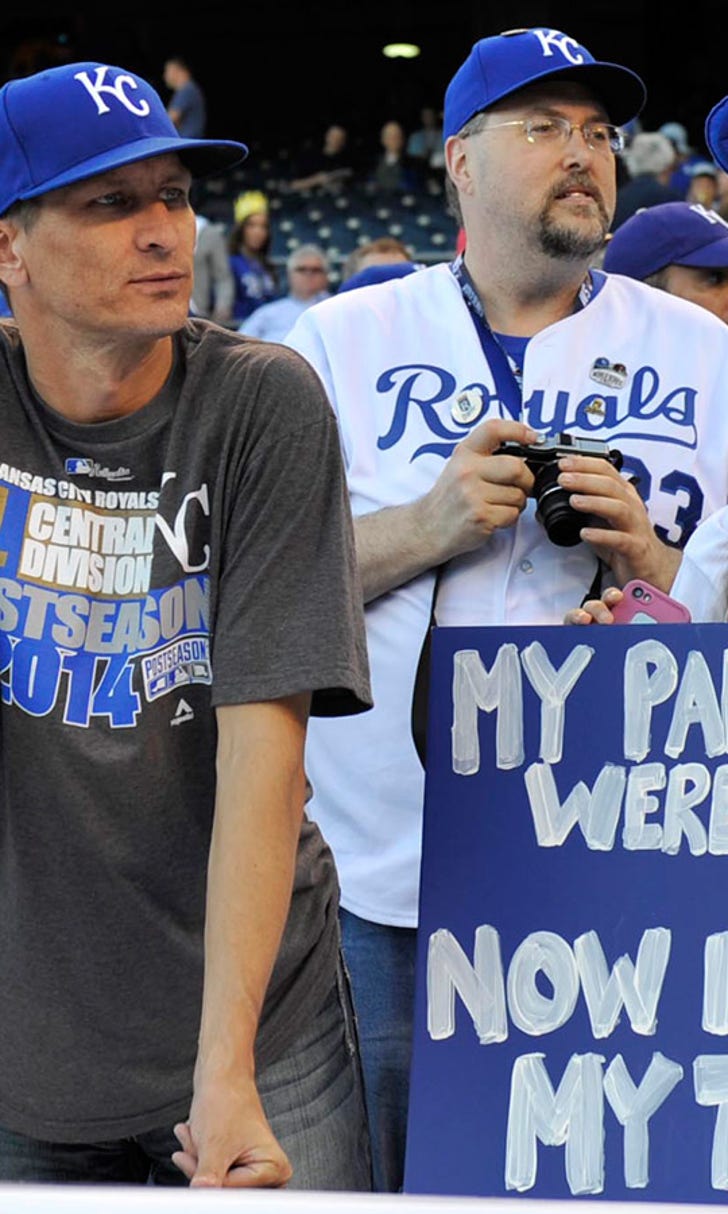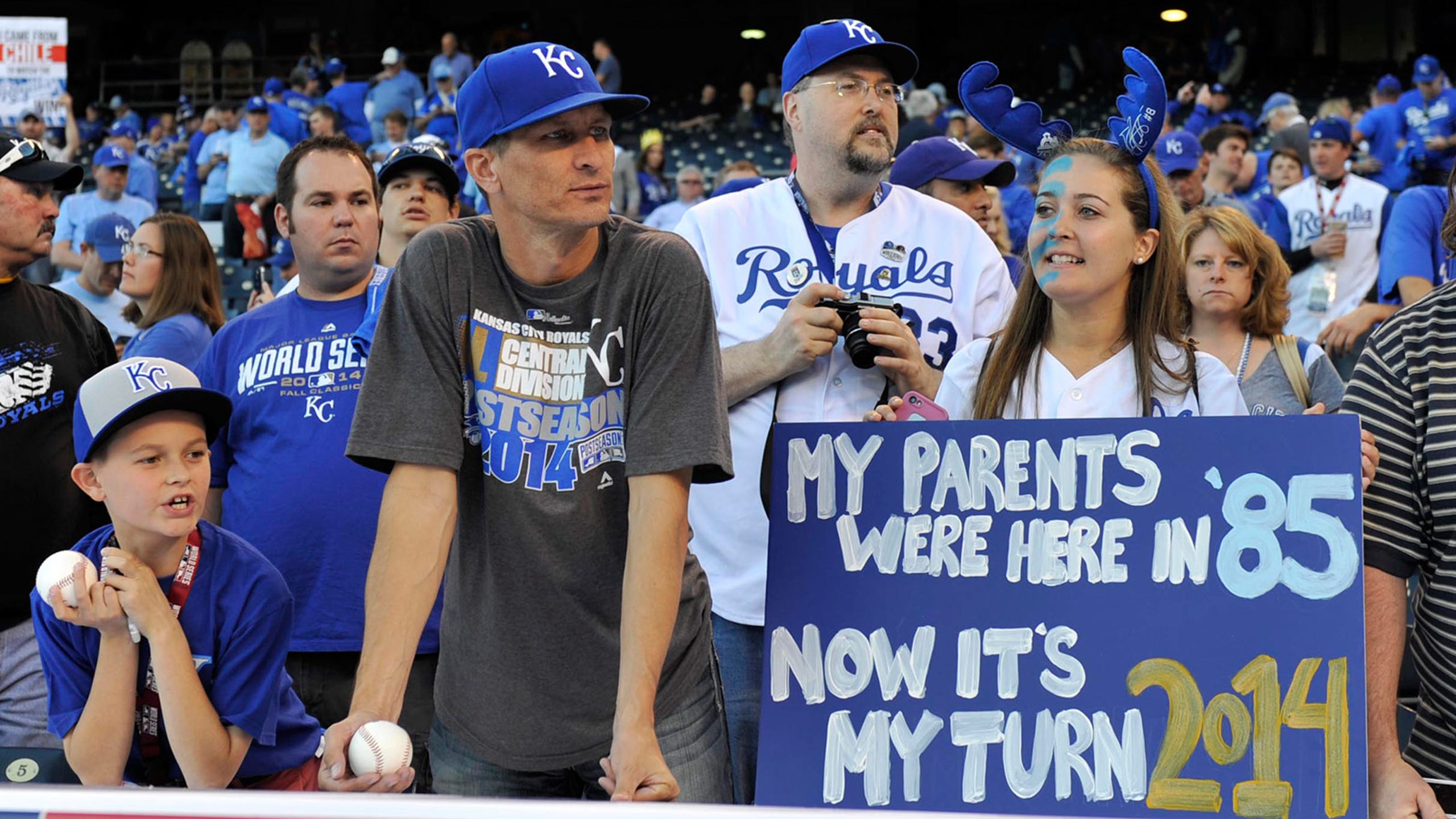 Royals are a family, and now families across KC are welcoming them back into their hearts
BY foxsports • October 21, 2014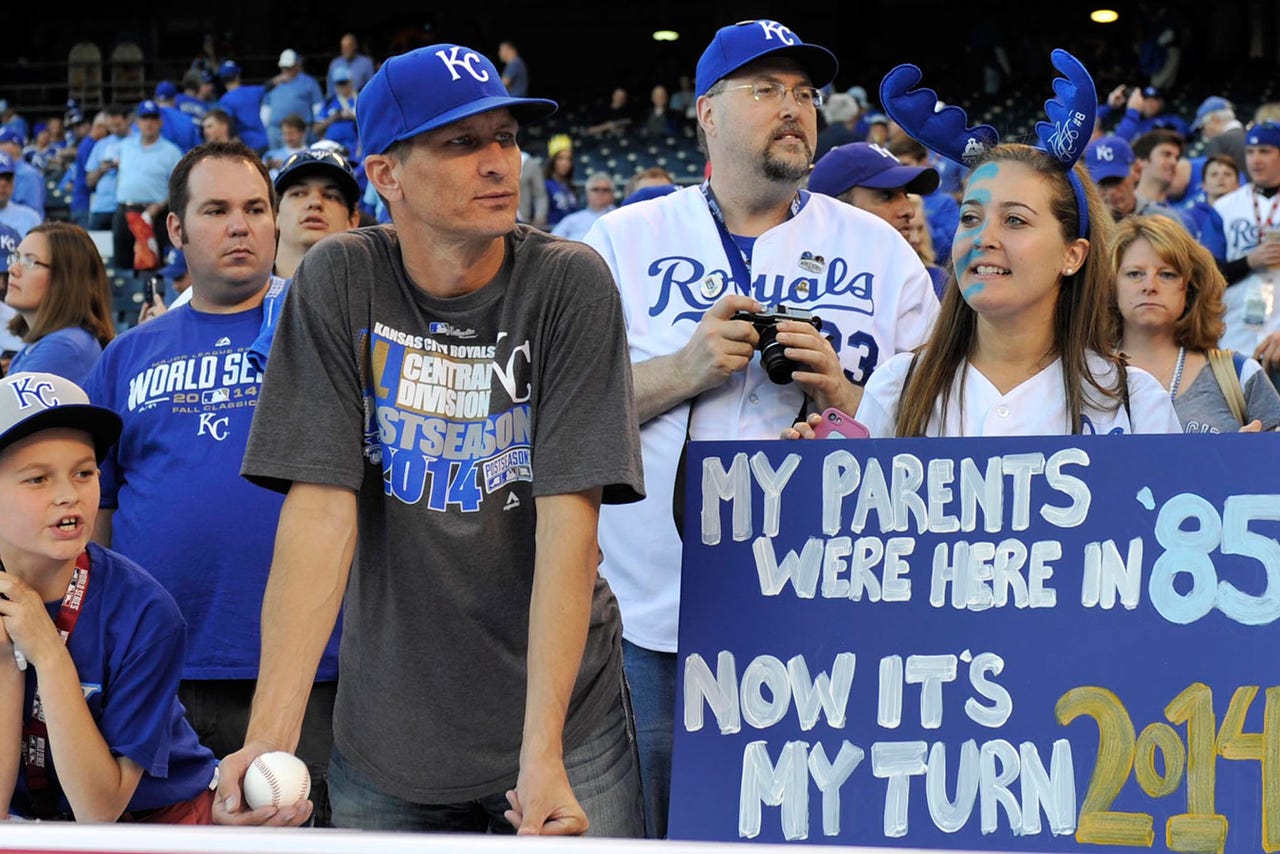 KANSAS CITY, Mo. -- To understand why they came back, year after year, loss after loss, you first have to understand one thing:
Kansas City is America's biggest small town.
It is a place that sees the good in people first, by and large, where neighbors look out for neighbors, a burg where you're innocent until proven guilty, a friend until proven otherwise.
You call it myopic. They call it Thursday.
In New York and Philadelphia, trust must be earned, and earned the hard, long way 'round. In Kansas City, that trust is given first -- although once it's gone, it probably won't come back. The city, at its heart, is more dog than cat, and it takes a lot for that dog to turn on you.
When it does, though, it turns for good. Just ask Scott Pioli.
But it will give you so much rope, the benefit of the doubt first. And when it loves you, it loves you forever.
So understand this, too: Kansas City loves the Royals. It has not always liked them, or the people associated with them, all of the time. But it loves them, deep down, through thin and thinner. Through Tony Muser and Trey Hillman and Juan Gonzalez and Jose Guillen and Gil Meche and decades of darkness, it never stopped loving them.
In America's biggest small town, the Royals were a wayward family member, out wandering the baseball wilderness, soul-searching. And when it came back, no shock, there was Kansas City, on the front porch, waiting with open arms.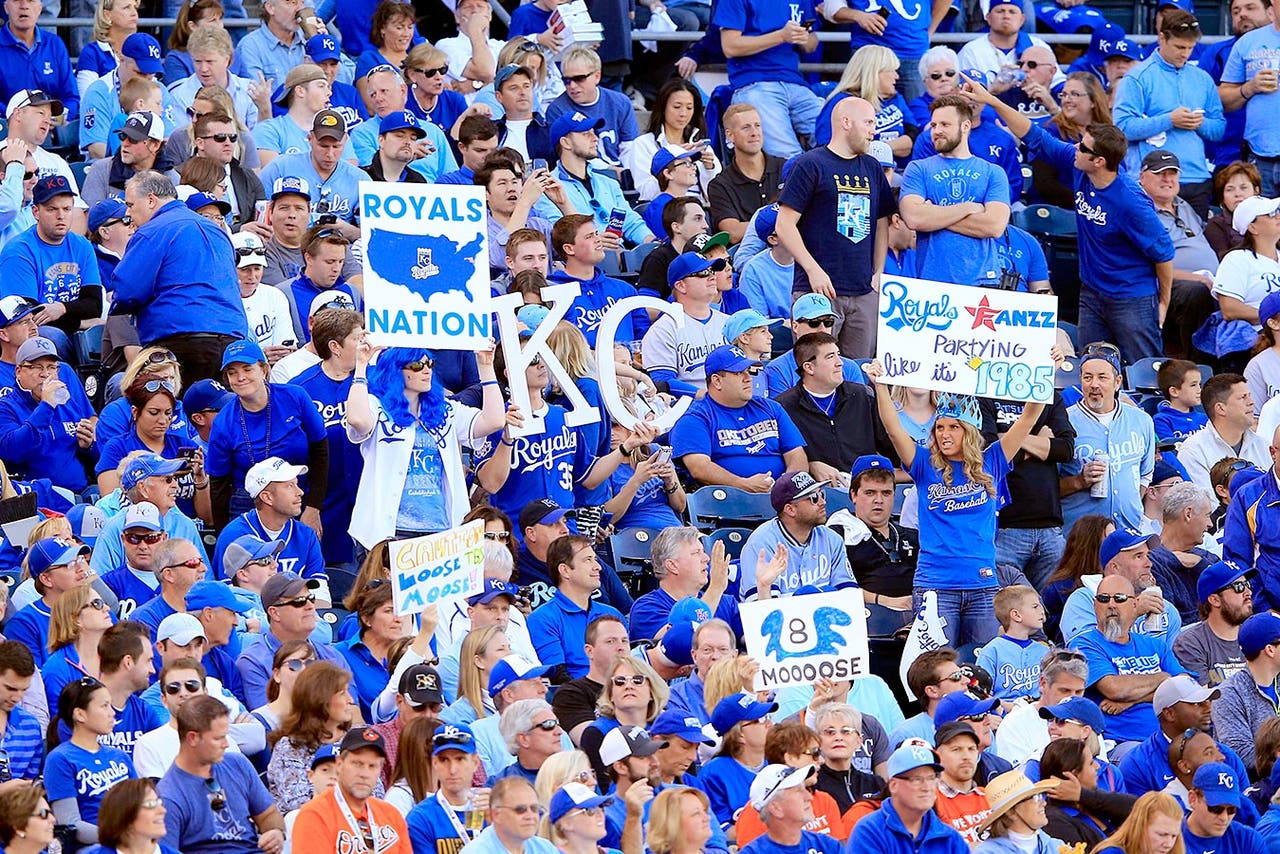 LET'S GO ROYALS: Check out these photos of fans and the excitement around Royals baseball.
"The enthusiasm that you see now is unprecedented," says Steven Pack, whose family has owned season tickets to the Royals since they first took the field as an American League expansion franchise in 1969. "It's unprecedented. Everybody loved them when (Dick) Howser was manager, but this kind of enthusiasm is just -- it's unbelievable. It's just amazing."
Kansas City forgives. Royals skipper Ned Yost, labeled a "dunce" by the Wall Street Journal two weeks ago, now has as many career playoff victories as a Kansas City manager as the late, great Howser (eight), all amassed over the last three weeks. The Royals went 28 years between postseason appearances, only to show up in October like they were the life of the party, the first team in major-league history to win its first eight playoff games.
And for each of the Royals' season-ticket holders since 1985 -- the ultimate troupers, keepers of a once-dying flame -- the 2014 World Series means something just a little bit different.
Why stay?
For Pack, it was about the relationships. The family kept seats at Kauffman Stadium near the visitors' on-deck circle for more than two generations, the same seats his father had at old Municipal Stadium to watch the Athletics, and for games with the minor-league Blues before that.
"Are you guys going to be here tomorrow?" Mark McGwire, then with Oakland, asked Pack during the former's second year in the American League.
They were. Before long, he offered to take Steven's oldest son, Zachary, to lunch.
Pack obliged. Eventually, Big Mac and the Packs became pals on the road, with the slugger even meeting up with Zach for the occasional meal in Baltimore while the latter was studying at Johns Hopkins.
Zach's flying in from New York for the World Series. So is brother David. Another brother, a PhD candidate at UCLA, cheered the Royals on to a sweep of Games 1 and 2 of the American League Division Series at Angels Stadium.
Once you get the bug, it's hard to give it up. When Steven was 10, he was photographed talking to then-Yankees great Phil Rizzuto over by the visiting dugout at old Municipal.
"It was a part of my childhood," Pack says. "And when I think back, like, the fact that my dad would take me and a fifth-grade buddy to the once-a-year phenomenon of the Yankees coming to town ... so that when we started taking out kids, it just seemed like, of course, that's what you do.
"The thing is, my wife and I, it's something we still enjoy. And it's something I can share with the people (at) work -- I'll share my tickets with others that I work with so that they have that experience and they take their kids. That part of it, I still get great enjoyment out of. So there's kids that can go and have that experience. ... I'm grateful for what my dad did, and I just want to continue the legacy."
In Kansas City, you pass the torch. This week, Steven will take his 4-month-old grandson, Louis Edward "Teddy," to the Series games at The K. Teddy is named for Steven's father, the man who bought those old Blues tickets back in the day, the man who made sure Steven got to talk to Rizzuto, the man who started it all.
Three generations. One town. One heartbeat.
"It's like a dream," Pack says. "It really is."
Why stay?
For John Kuddes, it was about the camera time, more or less. With first-row tickets by the visitors' dugout, if you've seen a left-handed batter hitting at The K on television, you've probably seen a little of John, too.
"So during the Wild Card Game (against Oakland), I'm getting texts from all over the country, because I have business relationships all over the country," says Kuddes, a hedge-fund manager these days. "And they're saying, 'Smile.'
"And through the first eight innings, what was I going to smile about? We played the first eight innings like we played all year long: Sloppy, kind of not deserving of playing playoff baseball."
Watch the Boulevard Royals Live postgame show on FOX Sports Kansas City after every Kansas City Royals postseason game.
The last two innings, in which the Royals flipped a 7-3 home deficit into a 7-7 deadlock, are now the stuff of postseason legend.
"Then what has happened is obviously surreal," John says. "Just beyond expectations that they would go on and just win seven more games in a row on top of that. It's what postseason sports is all about. It's just a storybook deal."
Kuddes has lived through a few interesting chapters himself. As a teen, the native of Independence, Mo., played football at Van Horn High School with future MLB pitcher-turned-TV-analyst Rick Sutcliffe -- the two teammates even alternated at quarterback and receiver when the former was a senior.
And when a teenaged Frank White went from Safeway of Kansas City's Casey Stengel League to the Royals Baseball Academy, Kuddes says he was asked to replace the future All-Star on the Safeway infield.
"Actually, my better position was center field," Kuddes recalls. "I was pretty quick and could run down the (gaps). But I played some second base (too)."
And, just like Pack, he discovered proximity and courtesy has had its advantages. During his farewell run through Kansas City, Derek Jeter made a point this past summer to say thanks to Kuddes for always being there and for always being on the level.
"Cal Ripken will talk to you, Josh Hamilton will talk to you," Kuddes says. "So people just love to (interact) ... even if they knew they were going to lose, you got to say 'Hi' to an opposing player."
Some of those opposing players would even say a little more than that. Kuddes has a boatload of anecdotes, but some of his favorites involve Hamilton, now of the Los Angeles Angels.
"Hey," Kuddes says Hamilton asked him recently as he waited by the dugout. "Can I have one of those nachos?"
John handed one over.
"Imagine what they would write about me if they saw you feed me nachos," Hamilton said.
Kuddes has four seats for Game 1, but he doesn't plan on being in any of them. He's giving those to his kids -- one's flying in from California -- and one of his seats for Game 2 to his 85-year-old mother, Claire. And get this:
"Because of her knees, she's going to get to go to the (Series) because the Royals are going to pick her up in a car and take her down there," Kuddes says, "and then help sit her in her seats."
Three generations. One town. One team. One heartbeat.
Why stay?
For Elliott Hollub, it was about loyalty. He was one of the original Royal Lancers, a booster club that spread the gospel of the expansion Kansas City franchise -- and helped to sell tickets -- when it was granted back in 1968.
"I never thought about that, whether I'd see (the Series) again or not," Hollub says. "Hopefully, my lifetime has more to go -- I'm 75, but hopefully, my lifetime has more to go. But I never really thought that I (wouldn't) see it again in my lifetime."
Roughly 16 or 18 years ago -- he's lost track of how many Kansas City managers have passed since -- an old friend and fraternity brother who works at a newspaper in West Virginia called to ask him how it felt to be a Royals fan during the low times, when the bandwagon was nothing but hope and empty seats.
"I said, 'It's OK, we've had our day,'" Hollub told him. "'And hopefully, we'll have it again.'"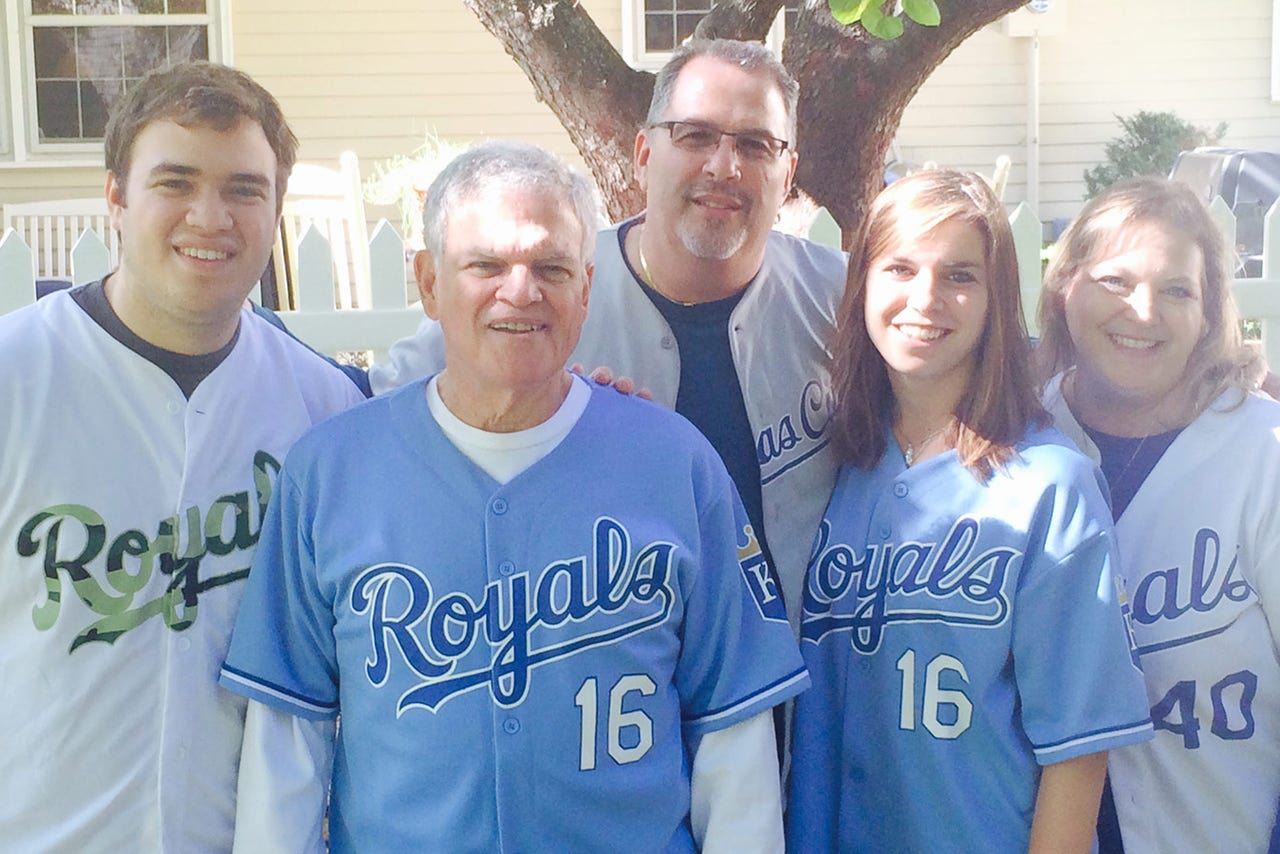 From left to right: Michael Kaplan (grandson), Elliott Hollub, Jerold Kaplan (son in-law), Sam Kaplan (granddaughter), Robin Kaplan (daughter).
He laughs.
"I didn't think it would be 18 (more) years or whatever. But that shows how long it was, and we're excited about it now."
More families, more reunions. One grandson is coming in from Boston. A granddaughter is flying in from Los Angeles. His daughter and son-in-law are heading up from Orlando. Three generations. One town. One heartbeat.
Hollub takes particular pride in the fact that he's never missed a spring training, either in Florida or Arizona. He remembers sitting through some long nights in the Bronx during the late '70s, when the Yankees stood between the Royals and the promised land, and later reveled in the franchise's first World Series berth in 1980.
"The (2014) Wild Card Game would be No. 2," he says of his all-time favorite contests. "No. 1 was George Brett's home run to get us to the 1980 World Series. No. 3 would've been Brett's three-run homer to tie the game in the 1976 ALCS at Yankee Stadium. And No. 4 would be Game 6 of the 1985 Series. Those are the moments."
As for the lows, well, Elliott says he's "never" come close to jumping off that bandwagon, no matter how rocky the road got.
That said, some trips were lonelier and harder than others.
"I think 2004 was the worst year," he says. "We came off a pretty good year (in 2003), over .500 for the first time in a long time, and that year just turned terrible from the beginning. And I renewed again in '05 and '06 and we lost 100 games all those years."
He pauses.
"But I'm a Lancer. I support it."
Why stay?
For Richard Jacobson, it was about the future. The children he didn't have yet. He inherited his grandfather's seats, in the "Crown Club" section, passed down through the years.
"I remember the feelings from 1985," Jacobson says, "and I wanted to able to keep the tickets so someday my kids could relive that same moment."
He was 19 and an undergrad at Mizzou during the I-70 Series, where fraternity brothers were split off by baseball loyalties: Tables of Cardinals red dining next to tables of Royals blue, mixing only to trade insults.
"I remember in 1985, my uncle was sitting next to me (during Game 7), and my uncle happens to be from Chicago, and he's a Cubs fan," Jacobson says. "And they're winning and starting to (pull away) and he's saying, 'Oh, don't get too excited.' And then when he realizes we're going to win this game, he said, 'Man, you better enjoy this, because you don't know when this is going to happen again in your lifetime.'"
At the time, Richard just laughed it off.
But then five long years became a decade. And a decade became two. And two decades became 25 years.
"It's harder when the kids are in school and the kids have camp, but when I was single and even married without kids, we went to a lot of games," Jacobson says with a chuckle. "And it was some really bad baseball.
"We'd enjoy the evenings. It was 'date night' and there was no pressure for them to win. The other teams had some great players. Fantasy baseball kept my interest up, because there was always somebody interesting to see."
Now you come for the baseball and stay for the fountains and the food, after more than a decade of it being the other way 'round.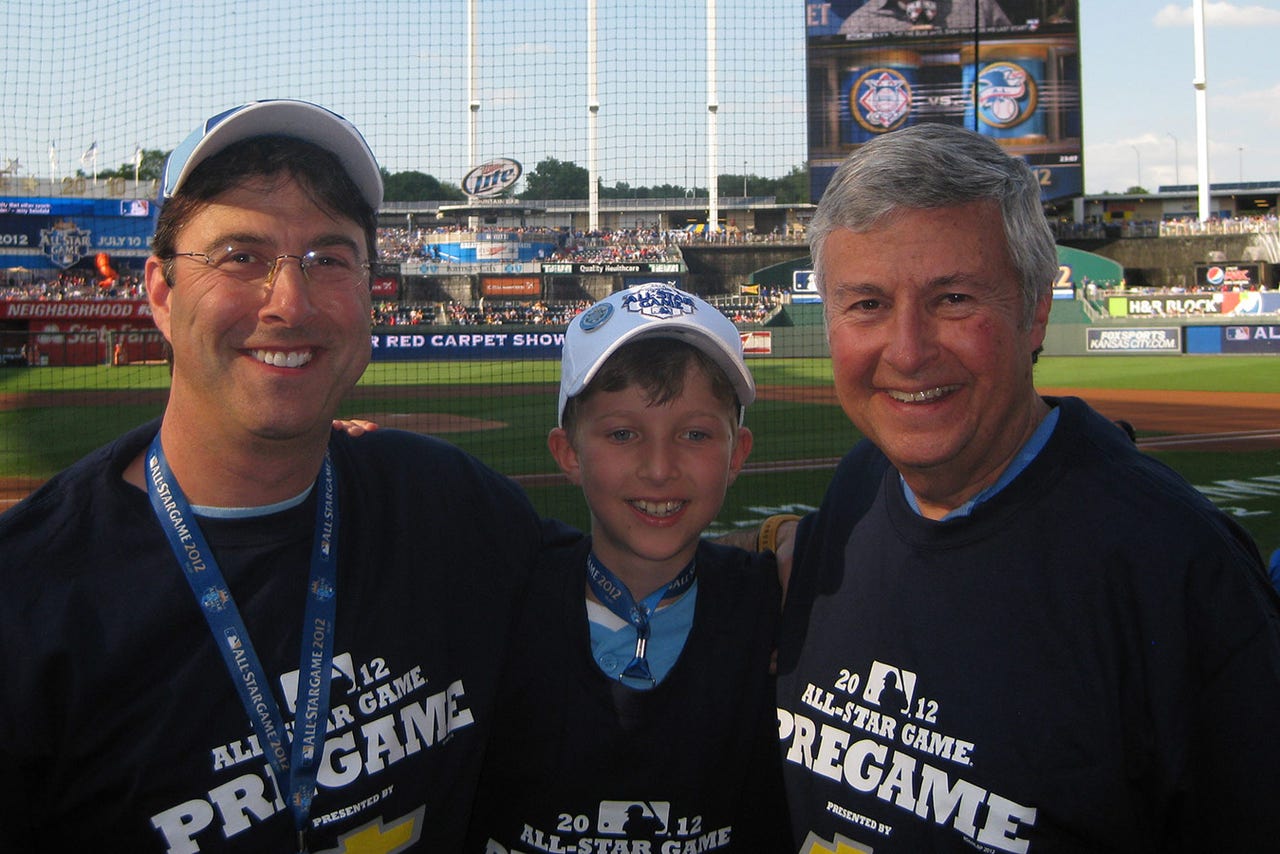 Richard Jacobson with his son, Jackson, and dad, Howard, at the 2012 All-Star Game. 

"It was one of those (deals) where every year I would get the mailing and I didn't know if I was going to do it," Jacobson says. "I would just kind of put it aside, especially when they were bad.
"Eventually, I'd come back around after a week or two and just go ahead and pay the bill and just hope for the best, and look at some of these younger guys in Double A and Single A and hope they'd develop in the next several years, because God knows the players we had on the field (then) were not going to be the ones, you'd hope."
Few fans in baseball got to know their minor-league system the way Royals faithful did. It was one part coping device, two parts diversion. Now the kids who raked and chucked in Northwest Arkansas and Omaha are the foundation of the club, a renovation fully realized. And now Richard is going back to the Fall Classic, flanked by his father, Howard -- and his son, Jackson.
Three generations. One town. One team. One heartbeat.
"It's payback for my dad because he took me to '85," Jacobson says. "(My son) is 10 years old, so he's just now seeing what winning baseball looks like.
"We would go to Opening Day every year and he'd say, 'Dad, why do we always lose Opening Day?' Until last year. And then, I think, the Wild Card Game, having him there is what this generation needs. Which is what we had when we were growing up, to see what (playoff) baseball has been like."
It's about family. Then again, it always was.
You can follow Sean Keeler on Twitter at @SeanKeeler or email him at seanmkeeler@gmail.com.
---
---