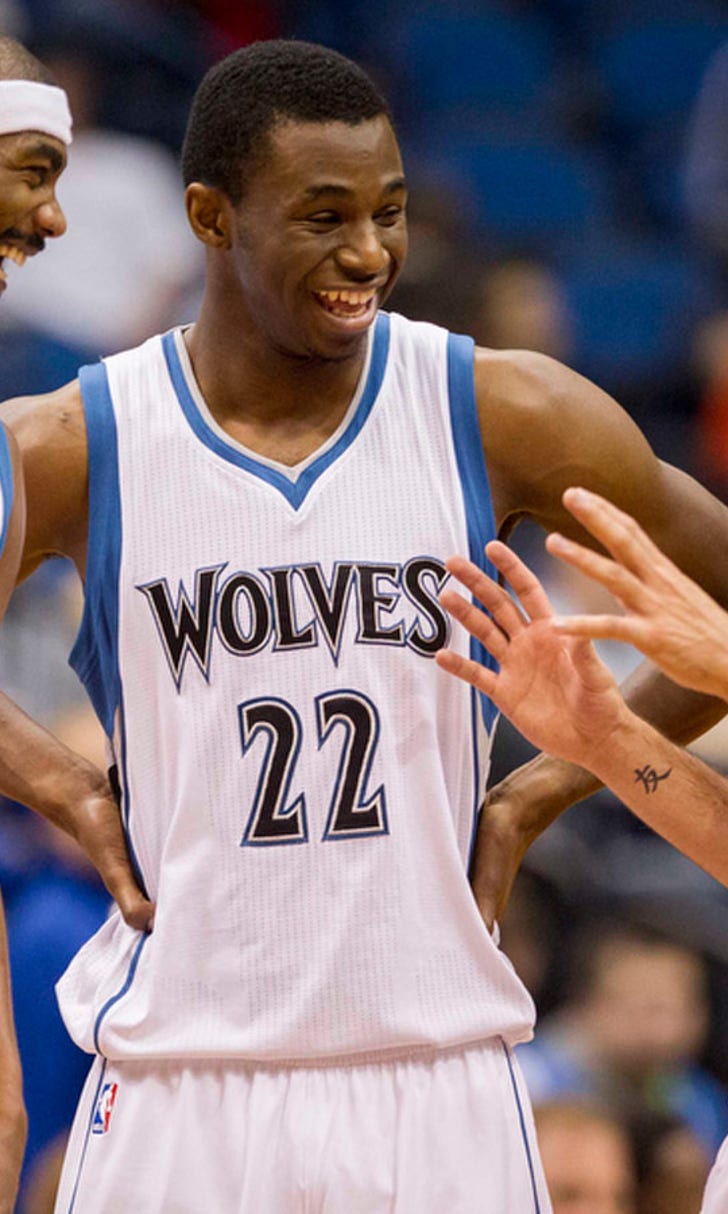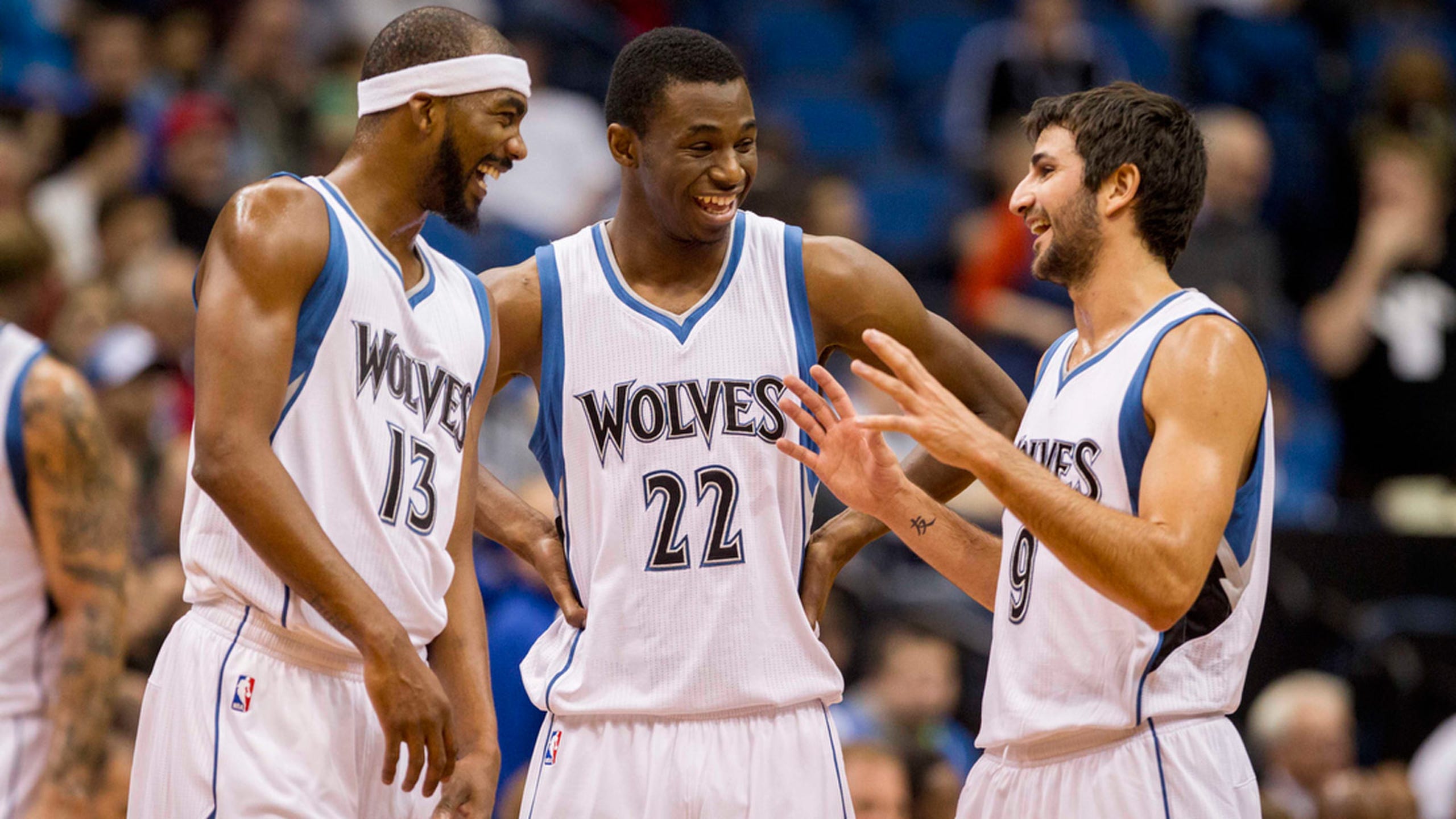 Preseason provides glimpse into possible Wolves starters, rotation
BY foxsports • October 24, 2014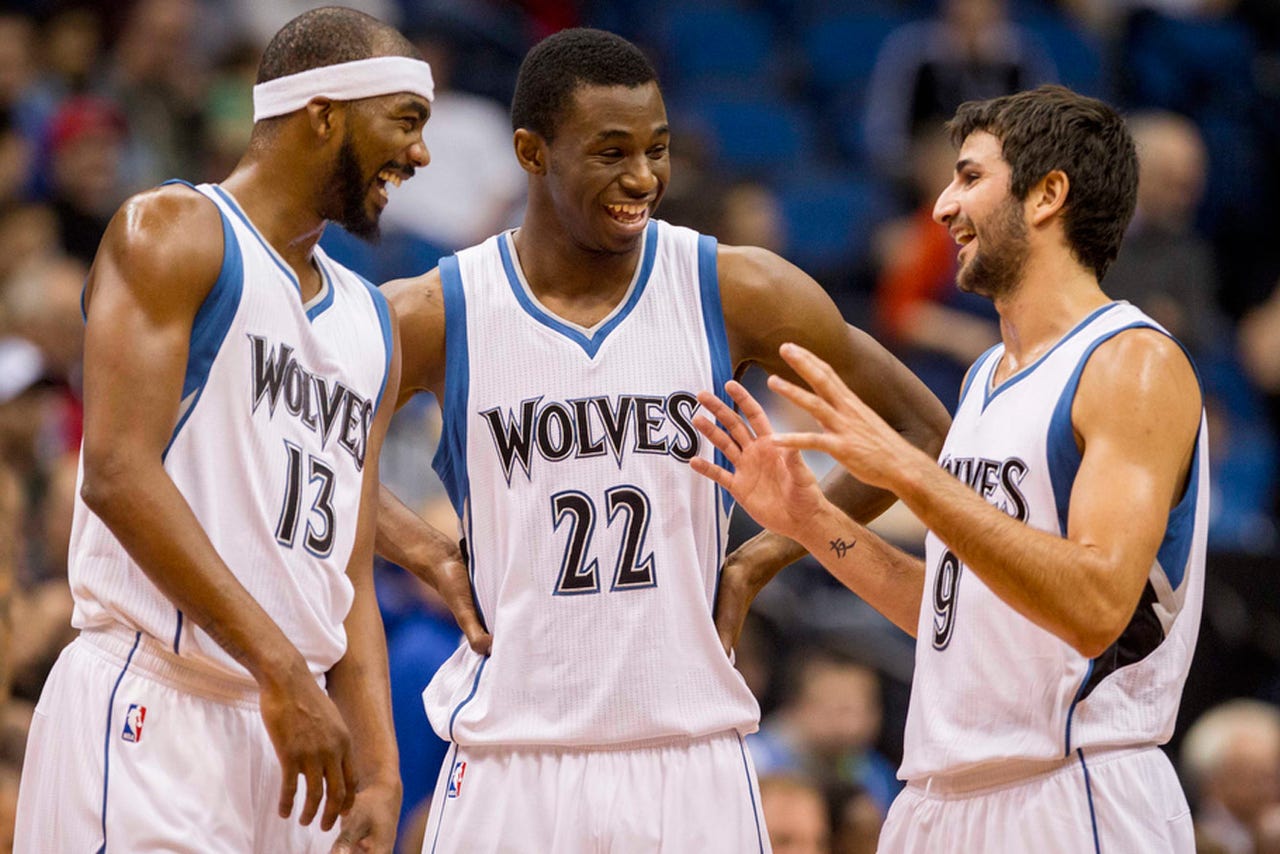 MINNEAPOLIS -- Experience, adolescence, development and insurance.
Above all things, balance.
Less than a week out from the start of a season in which few are expecting many tangible, standings-based results, Timberwolves president of basketball operations Flip Saunders might as well plunge headfirst into the pool of youthful athleticism he's created and build for the future. That means more Wiggins, LaVine, Bennett and Shabazz, less Chase, J.J. and Ronny.
For returned head coach Flip Saunders, though, there exists a gravitational pull toward victory. Now, tomorrow and next year.
So get ready for a tightrope performance when the season tips off Wednesday night in Memphis.
Saunders, the one man who's led Minnesota past the draft lottery in the club's 25-year history, said this final week will go a long way toward determining what rotations he'll use when the stands are fuller, the pregame introductions are more refined and the outcome has meaningful bearing. He has an idea of what they might look like, but he's yet to tip his hand in preseason games, he said.
"Guys, my need right here in preseason is to get out unscathed if we can," Saunders told reporters before Tuesday's exhibition win against Indiana. "We'll have lineups in there, but we're not going to see an extended lineup for 30 minutes or something like that. I just don't think we need to do that. We've had a lot of that in practice. We're trying to get our guys to play more conceptually than just the people they'd play with."
Of course, Saunders isn't about to give opposing coaches any scouting fodder if it can be avoided. But based on players' preseason performances and the way the roster is shaking out, it's reasonable to surmise the following:
-- The starting five for Wednesday's 7 p.m. tilt against the Grizzlies appears mostly set. Ricky Rubio, Kevin Martin, Thaddeus Young and Nikola Pekovic were near locks long before showing up for training camp. On the wing opposite Martin, Andrew Wiggins appears to have an edge over Corey Brewer, the incumbent starting three-man who's had success coming off the bench in previous NBA stops.
Not only that, but also Brewer is pretty much resigned to assuming sixth man duties.
"Let's be honest," Brewer said earlier this preseason. "I'll come off (the bench). . . . (Wiggins) and K-Mart will play together."
Wiggins hasn't done much to refute Brewer's claim, averaging a team-high 28 minutes, 11.8 points and 1.5 steals in four preseason games. He's been held out of the past two after falling hard on his backside against Oklahoma City and isn't expected to play Friday night against Chicago in St. Louis. But Wiggins should be raring to go when the regular season starts.
-- Personnel decisions made the next four days will affect the second unit's composition.
Saunders and general manager Milt Newton have until 4 p.m. Monday to get the roster down to 15 players. Including small forward Glenn Robinson III, 16 players are under contract.
The son of the man they call Big Dog hasn't received many reps this preseason -- 9.6 minutes per game in five contests. Robinson's deal is only partly guaranteed, so the Wolves wouldn't lose much by waiving him.
The same could be said for forward Robbie Hummel, though. The 2012 second-round pick has had a good preseason, but he's owed only $880,000. For owner Glen Taylor, whom Forbes estimates as worth more than $2 billion, that's an insignificant loss.
A trade involving either J.J. Barea or Chase Budinger would shake up the picture, of course. Since last year's trade deadline, both players' names have made trips to the trading block. After the Wolves signed Mo Williams this offseason, there doesn't appear to be much room for Barea at the point guard spot -- perhaps to the point where Minnesota chooses to buy out the remaining year (worth $4.5 million) on Barea's deal.
But Saunders does like to use a two point-guard set now and then, and Barea has the edge on rookie Zach LaVine (17.7 minutes, 5.5 points on 38.8 percent shooting and 2.67 turnovers per game in five preseason appearances). LaVine continues to adapt to the NBA game while learning both guard positions in Saunders' system.
That renders Budinger more expendable. He's one of six small forwards on the roster at present. But the sharpshooting swingman who's missed much of the past two seasons with knee injuries is under contract for two more years, with a player option for next season. If he's gone, it'd only be in a trade scenario.
-- Who comes in off the bench and when will be largely situational.
When Minnesota needs a defensive spark, a unit featuring Brewer, Young, Rubio, Wiggins and center Gorgui Dieng could be quite a pest. If auxiliary scoring is needed, Williams, Budinger and perhaps Shabazz Muhammad are more appropriate substitutions.
-- Anthony Bennett will get some important minutes.
Saunders called him the biggest surprise of the season, and the 2013 No. 1 overall draft pick's impressive showing in five preseason games is vindicating that claim. Following a disappointing rookie season, Bennett is slimmer, in better shape and has time to grow behind Young this season.
But that doesn't mean he'll be warming the bench.
With Young, Bennett and Hummel as options at the four and Pekovic, Dieng and Ronny Turiaf at center, Minnesota could have a reliable frontcourt that's three-deep. In an 82-game season, that's a luxury.
A lot depends on how the season goes, too. Saunders could get away with giving his young guys more minutes in March of a lottery-bound season than he can in December, for example.
But this year isn't about expectation as much as it is anticipation -- a good, hard look at what the Wolves can be as they move out of the Kevin Love era and into one of young, green athleticism combined with Saunders' tutelage.
Follow Phil Ervin on Twitter
---
---