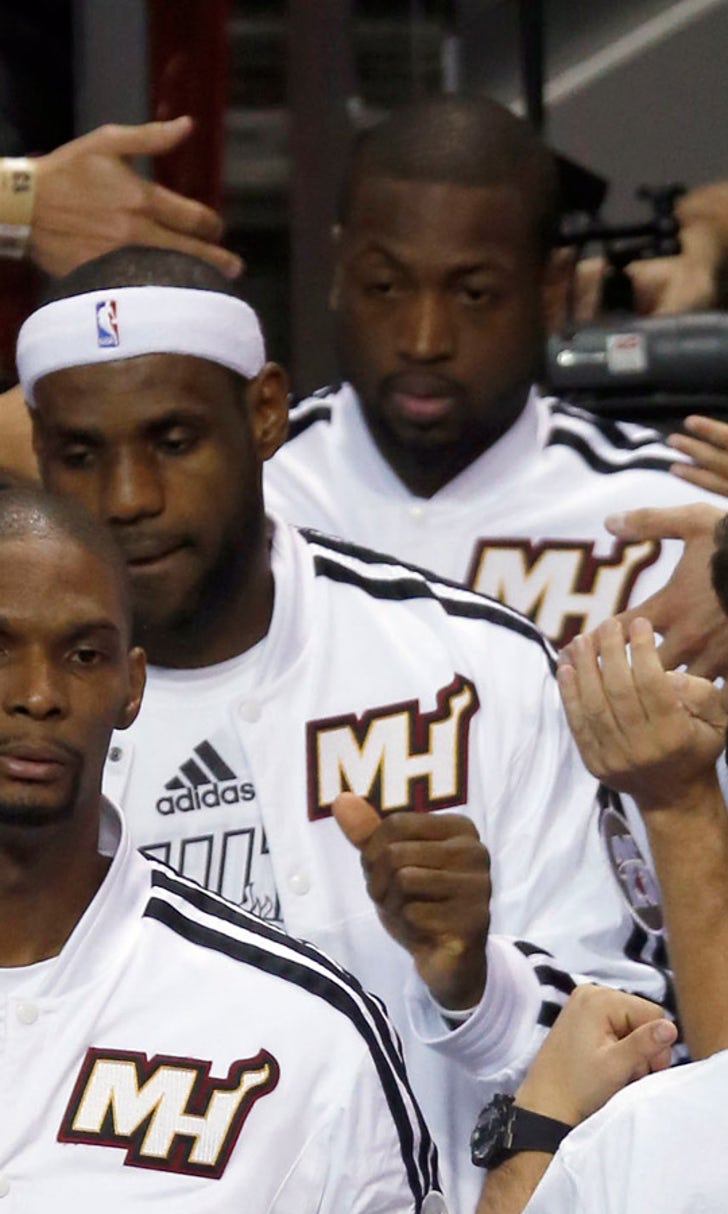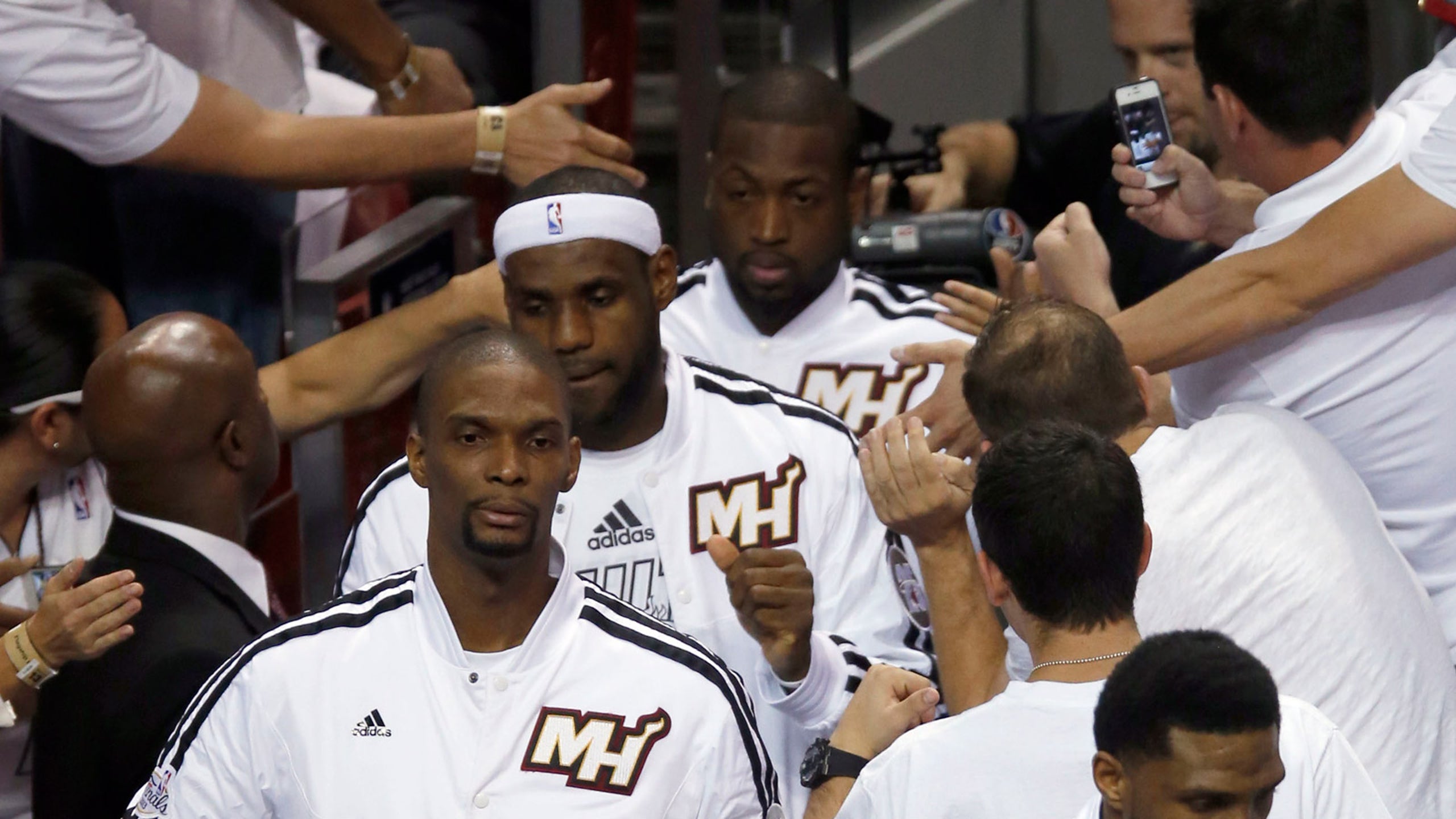 Heat remain united despite recent slump
BY foxsports • March 15, 2014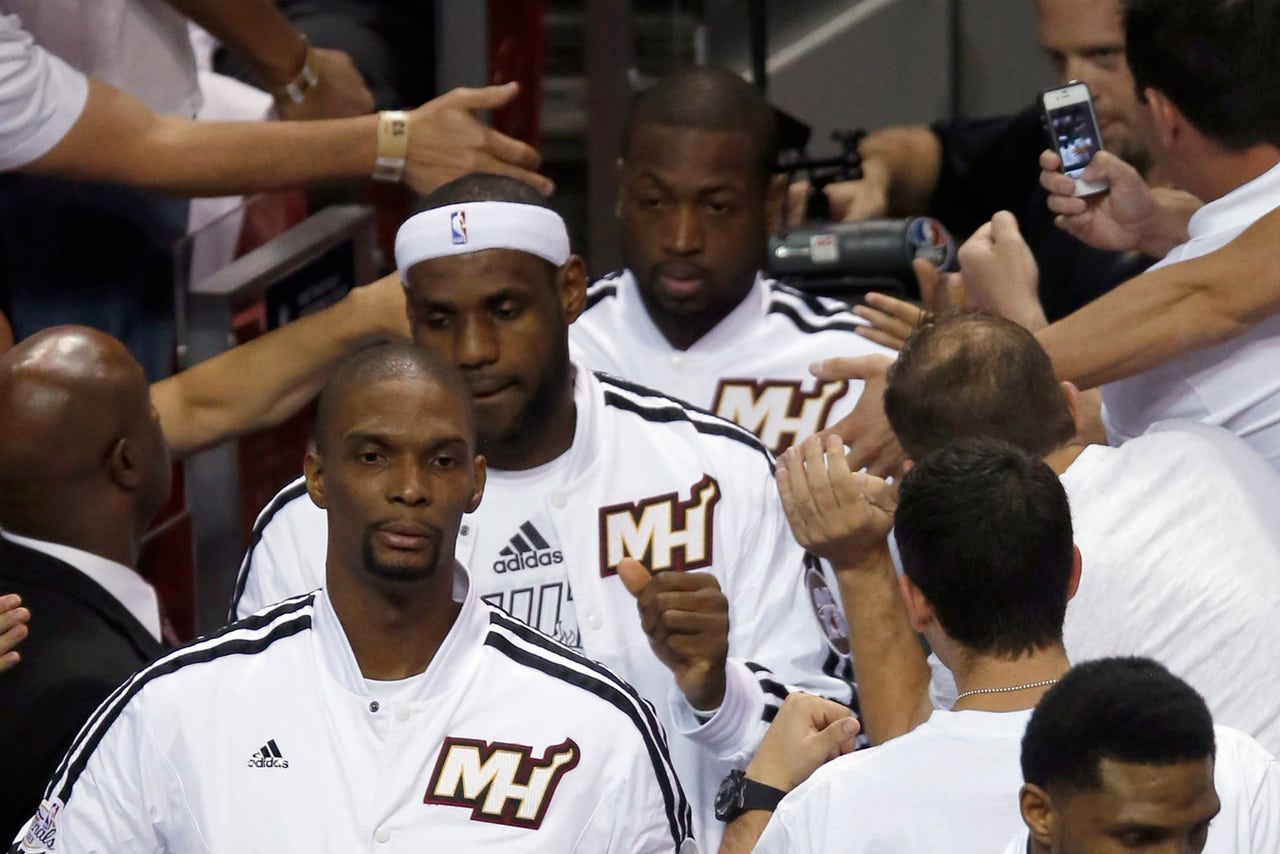 MIAMI -- Could it be that the Miami Heat are struggling because there's a rift between LeBron James and Dwyane Wade?
"Yeah, let's have that be a story," a relaxed James said with a laugh following the Heat's practice Saturday afternoon. "Absolutely, I hate him."
Not.
James, Wade and fellow Big Three member Chris Bosh all affirmed they and their teammates remained united and focused on getting out of their current funk as they try for a three-peat as NBA champions. Based on their 3 1/2 years together, there's little reason to doubt them.
But heading into Sunday afternoon's game against the Houston Rockets at AmericanAirlines Arena, the Heat have lost five of their last six overall and consecutive home games for the first time in three years.
Since his 61-point performance against Charlotte on March 3, James has struggled offensively, especially late in games. He has scored 15 points total in the last five fourth quarters.
Wade, meanwhile, has looked as healthy as he has all season.
"That's the balance that we're working with right now because he's played so well as of late, and he's been handling the ball so much of late," James said. "I kind of got out of rhythm. It's something I got to figure it out.
"It's a challenge. When (Wade) was in and out, I knew exactly what I had to do and exactly how to attack the game and go from there."
Wade, whose primary objective this season has been protecting his knees and assuring health for the postseason, has averaged 22.2 points and is shooting 55.1 percent in his last 10 games.
The All-Star guard understands that playing on a talented team can lead to frustration.
"It's never going to be ideal," Wade said. "Whenever you have this much talent, there's always going to be, at some point, someone's going to feel left out It's just the nature of the beast.
"At the end of the day, we all have good intentions for each other and we've always figured it out."
Bosh, who put in extra time following practice after his 4-of-12 shooting effort (11 points) in Friday night's loss to Denver, supported Wade's words about how a key player can feel left out at times.
"Team-wise, we understand that sometimes it's just going to feel that way because we have future Hall of Fame guys, we've got All-Stars and superstars on this team and a bunch of talent but there's only one ball," Bosh said.
"We just have to ... not learn how to share it ... but just learn what works for us. And if a guy has it going, we're talented enough to kind of rely on that and have our playmakers make plays and our shooters making shots."
Hearing James say he hasn't had the ball much late in recent games, even pointing to the sets being called, might be cause for alarm among some teams.
Not the Heat.
"We get stuff out," Bosh said. "Nothing's personal here, we're all in this together. That's never an issue here."
Immediately before its current slump, Miami had won eight straight games.
"It's not surprising," Bosh said. "Each season is different and it's always going to be different challenges. In order to win a championship, you have to go through stuff like this.
"We're just not going to be able to go from the year before and last year and just ride happily into the sunset."
Coach Erik Spoelstra said as a coach, he embraces such adversity.
"You need it. That's when we feel most alive," he said. "That's when you find out most about yourselves and the ballclub. How you respond when your back is against the ball.
"It reveals who you are as a team but also develops who you are and where you'll go as a team."
You can follow Charlie McCarthy on Twitter @mccarthy_chas or email him at mac1763@bellsouth.net.
---
---