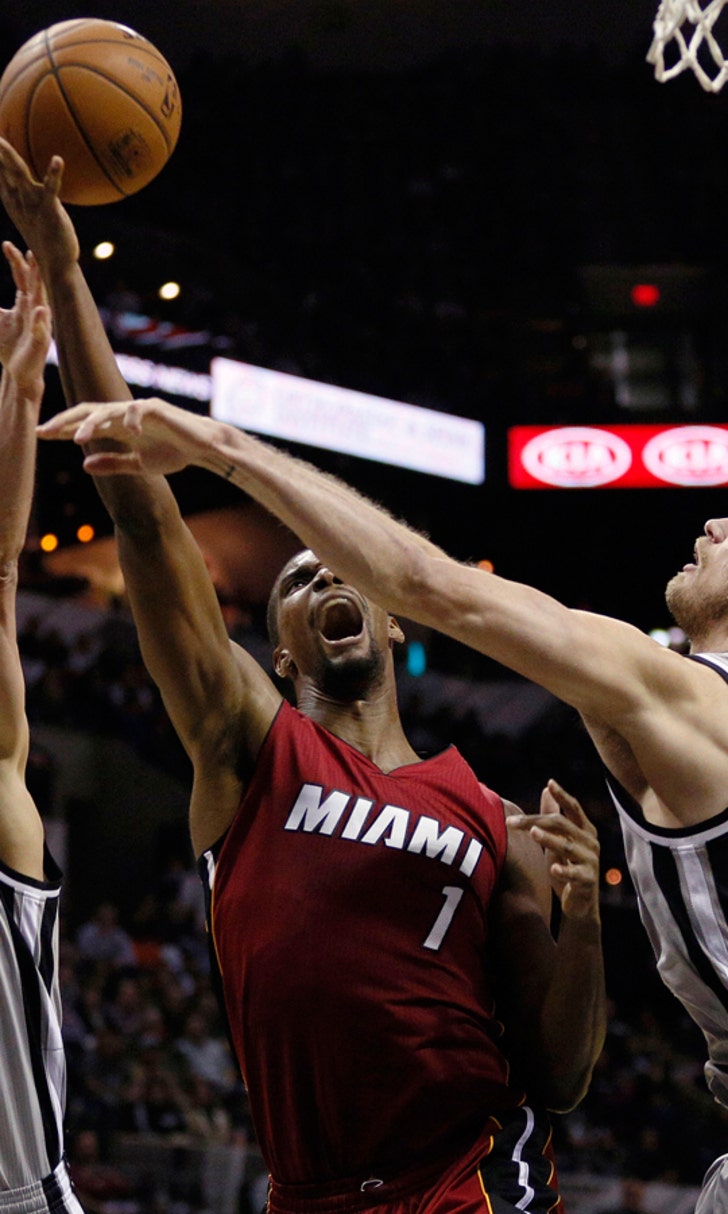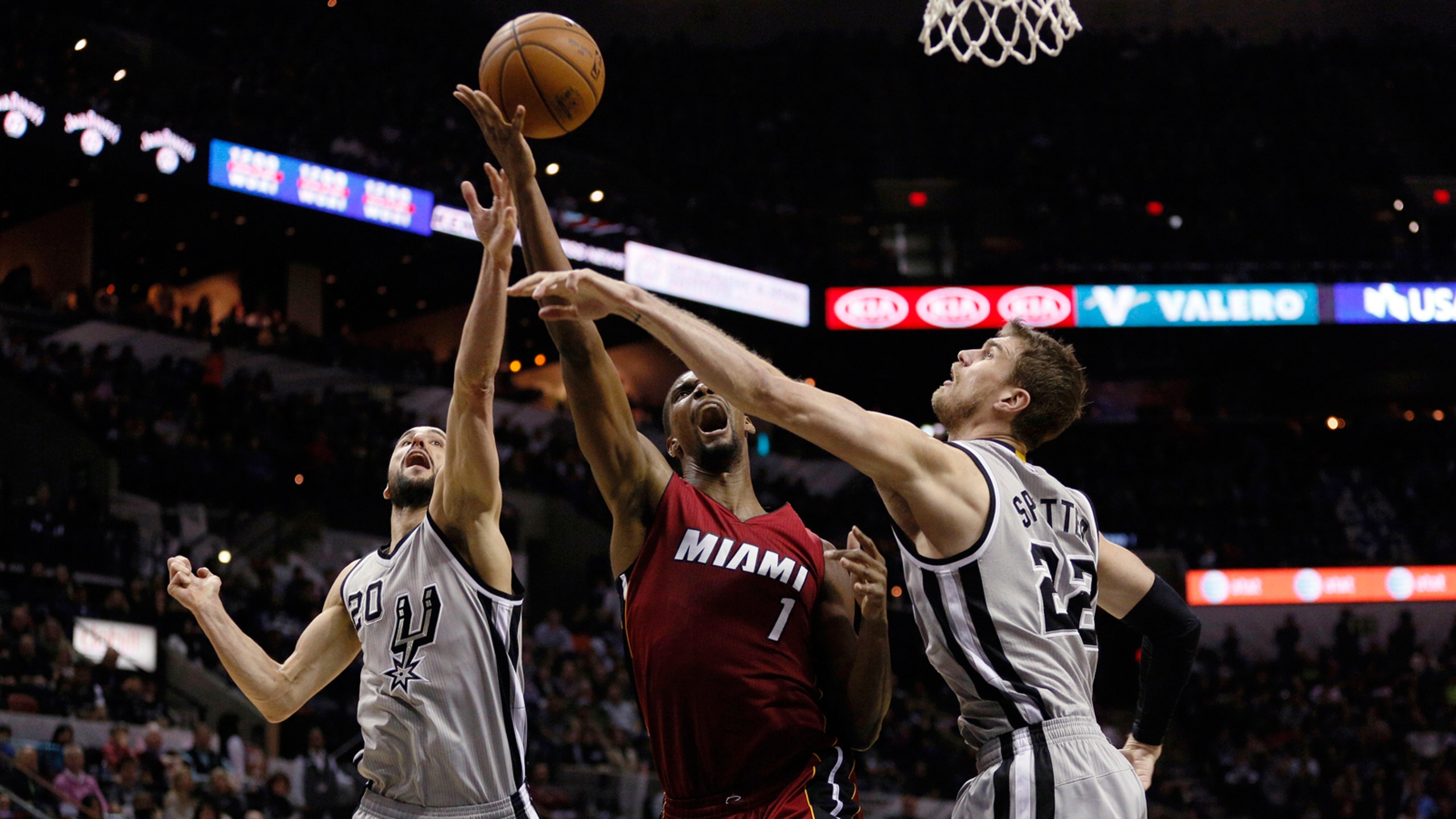 Heat notebook: Miami looking to get back on track after frustrating road trip
BY foxsports • February 7, 2015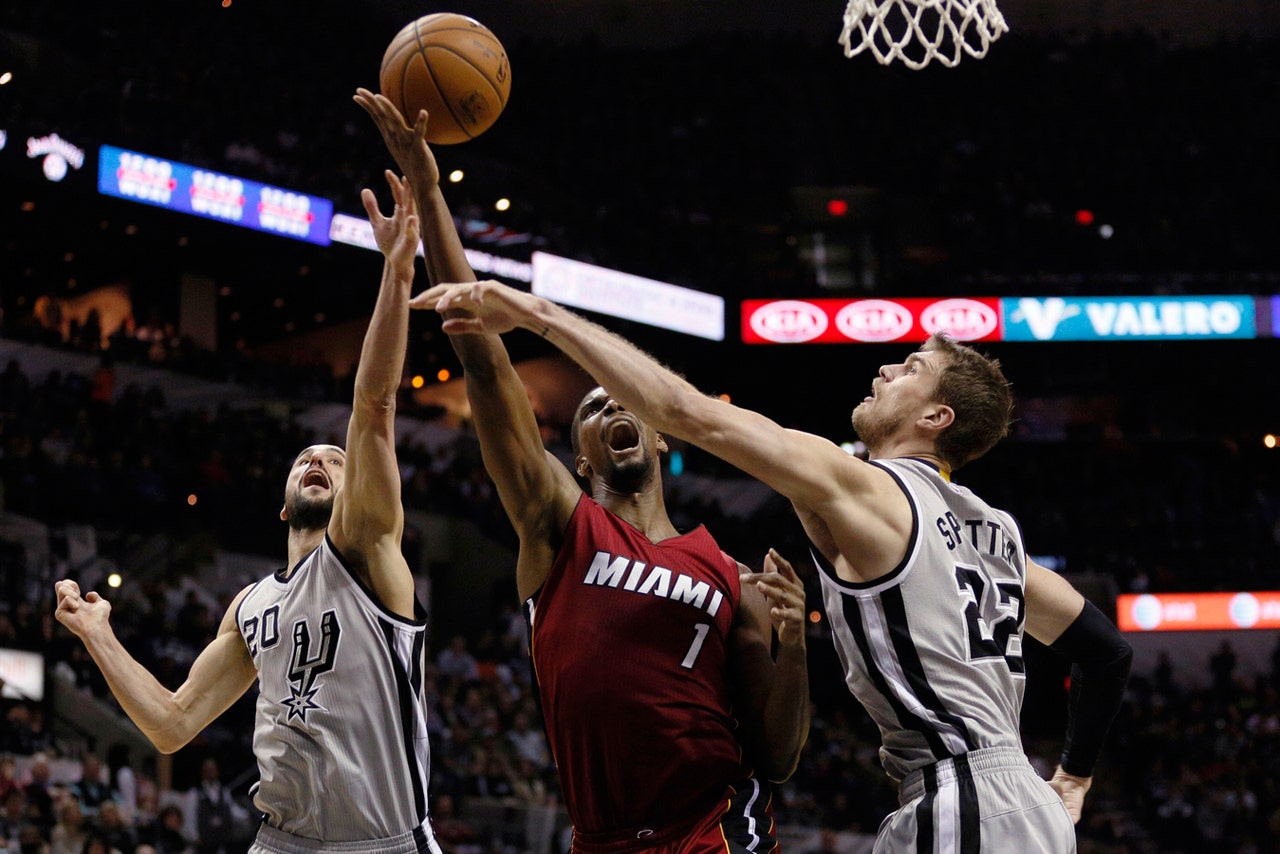 The Miami Heat are looking for a way to come together in the second half of the season after a disappointing weeklong road trip that concluded Friday. They have dropped five of their past six games to fall eight games below .500, even with Hassan Whiteside's recent stretch of dominant play before he sat out against the San Antonio Spurs on Friday night.
Without the services of Dwyane Wade for an extended period because of his third hamstring injury of the season, head coach Erik Spoelstra has had to mix and match different starting lineups and rotations in search of productive offense and some semblance of a defensive. The team has allowed several huge runs in the second halves of games this past week.
The losses have piled up, but Spoelstra is determined to look at the bigger picture in order to see the bright side.
"There's no question about it that this road trip was disappointing, but I think Heat fans see some of the optimism we see," Spoelstra said after Friday's loss to the Spurs. "We have a very talented, ambitious young group of players. When we get fully healthy with our veterans, it's a very nice balance between youth and veterans. We just need to put it together."
The injuries, defeats and uneven play have worn down the team. All-Star forward Chris Bosh has been doing his best to stay positive, but there was none of that when he was asked in San Antonio if he saw any encouraging signs in his team's play.
"I'm probably the wrong guy to ask that right now," he said. "I want to win. I'm a glass is half full kind of guy, I think, but it's half-full when you win a game. So we move on."
SLIPPING IN THE PLAYOFF RACE
The loss to the Spurs dropped the Heat's record to 21-29 and sank them to the ninth seed in the East, a half-game back of the Brooklyn Nets for the final playoff spot.
"We're not going to get overwhelmed with that right now," Spoelstra said. "We're just going to try to continue to improve. We were really defending well until the middle of this road trip. We need to get back to that identity, get guys healthy, and start to change the result. That can change very quickly. Even amidst this disappointing road trip, I still see great hope and optimism with his team. But we do need to put together a better result."
Miami will face some tough competition in the coming weeks with games against the Cleveland Cavaliers and the Atlanta Hawks, but they also play the New York Knicks twice in addition to the Orlando Magic and Philadelphia 76ers. A healthy Wade would help matters, but that still hasn't translated to steady wins, even when the team has been relatively healthy.
"We've just got to focus on the next game," Luol Deng said. "The mind-set has got to be one game at a time. We've just got to keep on trying to improve and just keep on trying to fight. It's no time to really drop your head or feel bad for yourself. You've just got to be a competitor and think about what you're going to do in the next game to make the team better."
JOHNSON'S GOOD IMPRESSION
Tyler Johnson's second 10-day contract expires Saturday, a day after his breakthrough 18-point performance against the Spurs. The undrafted rookie was one of the few Heat players to match the Spurs' energy on the floor, and he also displayed solid playmaking skills in addition to his shooting and athleticism.
"I like the way the kid competes on both ends of the court," Spoelstra said. "He lets it all out there, even if he happens to make a mistake. You just love the way he competes."
The Heat will decide over the weekend whether to retain him for the rest of the season or let him walk. NBA teams cannot sign the same player to more than two 10-day contracts in a single season.
WHITESIDE'S HISTORIC IMPACT
With his 24-point, 20-rebound performance against the Minnesota Timberwolves earlier in the week, Whiteside became the first Heat player with at least 20 points and 20 rebounds in a game since Shaquille O'Neal did it in 2004. His 92.3 field goal percentage on 12-of-13 shooting in that game was the fourth-best in Heat history with at least 10 attempts. It also marked the third-highest field goal percentage in a 20-point, 20-rebound game behind legendary big men Dikembe Mutombo and Wilt Chamberlain.
After 23 games, Whiteside leads the team in rebounds with 8.3 per game, as well as field-goal percentage (.649) and blocks (57). His PER of 28.96 not only leads the team, it's also second in the NBA behind Anthony Davis of the New Orleans Pelicans.
Additionally, the Elias Sports Bureau noted that his total of 101 points, 92 rebounds and 23 blocks in his last six games makes him the first Heat player since Alonzo Mourning in 1999 to record at least 100 points, 90 rebounds and 20 blocks in as many games.
You can follow Surya Fernandez on Twitter @SuryaHeatNBA or email him at SuryaFoxSports@gmail.com.
---
---