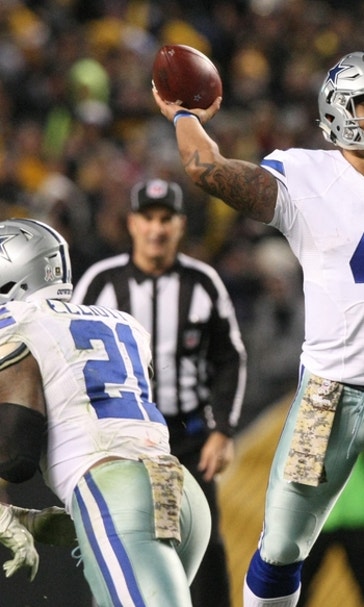 Tony Romo on Dak Prescott After Win: He's the Man
November 13, 2016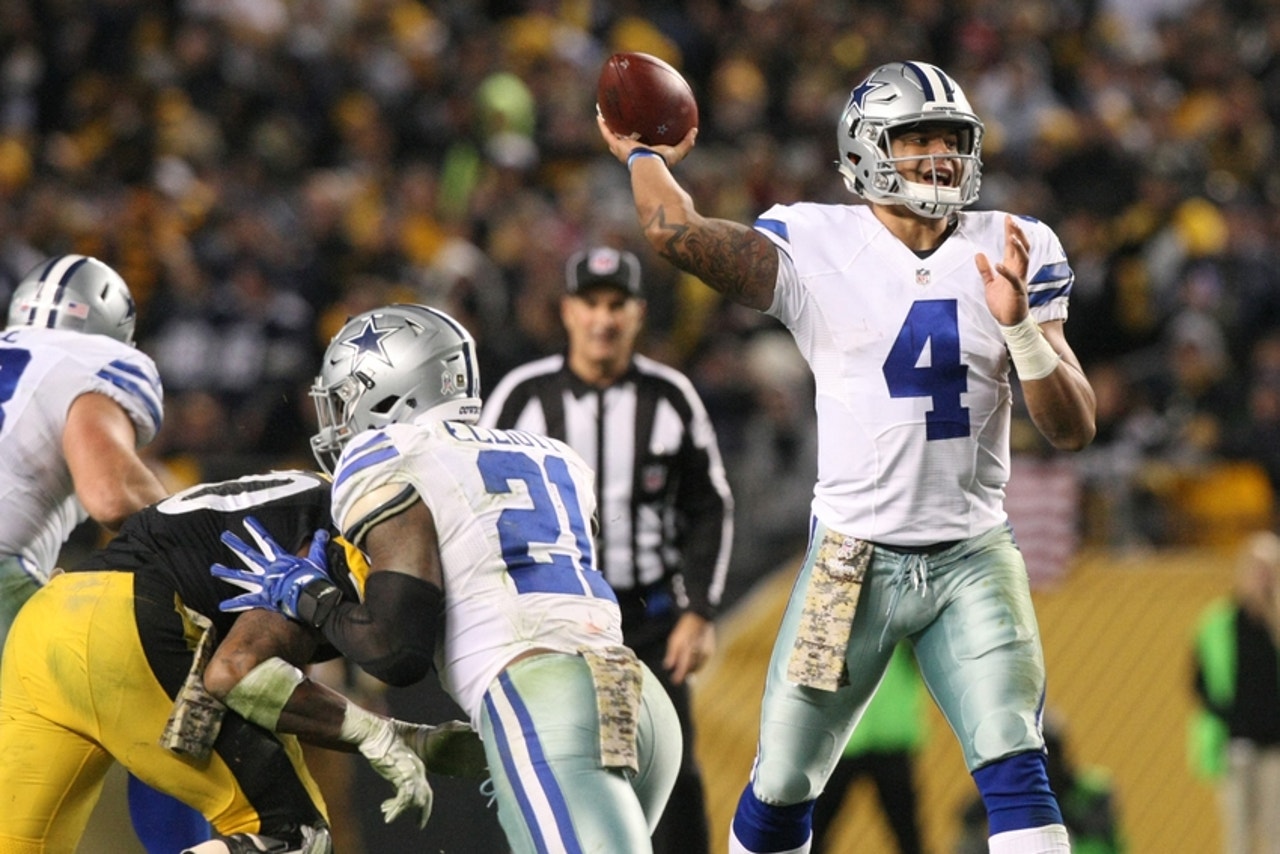 If there's any sort of friction between Tony Romo and Dak Prescott on the Dallas Cowboys, the elder statesman isn't showing it.
Dallas Cowboys rookie running back Ezekiel Elliott is a bona fide MVP candidate and he sealed that by notching over 200 yards from scrimmage and three touchdowns in a scintillating performance against the Pittsburgh Steelers. Elliott's display included a long, game-winning touchdown run with nine seconds left.
While Elliott was the star of the night, quarterback Dak Prescott engineered the key drives. And he did so by making some tough throws and smart decisions. The Cowboys do their best work on the ground, but you need a solid passing attack to be a juggernaut in this league. Dallas is 8-1 because of the work Prescott does under center and Tony Romo has certainly taken notice.
There's something to be said about a quarterback of Romo's stature calling Prescott "The Man." I'm sure Romo meant that as in "you the man" and not as in "you are the new face of the franchise." But I wouldn't blame you if you read that into the statement.
Romo understands how much poise it takes to perform in that kind of a situation, because Prescott was mistake-free in the fourth quarter of what could be remembered as one of the greatest games in recent history. As Romo said, that ain't easy.
Coming into Sunday's game against the Steelers, many wondered if a healthy Romo would eventually start games for the Cowboys. Considering that the Cowboys have defeated a smattering of tough opponents (including an overtime win over the Philadelphia Eagles) partially thanks to clutch work from their quarterback, it is kind of hard to bench Prescott.
We know Romo is a stand-up guy and a fantastic quarterback. And we know he has the utmost respect for Prescott. However, I wonder if he feels his time as the starter in Dallas is up, especially with the way Prescott keeps rolling. Some feared that subpar performance from Prescott—or even a Steelers win—would cause the "Romo must start" takes to roll in. But now that the opposite has happened, maybe we'll see more "Dak should stay" takes.
Whatever the case, Prescott is "The Man," and it's awesome to see Romo publicly praising a rookie quarterback who may have just taken his job for good.
More from NFL Spin Zone
This article originally appeared on
---
---