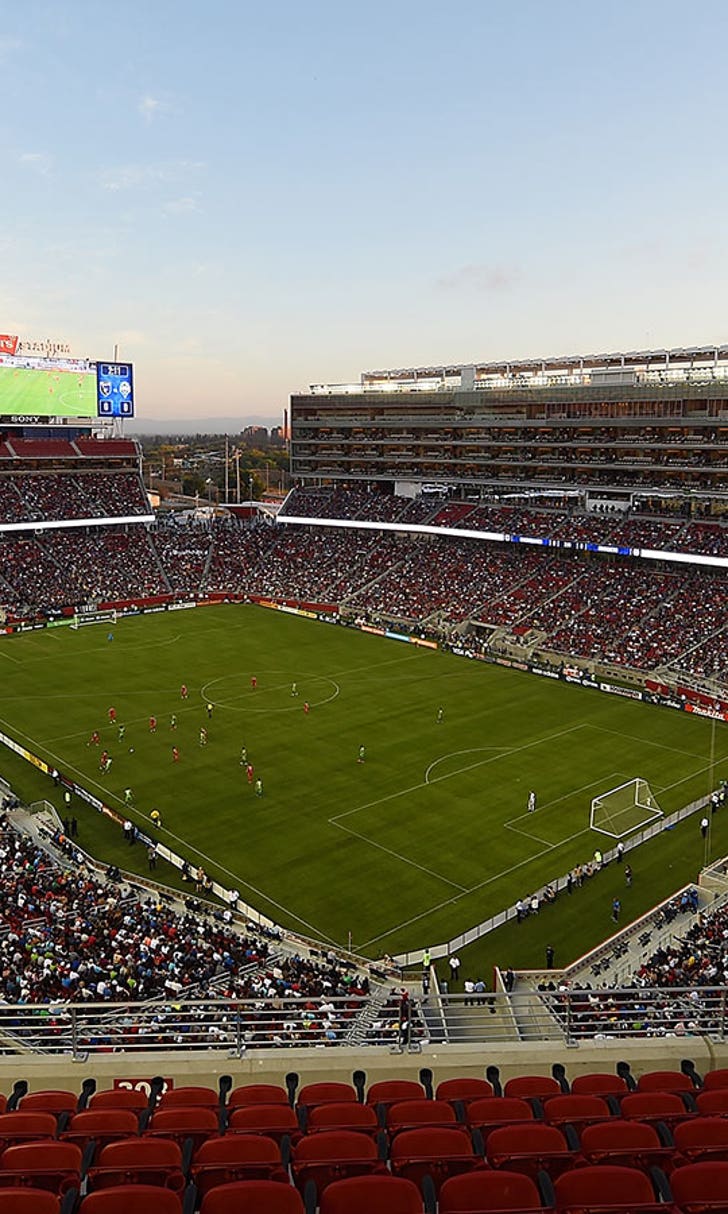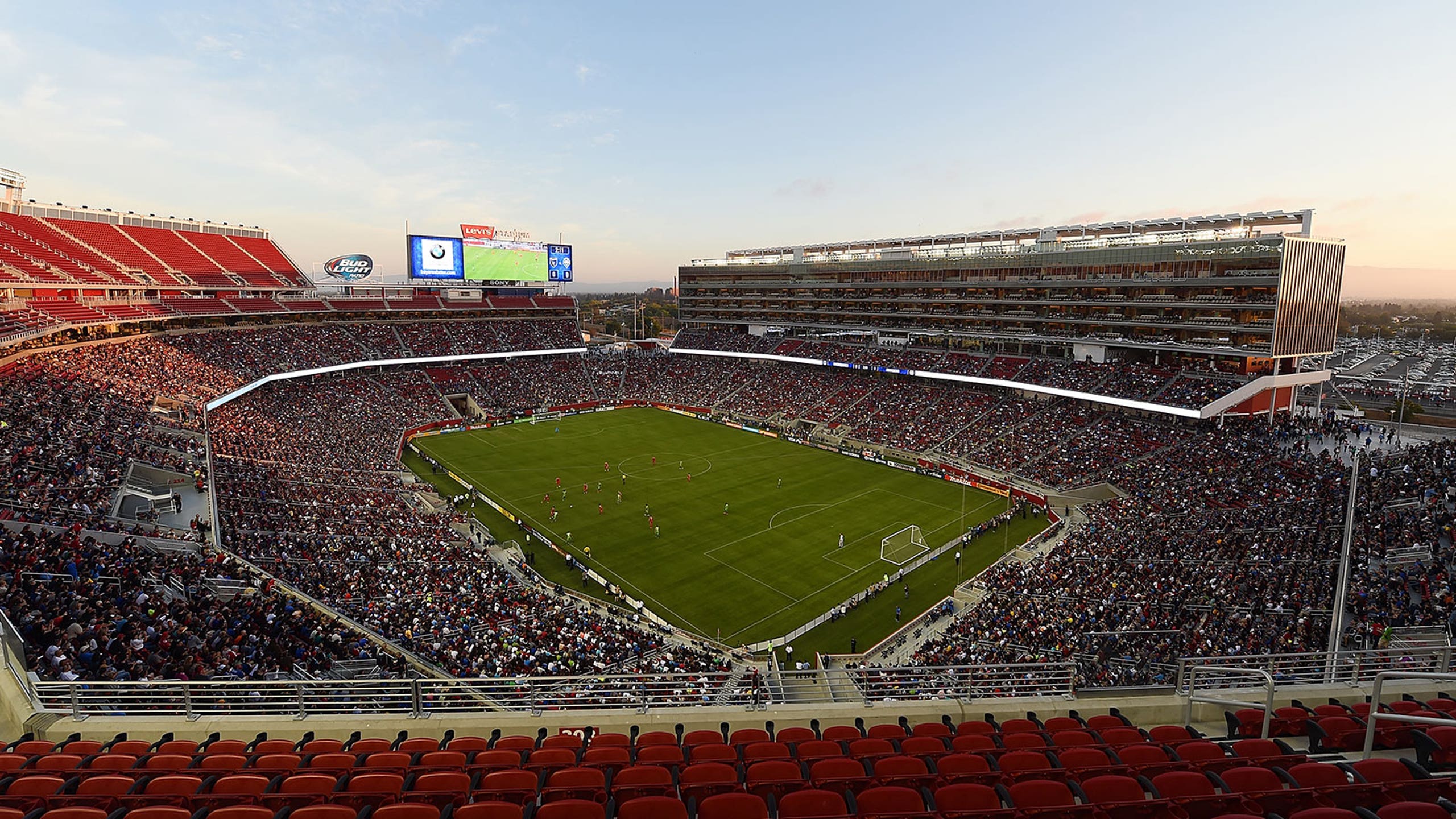 The future is now: How Levi's Stadium will change the fan experience
BY Erik Malinowski • August 4, 2014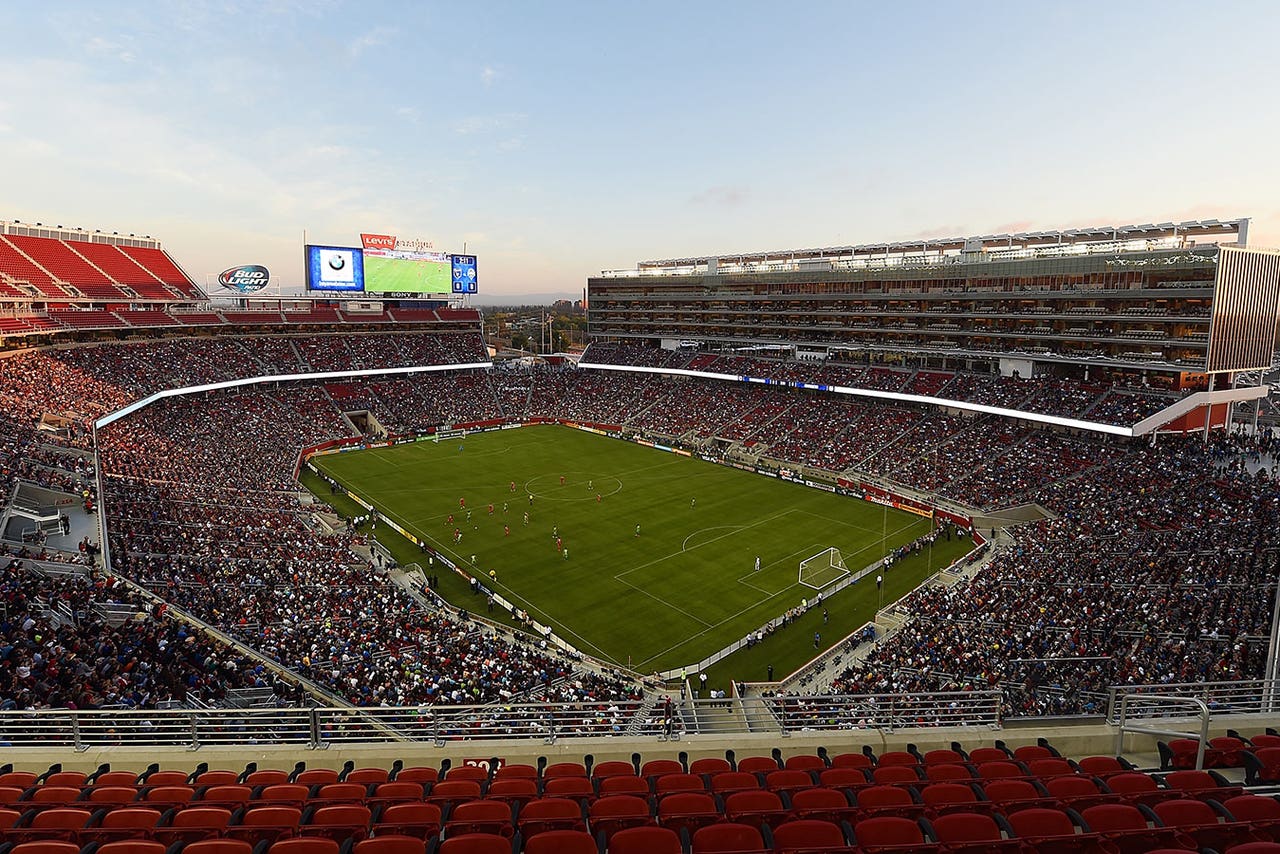 SANTA CLARA, Calif. — Levi's Stadium had less than three hours to go Saturday before the San Jose Earthquakes and Seattle Sounders played the first-ever sporting event on its $1.2 billion grass pitch — a custom Bandera Bermuda blend — and the field was covered with big balls.
Volunteers carrying around large, inflated soccer balls and basketballs were practicing for the night's halftime festivities. The theme was "Celebrations," and a member of every title-winning San Francisco 49ers and San Jose Earthquakes team was honored as part of the building's much-hyped grand opening. If this were still Candlestick Park, those exaggerated balloons would have been caught up in the famous Hunters Point jetstream that made the Niners' previous abode so frigidly memorable.
But this gem of a building is most definitely not Candlestick Park.
Situated down in Santa Clara, a 40-minute drive south of San Francisco and nestled among the world's richest technology companies, Levi's Stadium is — you could argue without much opposition — the most advanced and fan-friendly stadium ever built. Screaming-fast Wi-FI for every patron? You betcha. Want to order food from the in-stadium app and have it delivered to your seat? Live it up! Need a 200-foot-wide HD scoreboard that cost $15 million? Here, have two!
And yet, all of that $1.2 billion effort still required some last-minute tweaking. With less than 24 hours to go before the Quakes met Clint Dempsey and the Seattle Sounders, stadium workers were still painting section numbers on the concrete floor, using ribbon tape to make sure they were the right distance from the nearest row of seats. Five Verizon technicians walked up and down every row in the stadium's 45,000-seat lower bowl with an open laptop in hand, checking at periodic intervals that cell signal strength was up to snuff. "Want to make sure you guys can make calls!" one said, her face fixated on the computer screen. 
Down on the field, the Earthquakes wrapped up their morning practice; with 68,500 empty red seats enveloping them, every hey! and oh! echoed up and into the air. Off to the side, orange-vested workers from Cupertino Electric scurried in and out of field-level doors, and Earthquakes team president Dave Kaval made the rounds with media members, promoting attendance at this inaugural match as "something you could tell your grandkids about." Even to the last minute, the hustle to get to opening day never stopped.
But to Kaval's point, what I'll likely try and convey to my own grandkids one day will likely revolve around the unique and very real sense of history being created from nothing. Sitting inside of a $1.2 billion structure that was specifically designed to foster great moments in sport, to know that literally not a single one of them exists yet, that the future is all there is, is a surreal and almost disconcerting feeling. There will be no small amount of pressure on the 49ers to prove that the existence Levi's Stadium is enough to warrant the years of local bickering and posturing it spurred. Though a vocal opposition to the building still fights that fight, the onus will be on one and all to make good on the future ahead. 
And though fewer than 50,000 soccer fans created a traffic jam of nightmarish proportions — just imagine a crowd some 20,000 larger and considerably more inebriated! — there's really no time for any growing pains. The 49ers, who have made the NFC Championship Game three years running, will open here in less than two weeks in the preseason and in less than six weeks against Chicago in Week 2 of the regular season. Next March, Wrestlemania 31 will be held at Levi's in front of more than 70,000 fans.
The following February: Super Bowl 50.  
So it was of no small significance that 49ers players, staff and executives were on hand to watch San Jose stun Seattle, 1-0, on a historic night, when an American flag was parachuted in before kickoff. The crowd of 48,765 left for home elated, with their collectible scarves in tow and the recognition that they helped kick off what everyone here hopes will be decades of memories to come.
American flag parachutes into Levi's Stadium from Erik Malinowski on Vimeo.
After four long years, the 49ers' future is now. Just allow yourself an extra hour or so to find parking if you're headed that way.
You can follow Erik Malinowski, who likes hot dogs yet does not consider them sandwiches, on Twitter at @erikmal and email him at erik.malinowski@fox.com.
---
---