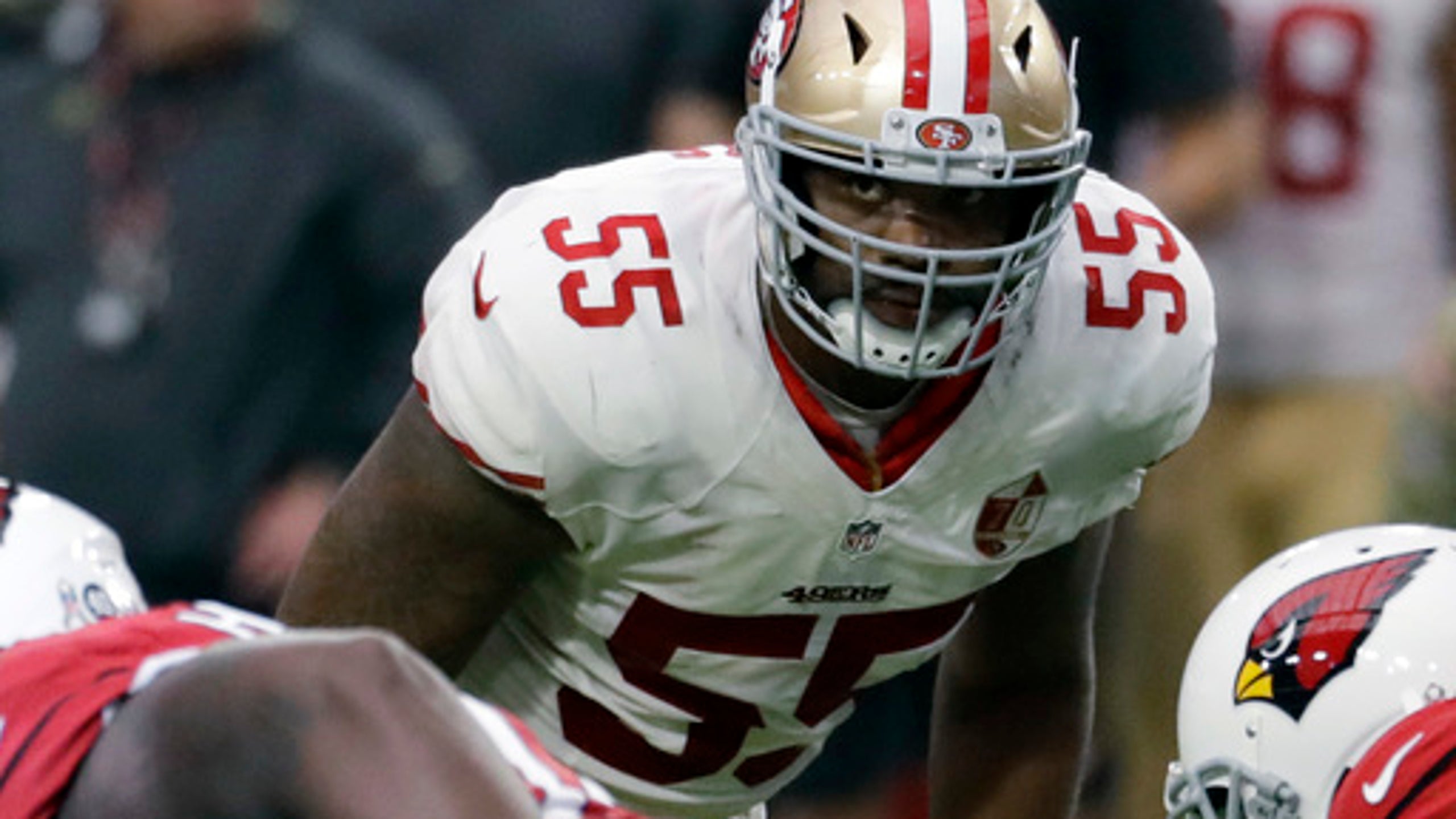 LB Ahmad Brooks gets started on the edge with Packers
BY AP • September 7, 2017
GREEN BAY, Wis. (AP) The Green Bay Packers are hoping veteran linebacker Ahmad Brooks will improve depth on the edge beyond starters Clay Matthews and Nick Perry.
Brooks, who took part in his first practice with his new team Monday, is part of a last-minute renovation for the Packers at outside linebacker ahead of the regular-season opener Sunday against the Seattle Seahawks.
The team traded Jayrone Elliott, who was expected to play heavy snaps behind Matthews and Perry, to the Dallas Cowboys on Sunday and claimed Chris Odom, who was waived by Atlanta but had intrigued the Packers before the NFL draft.
Now, with Matthews (groin) and Perry (ankle) returning to practice and ready to start against the Seahawks, the Packers are counting on the edge-rushing group to get after Seattle quarterback Russell Wilson.
''Just full-time preparation. That's pretty much what's gone on since both guys have arrived,'' Packers coach Mike McCarthy replied when asked about the approach he is taking with his two new pass-rushers. ''We've got work to do.''
The 6-foot-3, 259-pound Brooks, who turned 33 in March, was a two-time All-Pro with the San Francisco 49ers before he was cut Aug. 25. He had at least six sacks in each of the past six seasons.
''It's a good fit for me,'' Brooks said Monday. ''I'm comfortable playing in a 3-4 scheme. I played it all throughout college, I played it all throughout my years in San Francisco. They do things a little bit different here. The terminology is different, of course, so it's going to take me a while to pick it up. But I think I'll do good.''
Brooks is the latest free-agent addition for the traditionally draft-and-develop Packers. They also added tight ends Martellus Bennett and Lance Kendricks, veteran guard Jahri Evans and defensive tackle Ricky Jean Francois, who played with Brooks in San Francisco.
''He's an athletic linebacker, a guy who can run - a violent rusher. If his speed is still up to par to what I saw when I was there, he'll give a lot of skill positions a run for their money,'' Francois said.
Odom, an undrafted free agent from Arkansas State who had a strong preseason with the Falcons, could play Sunday despite his limited time with the defensive playbook. The only other outside linebacker on the roster is second-year man Kyler Fackrell, who had a quiet camp.
TAYLOR'S NEW DEAL: Veteran guard Lane Taylor signed a three-year extension on Monday, a year after moving into the starting lineup when Pro Bowler Josh Sitton was unexpectedly cut at the end of training camp in 2016. Taylor entered the league as an undrafted free agent from Oklahoma State in 2013 and was a backup his first three seasons, starting only two games.
''He's done all the right things, he's earned it the hard way,'' McCarthy said. ''I don't think there was a day that I was here at work that he wasn't here. He's earned it. He's put a lot into this, and I'm very happy for him and his family.''
Asked if moving into the starting lineup and handling the pressure of replacing Sitton was as easy as he made it look, Taylor replied: ''I was confident in myself and had a lot to prove - still have a lot to prove. That's what really drove me to play well.''
---
AP NFL website: www.pro32.ap.org and www.twitter.com/AP-NFL
---
---