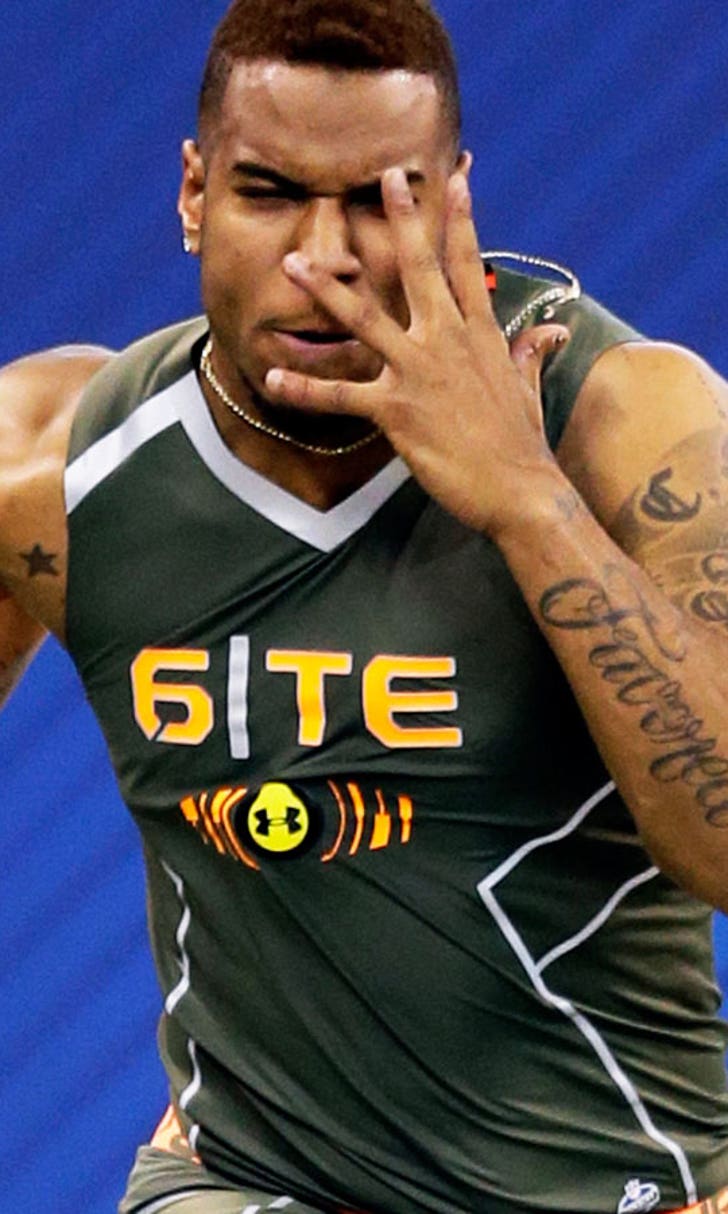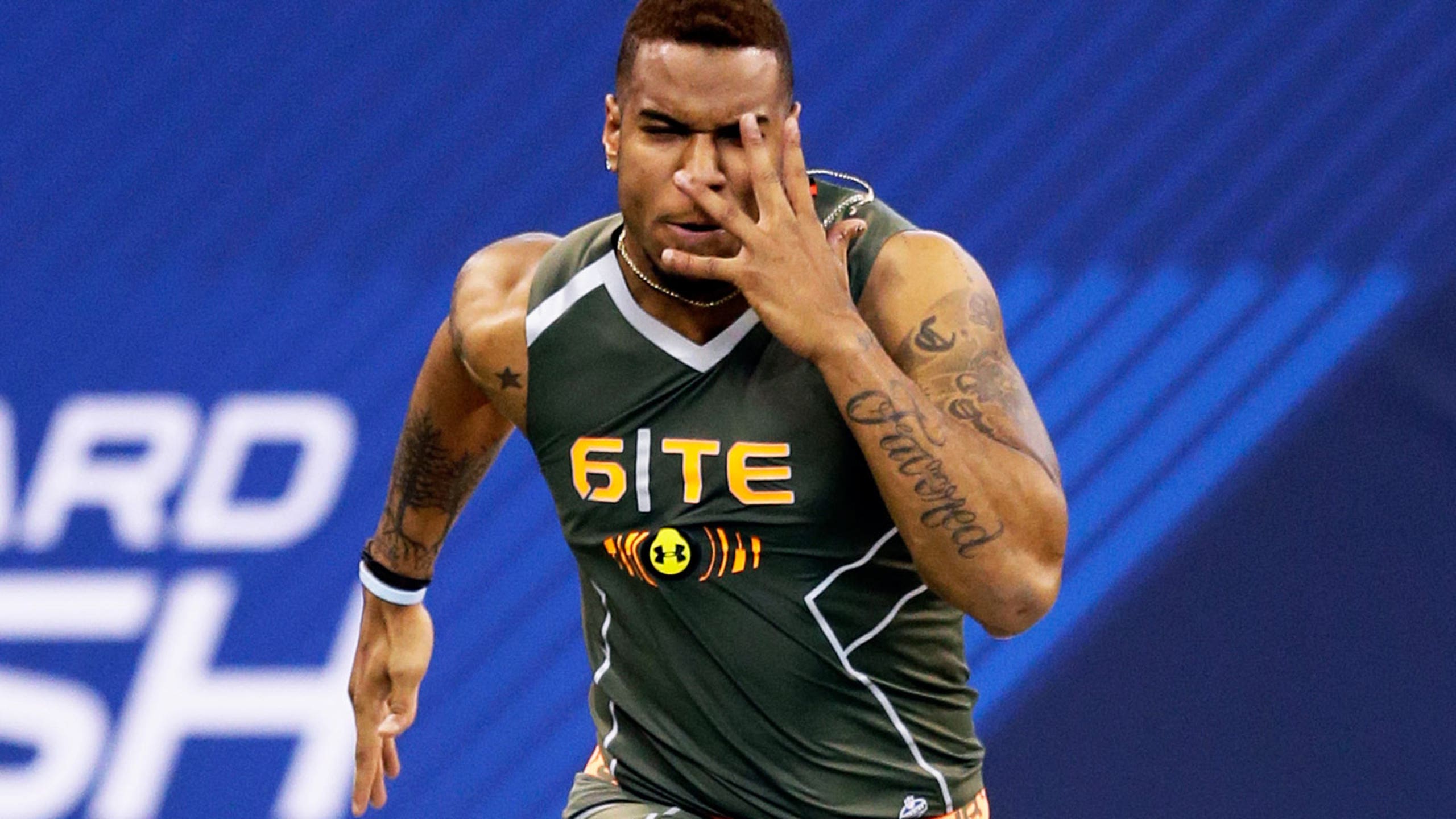 Eric Ebron: Roger Goodell will have to fine me for 'illegal' speed
BY Teddy Mitrosilis • March 13, 2014
If you try to fit Eric Ebron into a tight end box, well, you'll struggle with the lid.
He's big, at 6-foot-4 and 250 pounds, but not hulking and immobile.
Instead, NFL teams are attracted to the former North Carolina Tar Heel because of his ability to move that mass with superb athleticism and do things like this. He has soft hands and precision in his routes, and if you ask him, none of that is his most impressive attribute.
It's his speed, which he's called "illegal" for a tight end. So, does that mean NFL commissioner Roger Goodell should fine him on his first career route?
"He's gonna need to," Ebron joked in a phone interview with FoxSports.com. "My first couple routes might be a little too dangerous. I'm gonna write him a nice piece of my check."
Wait, how much is a "nice piece?"
"Well, I'll give him $1," Ebron said. "He's got enough money already."
Ebron ran an official 4.6 40-yard dash at the NFL Combine and has clocked a 4.5 unofficial time. He'll have a chance to beat that, if he wishes, at North Carolina's pro day on March 25. Even if he doesn't, Ebron should be OK. He's a lock for the first round of the NFL Draft and might even crack the top 10 as the first tight end off the board.
Here are a few other snippets from Ebron's conversation with FoxSports.com (Ebron also appeared on Fox Football Daily, which you can see in the video at the top of this story).
On how good of a wide receiver he'd be in the NFL: If I lost all this weight? A good one. There are not a lot of wide receivers who weigh this much. I think I'd be pretty good. Nowadays they're trying to find big corners to stop big receivers, but I don't think that's ever going to work.
But [tight end] is the right fit, because I can be a difference-maker in the middle of the field. I have more room to operate. I demand better matchups or mismatches in the middle of the field. I can cause defenses to worry and can cause coaches to switch up their gameplans. I cause distractions.
On his favorite recruiting memory: I got my scholarship from North Carolina by going to a one-day camp, but I hadn't even played high school football yet. I had just moved to North Carolina and didn't play my freshman or sophomore year. So I went to the one-day camp and [then-UNC coach] Butch Davis just said, 'We want you.' And I got the offer.
On the recently proposed rule to slow tempo offense in college football: I thought it was stupid, simply because you try to change the game of football so much it doesn't become enjoyable. We're finding ways to win, so don't try to take that away from kids.
[Tempo offense] doesn't injury anybody. I mean, it's football. If you play football, you're gonna get injured regardless. There is no safety. You signed up for it, you wanted to play it. If you don't like it, go sign up for something else. Go play soccer.
On the scariest moment of his career: Probably after my knee surgery going into my junior year. I just weighed a lot – about 260 – and I felt a little sluggish, like I wasn't going to get my step back or be as fast because I had knee meniscus surgery. I had to talk to my mom and build confidence back up. She told me, 'Just go out there and be who you are. You've always said you'll [be good], so do it.' Once I got back on the field and started acting like myself, the worry went away.
On watching Florida State QB Jameis Winston in the ACC: He was great and had a lot of great players around him. His true test will be this upcoming year. He doesn't have as many weapons around him or on his offensive line. He'll have to step up and demand a lot more leadership from his team. So he's a great player, but his real test and real evaluation is this year.
On being happy FSU ended the SEC's BCS title streak: Oh man. Oh man. I thought we were gonna lose and thought, "This isn't gonna be right." It gave me something to talk trash about with the SEC guys I was working out with.
Teddy Mitrosilis writes and edits college football for FoxSports.com. Follow him on Twitter and reach him at tmitrosilis@gmail.com.
---
---