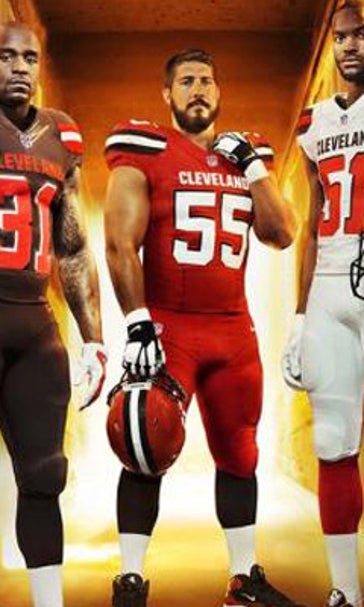 Browns finally unveil new uniforms
April 14, 2015

By Scott Sargent
After what felt like months of speculation and iPhone photographs of stock rooms, the Cleveland Browns ended it all by unveiling their uniforms on Tuesday night in front of thousands of season-ticket holders and various members of the local media.
Combining to make nine different combinations, the team, in collaboration with Nike, lifted the curtain on three different jerseys and three different pairs of pants—white, brown and orange. The tops come equipped as advertised in the various different leaked images with "Cleveland" on the front above the numbers which are shadowed in white (the orange jerseys are white numerals shadowed in brown).
"I love having Cleveland on the front," said All Pro left tackle Joe Thomas.
The Browns will be the only team in the NFL with contrast stitching on their jersey and will have the largest chest word mark in the league.
"If you look good, you feel good, you play good," said Pro Bowl tackle Donte Whitner, who said his favorite combination was all orange.
The pants and helmet, the two items which harnessed any mystery leading up to the event, have subtle changes. The entire uniform is darker and bolder, showcasing the team's new color scheme. The helmet comes equipped with a new brown facemark; the pants say "Browns" down the side.
The uniforms were two years in the making and, according to many involved, was a lengthy, high focus process.
"It's an exhaustive process you go through with the NFL," Haslam said of the change. "I thought it was something you did and you could have it ready for the next season. I remember when they told me you can have it for the 2015 season, that seemed like forever.
"The process I initially thought was ridiculous in terms of how long it takes ended up being very good."
More from Waiting For Next Year:
---
---